To identify potentially attractive investment ideas, The Applied Finance Group (AFG) usually uses a combination of proprietary variables to develop a focused group of potential buy ideas that meet criteria based on valuation, economic performance, management quality, and earnings quality. Although this set of investment criteria has proven successful in generating buy ideas, AFG's valuation on a standalone basis has consistently been able to identify mispriced securities and investment opportunities that outperform their chosen benchmark.
The chart below illustrates that over a 14% spread was achieved between the returns of companies that rank in the top quartile of our valuation metric and companies that fall in the bottom quartile over the last 12 years on an annualized basis.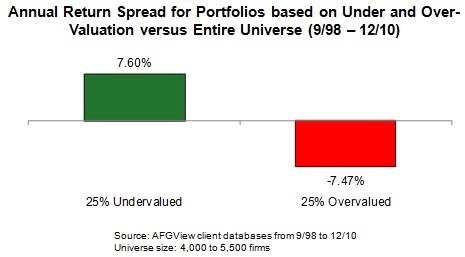 The table below displays 12 undervalued stocks based on AFG's valuation metric which has proven through back-tests to identify companies more likely to outperform.
Companies that met our valuation screen this month include Kohl's Corp. (NYSE: KSS), Apple Inc. (NASDAQ: AAPL) and Dell Inc. (NASDAQ: DELL).
Valuation
Ticker
Name
Sector
Attractiveness

Attractively Priced S&P 500 Stocks

(NYSE:BMY)

BRISTOL-MYERS SQUIBB COMPANY

Health

Attractive

(NYSE:FCX)

FREEPORT-MCMORAN COPPER & GOLD

Basic Material

Attractive

(NYSE:GD)

GENERAL DYNAMICS CORPORATION

Capital Goods

Attractive

(NYSE:LO)

LORILLARD, INCORPORATION

Consumer Non Durable

Attractive

(NYSE:KSS)

KOHL'S CORPORATION

Consumer Services

Attractive

(NYSE:HES)

HESS CORPORATION

Energy and Extraction

Attractive

(NYSE:VLO)

VALERO ENERGY CORPORATION

Energy and Extraction

Attractive

(NYSE:BAC)

BANK OF AMERICA CORPORATION

Financials

Attractive

(NASDAQ:GILD)

GILEAD SCIENCES, INC.

Health

Attractive

(NYSE:MDT)

MEDTRONIC, INCORPORATED

Health

Attractive

(NASDAQ:AAPL)

APPLE INC.

Technology

Attractive

(NASDAQ:DELL)

DELL INC.

Technology

Attractive