Assessments of the following items are to be made at headquarters: the leadership, the opponent, the terrain, troop strength, distance, and relative danger.
--Cao Cao, The Art of War
I am primarily a short term trader looking for miss-pricing due to emotion that will quickly correct itself. I am also a positional trader that looks for stocks which may appreciate in value or at least maintain the current price. I can normally make as much on a stock that maintains the current price as those that go up in price because I write either covered calls, or if the volume and liquidity will allow, I will write the equivalent option strategy naked puts. If the near month options have enough time premium built in, I will write the near month, and if there is only a week or less out, I generally will look towards the next month out. This strategy has a lower risk profile than an outright buy of the stock, and I get paid every day from option decay, regardless what the price of the stock does. This approach has served me very well and is the only one that I use in my family's IRAs to beat the market and the fund manager that used to manage the funds.
When scanning for stocks that potentially could break out and move higher, I look for a few notable characteristics. Rarely will a stock exhibit all of the criteria, but when I come across those that do, I generally will put on a position or look to put one on.
I scan the top 2000 stocks by volume and, of course, they must have options available. I use a proprietary blend of technical analysis, financial crowd behavior, and fundamentals in my short term trades, and while not totally the same in longer swing trades to investments, the concepts used are pretty similar.
The following are criteria that I consider, in no particular order:
Unloved stock. The stock must be currently unloved and out of favor. I believe that this is the most significant factor in finding value.
Profitable. The stock must be profitable or assumed to be profitable on the next reporting period.
Low price to book ratio. I want to buy value, but I will also remove things like goodwill and other intangibles that have very little value if things go wrong.
Sizeable short interest. I want to be able to see any price appreciation met with shorts trying to cover, causing greater prices.
Cash vs. debt. I want to see a company that is not going to have a cash problem in the near future and has no need to dilute the current share holders.
Quick ratio. Somewhat like cash vs. debt, I want to see that the executives are not focused on simply making it through another day, but on how to keep growing the company.
Buyouts. This works in two ways. First, I love to see that the company in question recently bought another and it's working out. This shows that the company management believes that things are going well. Second, I want to see that someone else could buyout the company in question.
Option premium. I want to know that the implied volatility is high enough to justify writing the options. If the stock is not moving, the last thing I want to do is write some options right before volatility explodes.
Corinthian Colleges (NASDAQ:COCO) is my first choice as a buy this week.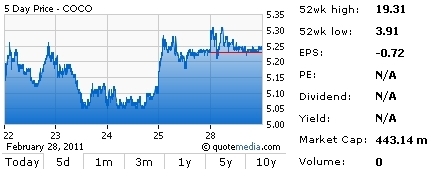 Unloved? Check, COCO has been beaten down due to the regulatory uncertainty in Washington.
Low Price to book? Check, the recent price has been below the book value of about $6 and even after adjustments is about the same as book value.
Sizeable Short interest? Check, COCO has a short interest of over 33% which may send the price soaring if the stock starts to move higher. This also tends to hold the price from falling quickly.
Cash vs. debt favorable? No check, the debt level in relation to the cash is higher than I would like to see. Not a deal killer but something to think about.
Quick ratio? Check, Due to the nature of this company, no short term cash flow issues to be concerned with.
Buyout? Check, I believe as a big player swimming with even bigger players COCO is a buyout candidate.
Option Premium? Check, Implied volatility is much higher than the average stock trading. Premium is rich in my opinion.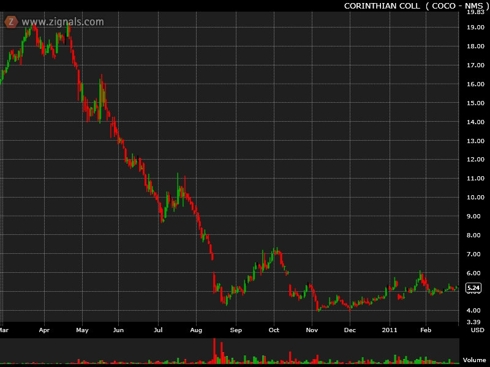 I have been long COCO for some time now. I have sold both $4 and $5 puts for months now. I am currently long COCO via selling put options and intend to remain so for the foreseeable future.
My second pick is Clearwire Corporation (CLWR), which certainly fits the "unloved" category without much argument.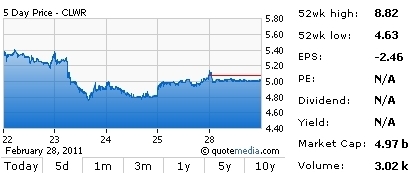 CLWR has more cash than the stock is trading for and the book value is greater as well. They are currently burning through cash, but they have something else that is very valuable which is not able to clearly be seen on the balance statement. They own a lot of wireless spectrum which I believe will continue to rise in value as smart wireless internet-hungry devices continue to gobble up greater amounts of wireless bandwidth.
Unloved? Check, The stock has not been able to get much higher than the 52 week lows and about to make a 52 week low.
Profitable? No check here but with smart phones and other devises eating greater amounts of wireless bandwidth we could see a change coming quickly.
Price to book value? Check, The book value is near the price of the stock.
Sizeable short interest? Check, over a 30% short interest which may send the price soaring if the stock starts to move higher. This also tends to hold the price from falling quickly.
Cash vs. debt? No check here, Cash flow is an issue and one of the primary reasons the price of the stock is down.
Quick ratio? No check for the same reason as the cash verses debt. Although there does appear to be enough cash to bring CLWR to the next level.
Buyout? Check, There are many possibilities here. Sprint could merge with CLWR with or without T-Mobile and other carriers may want to get the spectrum that CLWR has.
Option Premium? Check, The option premium is rich is my opinion verses the risk of price depreciation risk.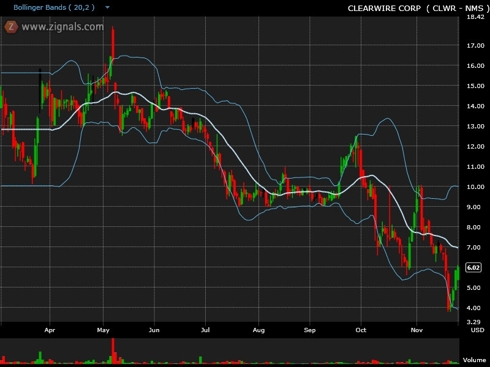 This makes CLWR a winner in terms of not going further down in value.
Both of the stocks that I profiled provide an edge, I believe in part due to the high option premium that can be collected. Both happen to have rich premium at the $5 strike price and both have enough open interest / liquidity to easily trade without getting killed in the spread. I prefer the April $5 strike put options in both cases as opposed to the March expiration date, due to the lower risk per share.
Disclosure: I am long COCO.
Additional disclosure: I may initiate a long position in CLWR within the next 72 hours