By Patrick Crutcher
Sometimes when good news comes for biotech investors, it really pours. This is especially true for investors in next-gen vaccine developer, Novavax Inc. (NASDAQ: NVAX), which announced a $179 millon dollar HHS Biomedical Advanced Research and Development Authority (BARDA) contract and a licensing agreement for its vaccine technology.
First, Novavax was notified that it had been awarded an advanced development supported by BARDA. Following this, Novavax also announced a licensing agreement with LG Life Sciences (LGLS) of South Korea, for use of Novavax's vaccine technology in South Korea and other countries. Both of these agreements help strengthen its financial outlook and serves as initial validation of its promising technology. We alerted our readers of pending developments at Novavax on February 16th.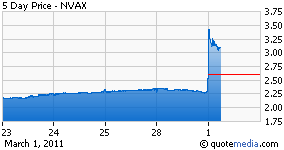 In regards to the BARDA contract, HHS awarded NVAX $97 million over the first 3 years, with options for an additional two years, for a total potential contract value of $179.1 million. The goal of this award will be "to develop new technology to produce vaccines using insect cells to express influenza proteins and create virus-like particles that stimulate a strong immune response in humans." This award was also a part of a broader US initiative to promote the development of cost-effective vaccine technologies that can rapidly produce seasonal or pandemic flu vaccines beyond current methods.
During the H1N1 outbreak in 2009, Novavax demonstrated in real-time that the company could meet US grant requirements; it was able to produce cGMP grade vaccines within 11 weeks. The company recently presented final safety and immunogenicity results from its 2009 H1N1 virus-like particle (VLP) pandemic influenza vaccine trial in Mexico at the invitation-only 7th World Health Organization Meeting (WHO) on Evaluation of Pandemic Influenza Vaccines in Clinical Trials. Their results demonstrated that their H1N1 VLP-developed vaccine was well-tolerated and immunogenic at all dose levels. More importantly, their vaccine induced immune responses that met the FDA immunogenicity criteria for licensure of seasonal inactivated influenza vaccines.
Additionally, Novavax announced that the company had entered into an agreement with LG Life Sciences of South Korea. This deal gives LGLS access to Novavax's recombinant VLP technology for the purpose of manufacturing, development and commercialization of influenza vaccines in South Korea. LGLS obtained a non-exclusive license for development of influenza VLP vaccines in certain emerging market countries. LGLS will be responsible for all clinical development, licensure, and construction costs of a new manufacturing facility LGLS's Osong campus in South Korea. Novavax will receive undisclosed upfront and milestone payments from LGLS, in conjunction with double-digit royalty payments from commercial sales.
This deal aligns Novavax with a major vaccine provider for UNICEF and other health organinzations. It also allows them to continue expansion into emerging markets without major upfront costs to shareholders. Novavax will be holding a conference call tomorrow, March 1, 2011 at 10:00 AM ET to discuss these recent developments. They certainly have some positive achievements to bring home to investors.
After hearing the news, we contacted Novavax President and CEO, Rahul Singhvi, in order to get a quick pulse on how the US development contract helps Novavax.
BioMedReports: What impact does this have on your program?
Rahul Singhvi: This funding enables us to move our program forward, from mid-stage clinical studies through trials leading up to registration with the FDA. Through the contract's base period, development of a manufacturing facility plan is also funded.
BioMedReports: One of the challenges facing new vaccine makers has been adoption. Do you see this as a step in the right direction?
Rahul Singhvi: Receiving a contract award of this size from the U.S. government is a strong endorsement of the potential of our technology. The funding provided in this award certainly represents a unique opportunity for our company to apply the knowledge we have gained over the past five years to address a critical public health need.
Sources:
Vaccine developer with pending catalysts (2/16/2011)
HHS awards contracts to develop new flu vaccine technology
Disclosure
: Long NVAX