By Chris McKhann
Chipmakers are pushing lower today, and option traders are looking for that to continue in the SMH exchange-traded fund.
The Semiconductor HOLDRS Trust is down 0.6 percent this morning to $35.58. Shares had climbed 50 percent from the September low to a three-year high of $36.67 set on Feb. 17.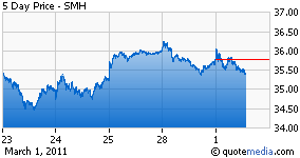 Option volume in the ETF is already three times its daily average, with puts outpacing calls by 13 to 1. Topping this activity is heavy trading in the April 33 puts, as more than 15,000 have traded against open interest of 1,562. The puts moved in large blocks over three minutes, the biggest of 9,420 bought for $0.42.
The put buying isn't tied to any stock trading that we see, so this could be an outright bearish bet expecting that this latest downturn is the start of a larger pullback. The puts could also be hedging against an existing long position in SMH shares or a basket of the stocks that make up the fund.
Texas Instruments (NYSE:TXN), Intel (NASDAQ:INTC), and Applied Materials (NASDAQ:AMAT) make up 52 percent of the SMH. TXN is the largest holding at 21 percent, and we see institutional put activity there as well, which could also be related in some way to this trade.