By David Russell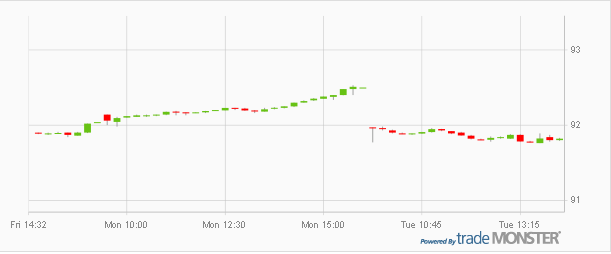 Junk bonds have been melting up for the last two years, and traders apparently think that trend will continue.

optionMONSTER's Heat Seeker tracking system detected the purchase of more than 3,000 April 92 calls on the iShares iBoxx High-Yield Corporate Bond exchange-traded fund (NYSEARCA:HYG) against open interest of just 40 contracts. Premiums rose from $0.75 to $0.90 as the trades crossed, reflecting the strong buying pattern.

The HYG fell 0.65 percent to $91.90 in morning trading, but the drop appears to be the result of a dividend being paid. Yesterday it touched its highest price since September 2008, immediately before panic swept the financial markets.

The call buying reflects a belief that junk bonds will continue to appreciate over the next two months. Given that the asset class is the riskiest in fixed-income and tends to follow equities, that is consistent with bullishness for the S&P 500.

Overall option volume in the fund is 16 times greater than average so far today, with calls outnumbering puts by 280 to 1.