An Update On The CLI Program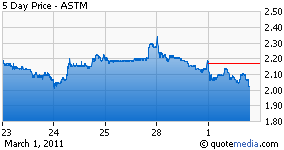 Aastrom Bio (ASTM) and the U.S. FDA continue to have a back-and-forth dialogue on the planned special protocol assessment (SPA) for the Phase 3 CLI program. We remind investors that the first-draft of the SPA was filed in October 2010 and that it is normal to have several re-filings of the application before a finalized protocol is agreed upon by the agency. In fact, this is the purpose of the SPA, to work closely with the FDA to design the exact trial the agency would like to see in order to qualify for approval.
Based on our conversations with management, we expect the finalized SPA to come in around the second quarter 2011 for the "no option" trial, and in the third quarter 2011 for the "poor option" trial. Aastrom has received U.S. FDA Fast Track development status for this program. We assume:
1) CLI-301-NO: This program will seek to treat 500 patients with severe CLI. These "no option" patients must have confirmed tissue loss and disease progression to qualify for enrollment. We expect the primary endpoint of the program to be amputation-free survival at 12-months (AFS-12). Other endpoints will include major amputation, de novo gangrene, wound size, and all cause mortality. Management has taken a number of steps to improve the trial design compared to the Phase 2b RESTORE trial.
Aastrom will employ an independent steering committee of outside physicians who have direct experience with CLI programs to help oversee and monitor the trial.
Aastrom will utilize a centralized review committee comprised of experienced vascular surgeons to monitor patients and set a standardized disease progression and amputation criteria.
Management has established rigorous entry criteria to help standardize the baseline characteristics of each "no option" patient. This establishes a second layer of qualification beyond the treating physician.
To limit geographical variability and standard of care variability, the trial will be conducted in only North America at sits in the U.S. and Canada.
We are pleased to see AFS at 12 months be the proposed primary endpoint. In the previous RESTORE-CLI Phase 2b program management looked at interim data on AFS at 6 months. We believe the extra 6 months allows for greater separation between the treatment and control groups – as a reminder the event rate in RESTORE-CLI was lower than expected, so pushing the endpoint out to 12 months show allow for a clear efficacy determination. We expect this trial to begin enrollment around the middle of the year. We expect that Aastrom may need to screen as many as 700 patients in order to enroll (treat) the target 500 number.
CLI-302-POOR: This program will see to treat 200 patients with moderate CLI. These "poor option" patients will have disease progression with a clear path toward amputation. Conversations around the primary endpoint here are ongoing. We believe the FDA wants to see AFS-12 as the primary endpoint. Management is hoping to include revascularization or MALEFS (major adverse limb event free survival) as an endpoint, but it seems clear the FDA is looking for AFS-12 as the key outcome here. At this point we are unsure just how important to the success of the trial include MALEFS will be. It is clear that the event rate will be lower than in the "no option" group, and including revascularization may be a more clinically relevant endpoint for patients that have not yet progressed to only surgical options. In our view, this trial clearly presents more risk than the "no option" program, but that doesn't mean it still can't be effetely managed and succeed. Management is hoping to secure an SPA around this second Phase 3 trial sometime in the third quarter 2011. We expect that this trial will start late in the year, assuming the first trial is proceeding on plan.
ITT vs. mITT
There have been rumblings lately about the potential risk of treating with TRCs given the 2-week processing time between bone-marrow aspiration and re-injection. As a reminder, Aastrom's TRC is an autologous cell therapy, meaning cells are taken from the patient, processed over 2-weeks for amplification, and then re-injected. Allogenic cell therapies (see Athersys, Pluristem, or Osiris) use donor cells that have been processed to remove immunogenicity. These products can be injected in sick patients without having to wait the 2-weeks for processing and amplification.
We have heard concerns that during the Phase 3 program patients may enroll (intent-to-treat) and then die or decide to amputate in the 2-weeks between bone marrow aspiration (Day-1) and re-injection (Day-14). Management would like to begin the ITT population on re-injection (Day-14) and the FDA seems intent on counting patients for the ITT population on aspiration (Day-1). In RESTORE-CLI, there were 14 patients that enrolled (Day-1) but never proceeded to injection (Day-14).
Some did not meet entry criteria upon further review prior to bone aspiration.
Some could not tolerate the bone aspiration.
Some of the bone aspirate was contaminated or could not be expanded under Aastrom's technology.
Some had amputations in-between the bone aspiration and the injection (2-weeks).
Some had significant adverse events in-between the bone aspiration and the injection (2-weeks).
Some provided bone aspirate for expansion, but never returned for injection
Nevertheless, we see this as a non-issue. The Phase 3 CLI program will seek to treat (mITT) 700 patients total. That means the ITT number may be 100-150 patients higher. However, as long as the randomization between placebo and test group is in-place, it should have no effect on the statistical outcome.
Market Remains Wide Open
The total cost of this Phase 3 program should be roughly $25 million, or $30-40k per patient. We note this is relatively inexpensive for a pivotal Phase 3 program. The design and costs are more in-line with a medical device than a small molecule pharmaceutical. In late October 2010, Aastrom Bio signed a new strategic manufacturing partnership with ATEK Medical. ATEK will supply the disposable cassettes used during the cell therapy procedure. The relationship puts a more comprehensive and long-term supply agreement into place ahead of the Phase 3 program. This should work to alleviate supply or logistic issues that could materialize during the program.
Also in October 2010, the U.S. FDA granted a Fast Track designation to Aastrom's cell therapy development program for CLI. The FDA's fast track program is designed to facilitate the development and expedite the review of new drugs and biologics intended to treat serious or life-threatening conditions and that demonstrate the potential to address unmet medical needs. CLI clearly falls into this category.
Critical limb ischemia (NYSE:CLI) affects approximately 1 million people in the U.S. each year -- roughly 2% of the population over the age of 50. Over 25% of patients with PAD will eventually development CLI. CLI is defined as inadequate blood flow to the limbs, and if left untreated can result in tissue loss, gangrene, amputation and death. In fact, CLI leads to an average of 150,000 major limb amputations each year. CLI has a high mortality rate: 20% after 6-months after initial diagnosis and 25% after 12-months. Nearly 30% of all patients who undergo a major limb amputation will require another amputation at some point in the future. The mortality rate post-amputation remains high, at roughly 25%.
Therapeutic options for patients with CLI are limited. Besides being at significantly increased risk for heart attack, stroke or vascular death, patients with CLI often live with several other co-morbidities, including diabetes, angina, dyslipidemia, hypertension and renal disease. For less severe forms of PAD, physicians will typically recommend smoking cessation (when applicable), and changes to diet and exercise.
Medications such as aspirin, statins and clopidogrel (Plavix) are common first-line therapies for early-stage PAD. Many patients will also be on medications for diabetes and heart failure as well. However, once PAD progresses to the point of CLI, the only real options available to patients are surgical. Patients are passed from the cardiologist, diabetologist or podiatrist to the care of the vascular surgeon. Surgical procedures include percutaneous transluminal angioplasty, plaque excision, stenting and bypass grafting. Patients living with CLI suffer from severe pain as a result of the neuropathy, tissue loss and ischemia. The healthcare burden associated with PAD-related amputations in the U.S. is greater than $10 billion per year.
Cash & Dilution Spooking Investors
Aastrom exited December 2010 with $31.2 million in cash and investments. This includes the recent cash raise netting $20.5 million on December 15, 2010 in which the company issued 10 million shares at $2.25 per share. We view this cash level to be sufficient to fund operations into the fourth quarter 2011. The company has guided to a cash burn in the first quarter of approximately $6 to $7 million, with $2.5 million directly attributable to the preparation around the planned Phase 3 CLI program.
We note that Aastrom will hold a special meeting of shareholders on Monday, March 21, 2011 to approve an increase the number of authorized shares of common stock from 62.5 million to 150 million. This has greatly spooked investors over the past month on the fear of massive dilution. However, we note there are no planned issuance of shares currently underway, and our conversations with management lead us to believe that the company will not seek to raise funds until late the fourth quarter of 2011. Repeat: We do not expect Aastrom to seek to raise cash until late in the fourth quarter 2011.
Assuming no licensing agreement has been signed for either the CLI or DCM indications, or a deal Ex-U.S., we expect management to see to raise another $20 million in cash to fund the continuance of the first Phase 3 "no option" CLI trial, and the initiation of the second Phase 3 CLI trial in "poor option" patients, along with the Phase 2b program in DCM. Aastrom has an aggressive development plan for 2011 and it requires funding to move forward. The current number of shares outstanding is 38.6 million as of December 31, 2010. Adding in the 4.5 million options and 15.3 million warrants, and total authorized (fully diluted) shares total 58.3 million, less than 4 million from the total 62.5 allowed under the current shareholder authorization; hence, the need for a special meeting.
Dilute Now/Dilute Later

The recent decline in stock price clearly shows investors are unhappy with the potential for another dilutive offering later in the year. However, Aastrom clearly needs cash to push its development pipeline forward. The Phase 3 CLI program, which includes 2 trials in roughly 700+ patients, will cost an estimated $25 million. A Phase 2b program in DCM will cost an estimated $10-15 million. The company has two options:
Dilute shareholders now and fund these programs on its own, then seek collaboration with a larger pharmaceutical organization in 2012 or 2013, or
Partner these programs now for upfront cash and allow the bulk of the spending to be funded through the collaboration agreement.
It comes down to dilute now or dilute later. Aastrom believes its TRC technology has the potential to develop expanded adult (cardiac repair or vascular repair) stem cells into two potential blockbuster indications. Based only Phase 2b data in CLI and Phase 2a data in DCM, management feels it would not be able to secure a large enough upfront payment and backend milestones and royalties to warrant entering into such a deal at this time. The upfront payment from a partner will surely factor in the time, risk, and cost necessary to gets TRCs to the market. This includes the Phase 3 program. However, with positive Phase 3 data in hand, Aastrom can secure a deal potentially 5-times what it can secure now, with a better royalty rate on sales in the future.
Shareholders that fund the development of TRCs now, have the potential for significant upside reward later if the data is positive and Aastrom still owns all the rights. A smaller deal now rewards shareholders with a small pop, but greatly limits upside in the future through lower earn-outs and royalties.
Disclosure: I have no positions in any stocks mentioned, and no plans to initiate any positions within the next 72 hours.