Celldex Therapeutics (NASDAQ:CLDX) is a strong player in the emerging cancer immunotherapy space. Their Precision Targeted Immunotherapy (PTI) approach is the first of its kind and Celldex has consistently shown positive results in their clinical trials. 2011 will be a busy year for Celldex. They recently announced they will be presenting at multiple conferences in the coming weeks. They also will be conducting a conference call to discuss Q4 2010 earnings on March 3. It wouldn't be a surprise to hear more about the upcoming Phase 3 trial for their lead candidate. CDX-110 (Rindopepimut) – on the call as well.
In recent months, Celldex Therapeutics' stock price has suffered a slow decline after former partner, Pfizer, called it quits on CDX-110 (Rindopepimut). More recent declines in the share price can be attributed to a recent financing deal with Cantor Fitzgerald.
Financing deals with biotech companies seem the norm more often than the exception as many are strapped for cash. Unfortunately it is not often met positively by investors, but those taking a long-term approach often see the value for a company looking to use that cash to advance their pipeline. The good news is that Celldex has a deep pipeline with several strong candidates that have yet to suffer a clinical setback. In fact, their lead candidate, Rindopepimut has been a victim of its own success. This will be discussed later in the article.
It is worth noting that a big pharma partner that decides to move on from a company should not necessarily be viewed as the kiss of death. Case in point is Exelixis (NASDAQ:EXEL). Last June BMY returned the rights to Exelixis' lead candidate, XL 184. Exelixis' stock price had a significant decline on this news, but has since advanced significantly; with recent levels some 300%+ above the June lows.
Celldex is the first antibody-based combination immunotherapy company. Their deep pipeline of drug candidates utilizes their unique PTI approach. This platform includes a portfolio of monoclonal antibodies, antibody-targeted vaccines, antibody-drug conjugates, and immunomodulators that are utilized to create disease-specific drug candidates (video link).
Pipeline
click to enlarge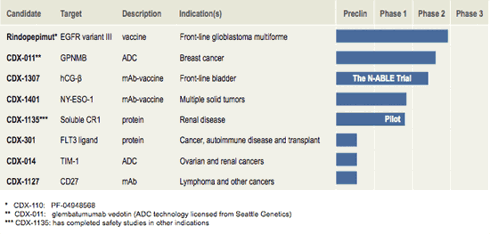 Things have been quiet at Celldex since they last presented at the Annual Meeting of The Society for Neuro-Oncology (SNO) in November 2010. At SNO they reported additional positive data from Rindopepimut (CDX-110) in the treatment of Glioblastoma Multiforme (GBM), one of the most common and fatal types of primary brain cancer.
That silence should be coming to an end shortly. Celldex recently announced they will be presenting at multiple conferences in the coming weeks.
What can we expect to hear from Celldex in the coming weeks/months? There are many potential catalysts, but one of the first is the initiation of a Phase III trial for Rindopepimut.
Celldex has indicated this trial is due to commence in the second half of 2011. They are currently in the process of meeting with the FDA on the trial design. Investors could hear more on this as early as the upcoming earnings call (March 3). The trial will have to be designed in such a way to prevent the control arm from declining treatment, which is what occurred in ACT III trial. This is what was referred to earlier in the article when I stated that Rindopepimut is a victim of its own success. The majority of patients randomized to the control arm withdrew from the study so the Independent Data Monitoring Committee recommended that they be given the option to receive treatment with CDX-110; thus changing the ACT III trial to a multi-center, non-randomized dataset. Below is a quote from the Celldex 10K:
"We initiated a Phase 2b/3 randomized study (ACT III) of CDX-110 combined with standard of care, temozolomide, versus standard of care alone in patients with GBM in over 30 sites throughout the United States. In December 2008, we announced an amendment to convert the ACT III study to a single-arm Phase 2 clinical trial in which all patients will receive CDX-110 in combination with temozolomide. The decision, which followed the recommendation of the Independent Data Monitoring Committee, was based on the observation that the majority of patients randomized to the control (standard of care) arm withdrew from this open-label study after being randomized to the control arm. Patients participating on the control arm of the study were offered the option to receive treatment with CDX-110. Under this amendment, the ACT III study provided for a multi-center, non-randomized dataset for CDX-110 in patients with newly diagnosed GBM. These data will provide important additional information that can be used to better design the future development of CDX-110. Enrollment in ACT III is complete with a total of over 60 patients enrolled and we expect to present updated results during 2010."

Additional catalysts include preliminary results of the CDX-011 Phase 2b trial in advanced breast cancer in the second half of 2011. CDX-011 may have even greater long term potential for Celldex than its lead candidate, Rindopepimut. The rationale for this thought is not simply because breast cancer is a larger population than GBM, but also because CDX-011 has been shown to have favorable results in patients with difficult to treat triple-negative tumors. Below is a quote from Celldex's chief medical officer, Tom Davis:
"This Phase 2b trial will target patients whose tumors express GPNMB and is anticipated to include a significant proportion of patients with difficult-to-treat triple-negative tumors. It will build upon the positive Phase 1/2 trial which demonstrated encouraging activity in both of these patient subsets."
This is of particular interest because of Sanofi's (NYSE:SNY) recent failure with Iniparib in triple-negative breast cancer.
Celldex is one of the few companies that has a drug candidate that has shown promise with triple-negative breast cancer. We'll learn more about this in the second half of 2011, if not sooner.
The biggest stage for Celldex could occur in June where they will be in attendance at the biggest stage for Oncology companies. This event is The American Society of Clinical Oncology (ASCO). There is no official word from the company regarding this year's ASCO, but Celldex has attended in prior years and has consistently shined and raised expectations amongst analysts and investors.
Celldex is a strong player in the immunotherapy space. If their upcoming clinical data continues to be positive, more eyes will be on them and another partnership could be inked.
A few weeks ago it was reported that CLDX call options were active on takeover speculation:
Celldex Therapeutics calls active on takeover speculation

Celldex Therapeutics is recently up on takeover chatter. Traders are focused on short term February 4 calls, with total call volume of 3,647 contacts (39 puts). February call option implied volatility is at 137, March is at 124, May is at 83; compared to its 26-week average of 81 according to Track Data. Large call volume suggests traders positioning for upside price movement according to theflyonthewall.com
Given their current, low valuation ($120mm market cap), deep pipeline, future catalysts and unique, proprietary approach to cancer immunotherapy, Celldex looks to be poised for a strong comeback in 2011.
Disclosure: I am long CLDX.
Additional disclosure: My position in a stock can change at any time.