The selection of these five drug / pharmaceutical companies is based on the following supportive data. It includes their short and longer-term price, and earnings projected performance. Other than Pfizer (NYSE:PFE), I do not expect these companies to have any notable and / or improved earnings growth over the next couple of years. For those reasons and as a warning, I do not have the confidence, pricewise, to take new bullish positions at this time.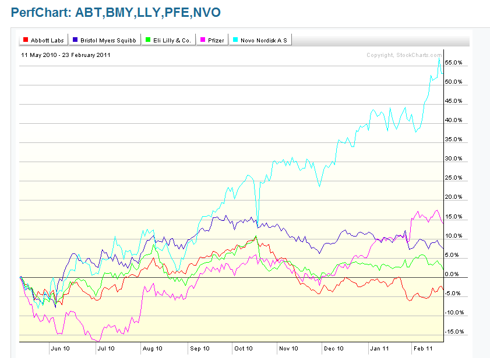 The Major Pharmaceutical industry group, both U.S. and international, is quite low on my consensus rankings of over 200 industry groups. It is currently ranked as "unfavorable."
In the table below you will see why the quantative approach of valuation offers data that either supports or fails to support buying or holding positions in any given security. These five companies, by design, provide examples of the good, the bad and the ugly.
Valuation Analytics Table
Major Pharmaceutical - Industry Group:
Stock Name & Symbol

Approx. Current Price

My Target Price % Above (+) / Below (-) Current Price –

PEG

P/E

Forward P/E

Valuation Divergence (%)

One - Year Projected from a Mean – Sigma and from the next - - Bullish Inflection Point.

1. Abbott Labs, (NYSE:ABT)

46.7

20% to 35+%

1.10

15.7

9.4

67%

Comments: Abbott Labs offer an "excellent" valuation and not a bad long-term target price projection. A problem is that the longer-term earnings growth is contracting. Reviewing the technical and consensus analysis tells me that ABT is currently just another pharmaceutical company!

2. Bristol-Meyers Squibb, (NYSE:BMY)

25.2

10% to 15%

30.

14.1

12.5

13%

Comments: Unless I am focused on shorting a company, I dislike "poor" valuations and hence poor or low long-term target price projection. Add to that the fact that earnings growth is negative and you can quickly pass on holding or buying BMY.

3. Eli Lilly

34.0

negative

-1.34

7.4

9.3

negative

Comments: I believe there are better candidates for possible shorting, so despite the "negative" valuation I would just let LLY work through its current problems . Longer-term earnings growth is also negative. Adding the technical and consensus analysis, you have a confirmation that LLY is currently not a very good pharmaceutical company.

4. Pfizer, (PFE)

18.8

25% to 40%

3.01

18.4

8.2

124%

Comments: Clearly this is an "excellent" valuation and not a bad long-term target price projection. Longer-term earnings growth is expanding and the company is looking quite strong. For me, PFE is currently the most positive of these pharmaceutical companies.

5. Novo Nordisk (NYSE:NVO)

123.

10% to 25%

1.50

27.3

22.7

20%

Comments: This is only a "good" valuation and a moderate long-term target price projection. I focus on the longer-term earnings growth and unfortunately it is contracting. When I review the technical and consensus analysis, it is clear that NVO has outpaced the other pharmaceutical companies, but not so for the longer-term.
Summary of the Three Disciplines:
Company Symbol

Category

Fundamental

(weighting 40%)

Technical

(weighting 35%)

Consensus

(weighting 25%)

1. ABT

High Profile

Excellent

Good

Good

2. BMY

High Profile

Negative

Good

Good

3. LLY

High Profile

Poor

Good

Good

4. PFE

Bellwether

Excellent

Very Good

Good

5. NVO

High Profile

Good

Excellent

Very Good
The general market is currently over-valued, over-bought and is showing signs of deteriorations, especially in the area of breadth. Interest rates are on the rise, and inflation is already becoming a serious problem. This means, with regard to your portfolio, that you might consider holding cash or perhaps begin taking bearish positions. And as another warning, I would not recommend taking any bearish positions.

My focus is investing wisely, e.g. taking advantage of the bull/bear cycles (within my three disciplines) as they occur within the overall / general marketplace. Remember, all securities (including these five pharma companies), sectors and industry groups are constantly rotating into and out of favor. Integrating modern fundamental analytics within these cycles / rotations means maintaining a process of the thorough and ongoing analysis of many companies, sectors and industry groups. I believe this is a vital discipline in investing wisely.

Disclosure: I have no positions in any stocks mentioned, and no plans to initiate any positions within the next 72 hours.