There have been various commentaries recently about emerging markets being fully valued, because they have valuation multiples approaching those of developed markets. That is certainly true. However, when growth rates are considered in the form of historical and forward PEG ratios (P/E divided by earnings growth rate), emerging markets are substantially less expensive than the developed markets.
Let's look at those PEG ratios and projected yield growth for developed and emerging markets. First, let's check out the total return over various time periods.
Recent Emerging Markets Underperformance:
In addition to being less expensive, the emerging markets countries are outperforming developed markets over 1-year, 3-years, 5-years and 10-years; although the last two months have been underperformance months for the emerging markets versus the developed markets.
This chart of world markets (proxy VT) versus emerging markets (proxy EEM), the US market (proxy VTI) and EAFE developed non-US markets excluding Canada (proxy EFA) shows the flattening and underperformance of the emerging markets recently.
click to enlarge images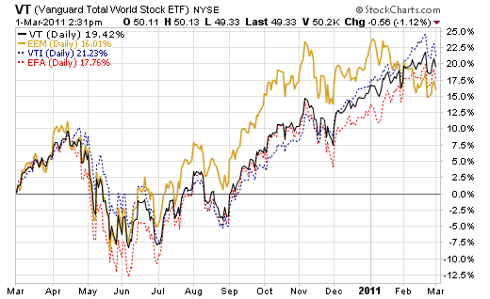 Total Return Comparisons:
BRIC countries as a group have significantly underperformed the emerging markets as a whole over 1-year and 3-year periods, although they outperformed over 5-year and 10-year periods, according to Russell indexes as of January 31 2011.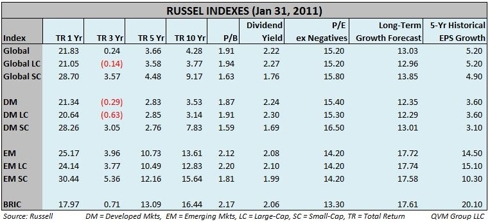 Emerging markets as a whole outperformed developed markets on a total return basis for the 1-year, 3-year, 5-year and 10-year periods, That's also true when looking more granularly at large-cap and small-cap sub-indexes of the developed and emerging markets.
The 1-year comparison between developed and emerging market total returns is very close, and developed markets small-cap stocks performed well over the 3-year period, but not as well as emerging markets. Over 5-years and 10-years, emerging markets simply blew the developed markets away.
Developed markets are still in a negative total return position over three years, although only marginally.
Valuation Multiples:
The emerging market large-cap P/E multiple is about 1 multiple below the developed market large-cap multiple, while the emerging market small-cap P/E multiple is about 2+ multiples below the developed market multiples. That suggests there is perhaps more return potential differential in the small-cap than large cap arenas -- but, in tough times, the small-cap stocks are more likely to fall or to fall farther, and small-cap stocks generally are more volatile.
We did note that the P/E multiple for large-cap and small-cap emerging market stocks are reported as the same. We double checked that with the Russell report. Whether that is the way it really is, or possibly a typo in the Russell report, we cannot say. We assume they are correct until and unless Russell reports differently.
The current yields are very close between emerging and developed markets, and don't provide particular incentive to be in one or the other for yield purposes.
The historical growth rate differentials are quite large, but the forward growth projections are much closer. For both developed and emerging markets forward growth rates are projected to be much higher than history for both emerging and developed markets.
Growth Adjusted Yield and Valuation Multiples:
As shown in the next table image, emerging markets have substantially lower PEG ratios, whether based on historical or forward projected earnings growth.
If a PEG range of 1 to 2 is in the "reasonable" area for GARP (growth at a reasonable price), then emerging markets are reasonably priced whether looking backward or forward on growth.
Developed markets, on the other hand look good on a forward basis, but expensive on an historical basis (not surprising, given the huge earnings hit taken in 2008 and 2009).
Taking a broad guess at dividend yield three years from now based on the possibly reasonable assumption that dividend amounts for an index will track earnings growth, emerging markets yields on current prices may go from somewhat below those of developed markets to somewhat above those of developed markets.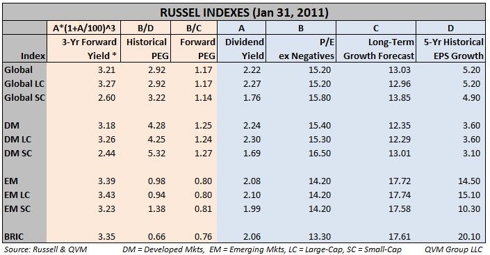 There are no ETFs based on the specific Russell indexes presented in this article, but there are a number of ETFs that track related indexes from MSCI, Dow Jones, or FTSE.
Liquidity Caution:

Some of the ETFs listed below are very thinly traded and should not be considered for use until and unless they develop a greater volume. We prefer to use only ETFs with a minimum per minute dollar volume of $25,000. Whatever, your criteria, check dollar trading volume before making a commitment. We definitely would not use some of the ETFs listed below, but do identify them for long-term observation for liquidity.

ETF List Is Not A Recommendation List:

The named ETFs that follow are not recommendations. They are simply an attempt to identify the available securities that may approximate the Russell indexes discussed above.
VT and ACWI track world stock markets (blending large-cap and small-cap).
Developed markets (including US and non-US stocks, but not emerging market stocks) are harder to capture in a single fund. That category, with blended large-cap and small-cap stocks, may be best addressed with a mixture of US and non-US developed market ETFs, such as VTI (proxy for United States) and VEU (proxy for developed markets excluding the United States).
Emerging markets (with blended large-cap and small-cap stocks), can be directly accessed with EEM and VWO.
For the BRIC countries, there are two ETFs that directly address that group (BIK and BKF). The separate countries can be accessed through, among others, EWZ (Brazil), RSX (Russia), INP (India) and GXC (China).
For the small-cap category there is an emerging markets small-cap ETF (NYSEARCA:EWX), and there are developed markets ex-US small-cap ETFs (SCZ, GWX).
Large-cap stocks tend to be the dominant content of the broad index funds, such as EEM and EFA, because they are market-cap weighted. That makes larg-cap stocks the performance drivers.
For US stocks the large and small-cap proxies (SPY and IWM respectively) are highly liquid.
Securities Mentioned: VT, ACWI, VTI, VEU, EEM, VWO, EWX, SCZ, GWX, SPY, IWM, BIK, BKF, EWZ, RSX, INP, GXC
Disclosure: We hold SPY, EEM, IWM and RSX in some but not all managed accounts as of the publication date of this article.
Disclaimer: This article provides opinions and information, but does not contain recommendations or personal investment advise to any specific person for any particular purpose. Do your own research or obtain suitable personal advice. You are responsible for your own investment decisions. This article is presented subject to our full disclaimer found on our site available here.