We're getting a flood of warnings that it may be time to sell. Why? Because, individual investors are buying stocks again!
"Contrarian indicator alert: It looks as though many of the retail investors now getting back into stocks are the same people who bailed from the market just before the start of a historic bull run."
The argument is that when investors panicked after the market dropped in early 2009, it was a good time to buy. Therefore, after two years and a 100% stock market rise, investor buying is a sign to sell.
Not so fast. There are major problems with that logic.
Numbers don't support the conclusion
This graph shows investors' net flows into / out of mutual funds over the past 16 years. This view shows that history doesn't support the warnings we are hearing. Also ignored are the dynamics described below the graph.
Click to enlarge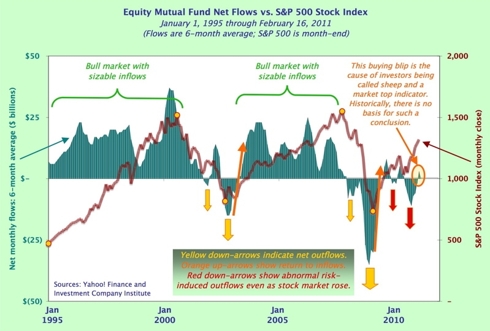 1. Up markets differ from down
Stock markets spend most of their time rising, and individual investors typically invest in stocks during such times. Therefore, to earn good returns, we need to ride that buying trend. It's only when the buying switches from "normal" to over zealous that we need to worry (and, perhaps, engage in contrarian selling).
A down market has a different personality. Risks are revealed, stock prices drop, and investors sell. Because it is easier to frighten people than to reassure them, bear markets can develop fast and selling can get carried away. These declines can produce contrarian-buying opportunities.
2. Net numbers hide internal dynamics
When we talk about investors being sellers or buyers, remember that we are referring to the net number: the amount bought minus the amount sold. Investors don't think alike, and, in all markets, there are active buyers, active sellers and many holders. Therefore, "individual investors" stands for a broad spectrum, not a one-dimensional whole.
3. Investors learn and improve their investing over time
Successful investors didn't start out that way. It takes time, a variety of market environments and mistakes to develop a workable investing approach.
This investor evolution means that those who panicked in previous bear markets aren't necessarily the ones who did so in 2009. Moreover, many who did run then will be unlikely to be scared away so easily next time. That selling will be left to the next crop of investor newbies.
4. This market environment has been unique with two add-on risk-scares
Investors have had to deal with additional frights this time, even as the market rose. Therefore, the normal return of buying has been delayed by about 18 months, causing many investors to miss the stock market's good returns thus far.
Conclusion: Instead of being at the end, the stock market could be at the beginning of a strong bull market
This buying is not a sign of the top. We are missing the enthusiasm, optimism, large stock allocations and high prices associated with such periods. Rather, it looks like a building uptrend that we should continue to ride.
So… Don't view today's individual investor buying as a sign that the market is at a top. These investors are not stupid. Inside the numbers we see that many have been buying. Others are simply trying to reestablish their positions and restart their normal buying process. The unusual 18-month delay could mean this bull market will rise faster than many expect.


Note:
If you haven't already done so, please read "Rate of Developing Bull Market Trend Could Be Precursor to Buyer's Panic," in which I describe how we got to this point and why the stock market could perform well from here.