People everywhere aspire to better lives that often include more consumer products from shampoo to Coca-Cola (NYSE:KO) to automobiles to fast food. Countless companies are all eager to offer their products and services. This an investment opportunity for individuals with longer term time horizons.
Global Income Distribution
There are approximately 6.7 billion people on the planet living in 200+ countries. However, only about 1 billion people live in countries where the per capita GDP exceeds $10,000 U.S. per year. This is the top 15%. The middle third of people (~2.3 billion people) live in countries where the per capita GDP starts at about $1,300, including Nigeria with 130+ million people, and stopping short of $5,000 per year, including Colombia and Angola.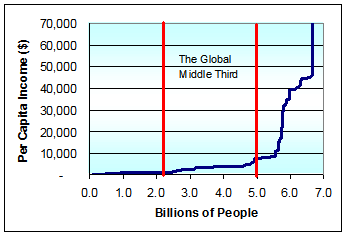 Data is sourced from Wikipedia for populations and the WorldBank for GDP which was used to calculate per capita GDP.
Looking at large countries, the picture is even more split. The top 15% includes just two countries with over 100 million people - the United States and Japan. Right around the $10,000 mark are extremely large countries including Brazil, Russia, Mexico, and Turkey with a combined population of over 500 million. Further down the list are China, Egypt, Indonesia, Nigeria, the Philippines, and India with a combined population of 3 billion. These countries will eventually provide extremely large consumer markets as they grow and develop.
There are three ways to play this opportunity:
Invest in familiar consumer product companies targeting these markets.
Invest in consumer products companies local to these markets
Invest in country ETFs to capture the benefit of general economic development.
Established Consumer Product Companies
This is probably the easiest way to play this strategy.
The Coca-Cola Company (KO) - Receives approximately 75% of its revenue from international sales. After the United States, its largest countries by unit case volume are China, Mexico and Brazil.
Avon Products, Inc. (NYSE:AVP) - Its beauty, fashion and home products are available in over 100 countries and almost 90% of its workforce outside the United States. This $10.9 billion dollar revenue company derives about 80% of its revenue from outside North America. Its largest single country market is Brazil, which is 25% larger than the United States by revenue. In 2010, Latin America provided approximately half of its operating profit.
McDonald's Corp. (NYSE:MCD) - Over half of its 32,737 restaurants are located outside the United States. MCD has over 1,000 restaurants in China and almost 2,000 stretching across 18 countries in Latin America and the Caribbean. While less than 25% of its revenue is outside the U.S. and Europe, this segment (Asia-Pacific/Middle East/Africa) grew at 17% from 2009 versus just 2% for the U.S. Franchised revenues grew at 15% in APMEA and just 5% in the U.S.
Other potential options include Unilever NV (NYSE:UN), Kraft Foods Inc. (KFT) owner of Cadbury plc., and Diageo plc (NYSE:DEO).
Foreign Consumer Product Companies
The second way to play the opportunity by investing directly in local consumer products companies within the largest markets. The following consumer product and service companies are from one of these countries.
Companhia de Bebidas das Americas - Ambev (ABV) - Brazil - This global beverage giant sells bottled water, beer, and soft drinks. It is the largest brewery in South America and is the largest PepsiCo (NYSE:PEP) bottler outside the United States. ABV is a subsidiary of Anheuser-Busch Inbev, the world's largest brewer of beer.
Grupo Casa Saba, S.A. de C.V. C (NYSE:SAB) - Mexico - SAB is a wholesale distributor of health, beauty aids and consumer goods, general merchandise, and pharmaceuticals in Mexico and the United States. One challenge is that is very thinly traded.
Grupo Televisa S.A. (NYSE:TV) -Mexico - TV is a $13 billion market capitalization company focused on media in Mexico, the United States and the rest of Latin America. In addition to its broadcasting and publishing businesses, TV engages in sports and show business promotion, soccer, and feature film production.
Sohu.com, Inc. (NASDAQ:SOHU) - China - A Chinese internet company that provides information, gaming, and brand advertising through its web portals. With a $3.1 billion market capitalization, SOHU has reasonable margins (~25% net and ~35% operating) on revenue of over $600 million.
Emerging Market Country ETFs
The third and final way is to simply purchase country ETFs on the premise that as these countries develop, shares of local companies will appreciate. The following is a select list of emerging market country ETFs.
Global X Brazil Consumer ETF (NYSEARCA:BRAQ) - With 190+ million people and strong commodity base, Brazil is one of the fastest growing countries in the western Hemisphere. Last year Brazil surpassed Germany to become the 4th largest auto market in the world to match its 4th largest population of internet users. BRAQ has 70% of its assets in consumer goods and services; however, it has very few assets at just over $30 million. Note that the broader iShares MSCO Brazil Fund (NYSEARCA:EWZ) has very little focus on consumer goods and services - just under 10% of assets.
iShares MSCI Mexico Index Fund (NYSEARCA:EWW) - With over 100+ million people is home to Grupo Modelo, S.A. de C.V a beverage company and Grupo Bimbo a food processing company. Consumer goods and services and media make up approximately 35% of the market capitalization of EWW. Telecommunications and finance are another 35%.
Global X China Consumer ETF (NYSEARCA:CHIQ) - China is now the second largest economy and has the largest internet population. With almost 65% of its assets in consumer goods or services companies, it is the only viable play on consumer companies since PGJ and FXI each have less than 5% of their assets in consumer companies. The major drawback would be its size, at just $170 million in assets.
iShares MSCI Indonesia Invstble Market Index (NYSEARCA:EIDO) With over 230+ million people, Indonesia, has posted large gains in retail sales in the past years. This is a smaller ETF with assets around $200 million. About 30% is in consumer goods companies, 20% in financial companies, and rest in industry.
iShares MSCI Turkey Investable (NYSEARCA:TUR) - With over 70+ million people Turkey and a third of them plugged into the internet, aspirations can run high. Three Turkish firms, Arcelik (household appliances), Vestel (electronics and appliances) and Anadolu Efes (beverages), ranked among the top 250 global consumer product companies. However, TUR may not be the best play since about 50% of its assets are in financial companies and just under 10% are in consumer goods and services companies.
Conclusion
Tapping into specific sectors in emerging markets can be challenging. These opportunities represent good starting points for research.
Among the established companies, AVP may represent the best opportunity since it continues strong growth outside the U.S. and has more foreign and emerging market revenue than the other companies.
These companies represent interesting opportunities but would require additional research. ABV is already an large well positioned company and could be a good opportunity.
The country ETFs are the least focused play but may offer lower risk, TUR and EWZ have insufficient exposure to consumer companies to be considered. BRAQ and CHIQ offer focused investment opportunities for the consumer sector. EWW may also be reasonable.
Sources
All population data was pulled from Wikipedia and GDP data was from the Worldbank.
Internet user data was from the CIA World Factbook
Company specific information and ETF holding information was pulled from SEC filings and Yahoo!Finance.
Disclosure: I am long EWZ, FXI.
Disclaimer: This article is for informational and educational purposes only and shall not be construed to constitute investment advice. Nothing contained herein shall constitute a solicitation, recommendation or endorsement to buy or sell any security.