As many of you know, we have been large advocates of precious metals for quite some time. During the January pullback, we increased our exposure to gold and silver, leading to our clients enjoying a 12.67% return so far in 2011. With silver's large 19% rise in February, we'd like to revisit whether now is an attractive time to be long the white metal.
This Week's CFTC Commitment of Traders Report
The below chart shows the price of silver in gray, Managed Money net longs in green, and Producer net shorts in blue.
click to enlarge image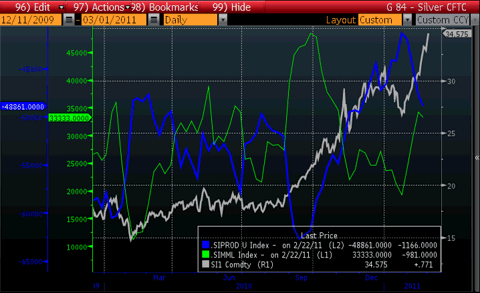 Click to enlarge
Despite silver rising by 7% in the week from 2/15-2/22, Managed Money net longs actually decreased by about 1,000 contracts. Also interesting is that Producer shorts increased for the 5th week in a row.
Managed Money
As we have discussed many times, Managed Money is responsible for the volatile moves in silver, and will be the fuel for the silver rally to continue to further heights. The fact that silver continued to rise in a period where Managed Money actually cut their net long exposure indicates resilience for the metal.
Additionally, Managed Money net longs remain about 15,000 contracts (or about 50%) below the peak of around 48,000 net long contracts set on September 28. As the silver rally continues, expect to see this old high taken out when the skeptics truly turn to believers and jump in late.
Producers
Perplexingly, producers continue to add to their net short position. While some of this is undoubtedly bona fide producer hedging, the sheer amount of silver involved suggests that the Producer short numbers are being aggregated with commercial bank proprietary trading.
This amount of net short exposure leaves a significant amount of fuel left for silver's rally.
Effect of "Hot Money"
The recent silver rise has attracted plenty of attention, and has us worried about the influx of what is known as "hot money." Hot money is the implication that buyers are being attracted in as a rush towards a high-flying asset, and they will be quick to bail if the trend turns south even momentarily.
The Managed Money net long position can certainly be considered hot money, but given the decrease in Managed Money net longs this past week, one cannot attribute silver's rise to them solely. The influx of money into silver ETFs as well as physical silver buying is undoubtedly contributing greatly to silver's ascent.
We do not view silver's current rise as attributable to hot money just yet, as the metal still has plenty of skeptics. Once silver's price goes parabolic and seemingly everyone has turned bullish (indicated by an extremely high Managed Money net long position), that will be the time to exit silver positions.
Trade Recommendation
We remain cautiously bullish on silver. However, the pace of recent ascent cannot be sustained, and we would welcome a correction to around the 30 level. Such a pullback would be very healthy, as it would shake out weak long holders, and allow entry at a more attractive price. The higher silver rises in this current uptrend, the greater the likelihood of a violent correction.
It is important to remember that once the correction begins, it will most likely be violent and sudden, but this is the hallmark of a true bull market. A sudden pullback of between 5-10% followed by a slow grind higher would be ultimate confirmation of silver's uptrend.
Our preferred trade continues to be the sale of put options on silver to capitalize on its high volatility. Once silver begins a correctionary phase, traders could sell puts around the 26 level (the bottom of the January pullback which we view as a hard floor). We would recommend averaging into this position, and selling a small amount of these options regularly as silver pulls back to capitalize on better pricing if silver sustains a pullback.
Disclosure: I am long silver futures