The Australian economy produced a solid yet uninspiring GDP result for the final quarter of 2010. The Aussie economy expanded at a quarter-on-quarter growth rate of +0.7% (or 2.8% annualized), putting year-on-year growth at +2.7%. The majority of growth came from inventory-building, with net exports neutral, and an insipid contribution from consumption. Thus the Australian economy appears to be passing through the hard part of its recession-free recovery.
[Click all to enlarge]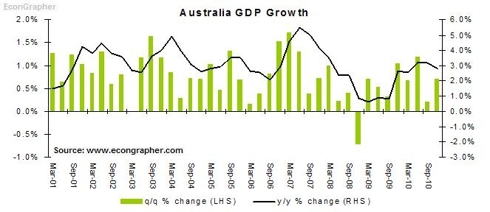 In a research note, Goldman Sachs (NYSE:GS) described the results as "a reality check to those expecting the RBA to raise interest rates in 1H11." That is about right, as the Reserve Bank of Australia probably wont tighten in the first half of this year, especially when you consider the short-term impact of the floods and cyclones on the economy.
However, all is not negative. Australia is still likely to record a growth rate around 3% this year. Also, with rising commodity prices, select Australian businesses are set to gain on most counts, especially in metals and agriculture.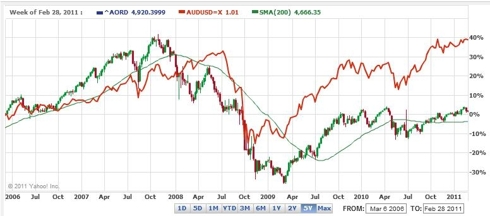 As for the broader market, the lower chances of a continuation of interest rate increases may have a dual positive impact on Australian stocks. On the one hand, it may see the Aussie dollar face a downward correction, which would aid exporters; on the other hand, expectations for a relatively lower interest rate cycle might aid in lifting valuations. But then of course there's the China factor, with that nation (a major trading partner) tightening monetary policy, and other emerging markets tackling inflation risks.
Another point worth highlighting is the M&A factor. As seen in the chart above, the All Ords index has been going nowhere fast over the past year or so. During this time there has been a plethora of mergers and acquisitions activity, including a bid for the ASX (Australian Securities Exchange) itself. As another example, the AMP/AXA deal has received further approvals and is set to complete by month's end. So the M&A wave could be symptomatic of an opportunistic valuations setting.
Does the M&A activity point to buying opportunities? With further economic expansion on the cards, there may be a buy case for Aussie equities. For those without access to the Australian stock markets, some possible ideas for gaining exposure (without making any particular recommendations) include:
Sources:
Australian Bureau of Statistics
Yahoo Finance

Disclosure: I have no positions in any stocks mentioned, and no plans to initiate any positions within the next 72 hours.