The U.S. impressed once again with its manufacturing Purchasing Managers Index results. The main PMI index crept up a further 0.6 to 61.4, the highest level since the early 1980's. New orders added 0.2 to 68.0 and the employment sub-index added 2.8 to 64.5 as more employers signaled higher staff (a net 26% expect higher employment).
Meanwhile, the only real weakness in the results were a drop in the two inventory indexes (own inventory and perception of customers' inventories). So overall the results are pretty positive for the U.S. manufacturing sector, it shows that there is some decent momentum there.
However, there's two other interesting sub-themes within this result:
Click to enlarge: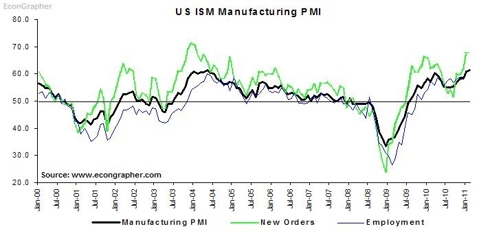 The first sub-theme is the inflation factor. The U.S. saw inflation flat-line before a pick up over the past couple of months (the headline factor, as commodity prices start to bite). In the results, the price index increased 0.5 to 82.0 (a level not seen since the pre-financial crisis commodity bull market).
Looking to the chart below, the gap between the prices index and headline inflation has opened up again. So, as with the China PMI results, this could be a pretty clear signal that inflationary forces are starting to bubble away under the surface. The key is whether U.S. firms will be able to pass on increased costs to consumers; both domestically and abroad...
Click to enlarge: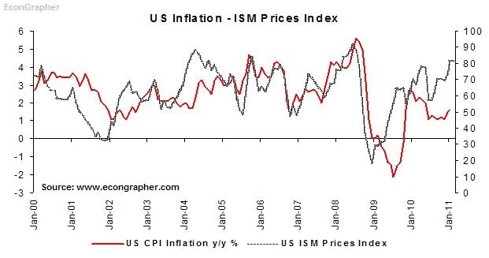 Which brings me to the next sub-theme; U.S. international trade. The exports orders index increased further to 62.5, while the imports index remained at 55.0 - pointing to rising net exports within the sector. This in particular is an important point, because part of a sustainable U.S. economic recovery is driving forward an export lead recovery (not to mention other things like continuing the deleveraging and balance sheet repair, exiting policy stimulus at the right time, etc). But overall, the course of the new export orders index has been a positive development. Even with rising prices, this may point to at least some profit margin preservation amongst U.S. manufacturers.
Click to enlarge: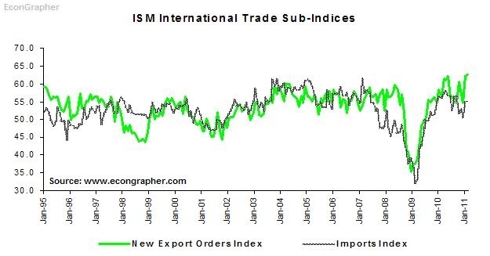 So the three key themes of the results are: Rising momentum in the U.S. manufacturing sector, rising inflationary pressures, and rising manufacturing exports. All are pretty positive for the U.S. economic recovery. For the U.S., inflation isn't really an issue yet, and some are still concerned about potential deflationary forces. So a little bit more inflation may not be a bad thing.
We'll be closely watching the non-manufacturing index as well for clues on that side of things. But for now, the U.S. manufacturing PMI results will add some comfort to those who are overweight U.S. equities this year.

Sources
Institute for Supply Management

Disclosure: I have no positions in any stocks mentioned, and no plans to initiate any positions within the next 72 hours.