By Chris McKhann
A large trader is looking to take advantage of the fact that volatility in corporate bonds has fallen back near their lows.
The iShares iBoxx Investment Grade Corporate Bond (NYSEARCA:LQD) exchange-traded fund closed yesterday at $108.79, flat on the session. The ETF had been on a run higher for all of February, driving it from below $107 to above $109 in yesterday's trade.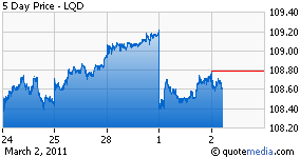 The steady run pushed the fund's 10-day historical volatility down to 2.86 percent, just above its 52-week low. The average implied volatility, on the other hand, is twice that level.
Against this background a huge put trade was done yesterday. The average options volume for the LQD is just 90 contracts a day, so the position's single block of 15,300 September 100 puts definitely caught our attention.
A trader bought those puts for $1.35, paying the ask price on a wide spread, according to our systems. The open interest at that strike had been just two contracts.
This put buying wasn't tied to any stock trading yesterday. As a matter of fact, the total volume in the LQD shares today is 475,000, compared with the 1.53 million shares controlled by that one option trade.
The implied volatility of those puts is up at 11 percent, which suggests that this position is expecting much higher volatility, especially considering that the 10-day historical volatility hasn't been that high all year.
The LQD has not been above $100 since July 2008. It did get as low as $76 during October 2008.
Yesterday's action followed heavy call buying in the iShares iBoxx High-Yield Corporate Bond (NYSEARCA:HYG) exchange-traded fund in the same session.