By Zoe Tan
Over the past two years, the nation's three largest auto-parts retailers, Advance Auto (NYSE:AAP), AutoZone (NYSE:AZO), amd O'Reilly Automotive (NASDAQ:ORLY) delivered record same-store sales growth in the mid- to high-single-digit range (see Exhibit 1), thanks to favorable industry tailwinds. New vehicle sales plummeted in late 2008 and remained well below historical averages in 2009 and 2010, as consumers chose to extend the lives of their vehicles instead of buying new ones. This phenomenon pushed the average age of vehicles on the road to 10.3 years in 2010, up from just 9.5 years in 2005, which boosted demand for auto replacement parts in recent years.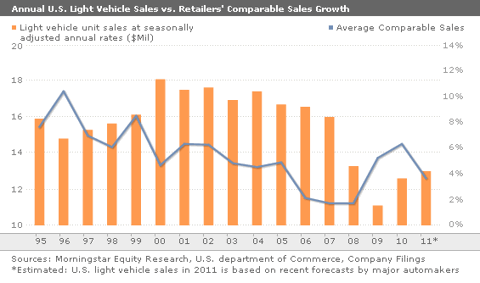 Click to enlarge
click to enlarge
While we believe that favorable trends will continue to support demand for parts over the next quarter or so, positive tailwinds will likely start to moderate in 2011, followed by more substantial slowdowns in 2012. In our view, a rebound in light vehicle sales will weigh on demand for aftermarket parts over the next few years. As shown in the chart above, auto-parts retailers' comparable-store sales have historically decelerated when new vehicle sales improved.
In fact, December United States auto sales came in ahead of expectations, with an annualized sales rate of 12.6 million vehicles, the highest rate in 16 months. Major automakers including Ford (NYSE:F) and General Motors (NYSE:GM) expect positive trends to continue into 2011, and each forecasts that sales will top the 13 million vehicle mark by the end of this year. Meanwhile, shares of Advance Auto, AutoZone, and O'Reilly are down between 8% and 10% year-to-date (versus a 4% increase for the S&P 500), reflective of investor concern regarding demand. However, according to Advance Auto's management team, the tipping point for a slowing and ultimate reversal in replacement parts demand will come as new car sales exceed 14 million units annually (the number of vehicles scrapped each year).
In our view, while the market hasn't reached the inflection point yet, the trend toward slowing auto parts demand will continue to play out as the year progresses, lending support to our view that Advance Auto, AutoZone, and O'Reilly are modestly overvalued, with price/fair values of 1.05, 1.20, and 1.21, respectively.
We Expect Stable Demand Over the Long Haul
Although we expect demand for automotive parts to moderate as new car sales improve from record lows over the next few years, we remain optimistic about the long-term outlook for these three chains. Despite cyclical swings in the industry, the aftermarket parts industry has proven to be relatively stable over the long haul. For the 10-year period leading up to the 2008 economic downturn, both the automotive retail and commercial segment sales increased at more than a 4% compound annual rate. We believe that, in addition to having more vehicles on the road today, the secular growth is attributable primarily to the fact that demand for replacement parts and maintenance tools stems primarily from necessity, rather than discretionary purchases.
Today, the industry remains highly fragmented, with national retailers representing less than 20% of the entire market. We believe this leaves national players plenty of opportunity to capture market share from independent retailers. In our view, AutoZone, Advance Auto Parts, and O'Reilly Automotive are in the best position to benefit from these favorable industry dynamics, thanks to scale advantages and superior distribution capabilities.
Although these companies generate the majority of their sales from the automotive parts retail business, each has been expanding aggressively into the faster-growing commercial market, which sells automotive parts to professional installers and repair garages. We believe these national retailers should be able to leverage their expansive store network by adding the commercial program to existing stores, which should help boost returns on invested capital. Demand in the professional segment tends to be more resilient to economic swings, as it is less reliant on spending patterns.
Advance Auto and O'Reilly are Fueling Up
We think national retailers such as Advance Auto and O'Reilly (about 3,600 stores each) have gained a significant foothold in the industry. Over the past decade, Advance Auto has more than doubled its store base through aggressive new store openings. Furthermore, Advance Auto has seen early success in the commercial market, posting double-digit same-store sales growth over the past five years. Through the acquisition of 62 Autopart International professional stores, the company had a head start and has further penetrated this market by introducing commercial delivery programs in its existing store base. As a result, Advance Auto generated almost $2 billion in commercial sales in the most recent fiscal year, which is more than double the $900 million delivered by industry leader AutoZone.
In April 2008, O'Reilly transformed itself from a strong regional player to an industry leader with a nationwide footprint through the acquisition of CSK Auto. In addition to cost savings from shared advertising and the consolidation of duplicate corporate functions, O'Reilly has benefited from lower merchandise costs, thanks to greater purchasing volume. As evidence, operating margins expanded by 340 basis points in fiscal 2009 and by another 220 basis points last year. We think O'Reilly will continue to gain share in the commercial segment by overlaying the firm's dual-market strategy, which serves both the retail and commercial market, on CSK's store base. Prior to the acquisition, commercial sales represented only 10% of CSK's overall sales, versus approximately 48% at the core O'Reilly stores. In our view, scale advantages from incremental sales volume, as well as its strength in the commercial market, have placed O'Reilly in a better competitive position.
Despite near-term headwinds, we believe AutoZone, Advance Auto, and O'Reilly's long-term prospects look bright. Given that the aftermarket parts market is highly fragmented, the national retailers have more room for growth and will continue to gain market share at the expense of small independent retailers. In our opinion, industry stalwart AutoZone will be the biggest winner, while O'Reilly and Advance Auto are better-positioned to capitalize on favorable industry trends in the commercial market.
Advance Auto: A Possible Takeover Target?
As corporate deal activity picks up in 2011 and with Pep Boys putting itself up for sale earlier this year, we took a deeper dive into the auto-parts retail industry for viable takeover candidates. After a wave of strategic acquisitions and consolidation of regional chains by CSK Auto, now owned by O'Reilly, in the earlier part of this decade, we think a private equity acquisition in the auto-parts retail industry is a more likely scenario today. As shown in the chart below, Advance Auto fits the typical leveraged buyout (LBO) candidate profile--the company generates strong free cash flow and carries minimal debt on its balance sheet. Additionally, Advance Auto's relatively small market capitalization, at $5.4 billion (compared to O'Reilly and AutoZone, at $8.1 billion and $11.5 billion, respectively) makes it potentially easier to consume.
Additionally, a private equity transaction makes sense, as the potential buyer could benefit from improvements in Advance's operations. While store productivity looks similar across all three chains, Advance continues to lag its peers in terms of profitability; the firm's fiscal 2010 operating margin was 10.1%, versus 17.9% at AutoZone and 13.6% at O'Reilly, excluding charges. Therefore, we believe that a private equity firm could take the company private, trim operating expenses by restructuring the business, and ultimately turn a tidy profit by selling the shares back to the public market as operating margins improve.

Click to enlarge
Based on a preliminary analysis, we believe a $67-$78 takeout range would be reasonable, based on several assumptions: $3.6 billion in additional debt, slightly more aggressive revenue growth and operating margin assumptions over the forecast period, and an internal rate of return requirement of 15%-20%. This valuation range would represent 7-9 times our forward EBITDA estimate, in line with recent consumer sector LBO transactions including Gymboree and J. Crew, which sold for 8 and 9 times forward EBITDA, respectively.
Disclosure: Morningstar licenses its indexes to certain ETF and ETN providers, including Barclays Global Investors (BGI), First Trust, and ELEMENTS, for use in exchange-traded funds and notes. These ETFs and ETNs are not sponsored, issued, or sold by Morningstar. Morningstar does not make any representation regarding the advisability of investing in ETFs or ETNs that are based on Morningstar indexes.