By David Russell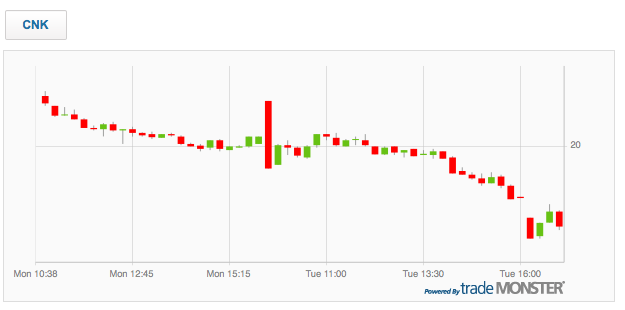 Cinemark (NYSE:CNK) had a good month, and one investor is ringing the register.

optionMONSTER's tracking systems detected the sale of more than 20,000 March 17.50 calls for $2.40 and $2.50. Volume was nine times open interest in the strike.

CNK rallied more than 20% in February and touched the highest levels since shortly after it went public in mid-2007. But the theater chain has been dropping since then, and fell another 1.84% to $19.71 yesterday.

The call selling was probably the work of a shareholder who believes that the shares are done rising, at least for now. If CNK remains above $17.50, the investor will sell out at that level, but at an exit price closer to $20 when the premium is included.

The stock leapt after reporting earnings on Feb. 24. Given that it peaked near a long-term high and the broader market is facing bearish sentiment, the trader may have decided that it made sense to take profits by selling calls.

The transaction pushed overall option volume in the name to 98 times greater than average.