By Adam Fleck, CFA
Construction equipment manufacturers have enjoyed sharp top-line rebounds over the past several quarters, and should see continued strong--albeit slowing--sales activity. Although commercial construction remains in the doldrums in key economies such as North American and Europe, infrastructure projects in developing nations and strong mining sales have led to robust improvements for companies such as Caterpillar (NYSE:CAT), Terex (NYSE:TEX), Joy Global (JOYG) and the nonfarm equipment segments of Deere (NYSE:DE) and CNH Global (NYSE:CNH). Improved U.S. residential--and eventually, nonresidential--construction activity should benefit these firms throughout 2011 and 2012.
That said, we believe the stocks are already pricing in these near-term tailwinds, and we caution that much of these firms' growth could break down sharply if emerging economies--especially China--attempt to slow their momentum. We also think compact construction equipment sales will outpace their heavy-equipment counterparts due to end-market fundamentals, and these smaller machines typically offer slimmer profitability. While this mix shift is beneficial for companies that offer a higher degree of smaller equipment--such as Deere--this dynamic could lead to limited profitability expansion for Caterpillar, even as sales increase markedly.
North America: A New Hotbed
During the recent global recession, construction equipment spending plunged dramatically, stemming from a high amount of used equipment, difficult financing, and a generally uncertain economic outlook. That said, sales improved tremendously during the ensuing recovery, as emerging market growth soared due to increased infrastructure building, heightened residential construction, and rapid economic expansion.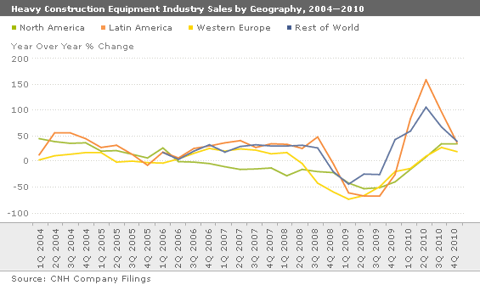 click to enlarge
Moreover, since late 2008, U.S. commercial spending has declined every month year over year, but looks poised to rebound in late 2011 or early 2012. Typically, this metric tracks the direction of the American Institute of Architects' Architectural Billings Index (ABI) with about an one-year lag time. The ABI has turned up sharply in recent months.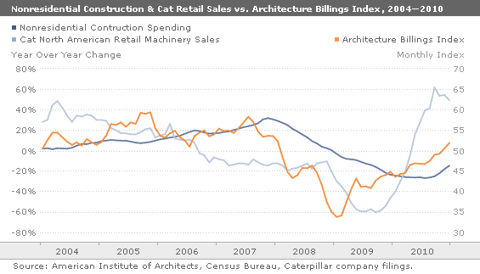 Ahead of this likely improvement in both residential and commercial construction activity, Caterpillar's North American retail dealer sales have improved tremendously. That said, we caution that these sales have tended to move ahead of underlying end-market demand in the past, and Cat could see slowing growth in the quarters ahead as a result. In addition, as dealers work to replenish inventory levels due to this strong sales performance, the company's sales will likely trend more toward smaller equipment rather than heavy construction machinery, as dealers are limited in the size of equipment they can stock.
Mix Shift and Cost Pressures Create Potential Headwinds
Similar to Caterpillar, CNH expects higher growth this year from its light equipment sales versus its heavy machinery products. We expect this potential mix shift toward lighter machinery versus heavy equipment to negatively affect most manufacturers' 2011 profitability. In 2010, heavy construction machinery growth outpaced smaller equipment growth, driven by strong sales into the mining, infrastructure, and emerging economy end markets.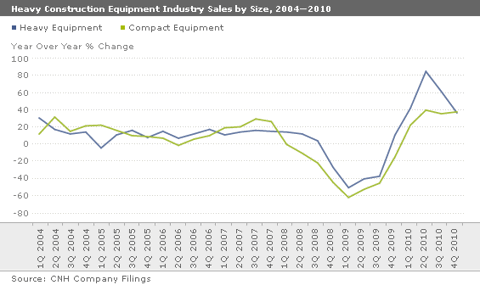 Because the North American construction markets haven't fully rebounded, we think there is still a hefty amount of overcapacity for smaller equipment such as backhoes and skid steer loaders, and these smaller products typically offer lower margins than their larger product peers (such as bulldozers and large excavators). We expect smaller projects, such as housing and light commercial activity, to improve before major projects, further shifting focus onto smaller machines.
As a result, although full-line manufacturers such as Caterpillar and CNH will likely see U.S. sales climb in the 20% to 30% range, the firms may suffer from reduced incremental gross margins. Still, we reiterate that we think companies more heavily tied to residential construction (such as Deere) will enjoy stronger bottom-line improvements, and Terex stands to improve profitability due to its heavy exposure to commercial construction.
However, we caution that other extraneous factors could crimp profitability as well. For one, raw material costs--primarily steel and rubber--comprise 10% to 20% of these firms' costs of goods sold. A 10% movement in these expenses represents about a 1.5% shift in operating income. While price increases often mitigate much of this impact, we're concerned that the companies may face a more challenging environment to raise prices, given already announced price hikes for new engine standards. We are also closely monitoring supplier performance as sales rebound, given capacity challenges and shortages that arose in the strong growth period from 2006 to 2008. Finally, lofty oil prices can cut into the profits of end-market equipment users, decreasing the capital available for purchases and replacement.
Valuation: Stocks Already Pricing In Good News
Although there are, of course, many other moving parts within these businesses' results (such as farm equipment for Deere and CNH, engines and logistics operations at Cat, and seaport machinery for Terex), we believe these stocks have already priced in much of the heavy equipment industry's good news. Looking longer term, although we think these firms will continue to enjoy strong rebounds for the next few years, we caution that their end markets will likely remain cyclical.
Company-specific profitability improvement initiatives should lead to higher midcycle operating margins than in previous cycles, but the names are highly subject to macroeconomic factors that can drive down sales volume materially over short periods. In all, with the meteoric rise of most of these stocks over the past several months, we don't currently see a suitable margin of safety for long-run investment in these companies.
Still, we certainly recommend investors keep Caterpillar and Deere on their radar screens. We believe these firms hold sustainable competitive advantages over their peers, which should enable them to generate sizeable economic profits over the course of a cycle.
Disclosure: Morningstar licenses its indexes to certain ETF and ETN providers, including Barclays Global Investors (BGI), First Trust, and ELEMENTS, for use in exchange-traded funds and notes. These ETFs and ETNs are not sponsored, issued, or sold by Morningstar. Morningstar does not make any representation regarding the advisability of investing in ETFs or ETNs that are based on Morningstar indexes.