By Thomas Mullarkey, CFA
The metal food can has been around for over 200 years, and thanks to a consolidating North American supply base and unique industry structure, investors have been handsomely rewarded during the last decade. There are many attractive qualities about the metal food can industry. It's highly concentrated, and it's not economical to ship empty cans across vast distances. As a result, there is regional pricing power and input cost changes that are passed through to customers (who are typically signed to multiyear contracts).
However, metal food cans also have seen secularly declining demand as substitute packaging options have eroded North American can demand for four decades. We believe that the weakening demand will continue for some time in North America, and since there isn't much room for additional domestic consolidation, can manufacturers likely will look to consolidate and expand overseas. Considering current valuations and secular trends, we would rather be a buyer of flexible packaging maker Bemis (NYSE:BMS) than North America's largest food can producer, Silgan (NASDAQ:SLGN).
High Consolidation Levels Lead to Healthy Operating Margins
The North American metal food container market is highly concentrated. Silgan controls about half of the market supply for food cans, thanks to its multidecade strategy of consolidation. Since 1987, Silgan has been acquiring large-scale can manufacturing plants (including facilities from Nestle (OTCPK:NSRGY) in 1987, Del Monte (DLM) in 1993 and the Campbell Soup Company (NYSE:CPB) in 1998), rationalizing any excess capacity and operating the acquired plants more efficiently than what a self-manufacturer would be able to do.
Ball (NYSE:BLL) and Crown (NYSE:CCK) each hold about one sixth of the North American market, and only 8% of the cans are self-manufactured. We believe that self-manufacturers are at a cost-disadvantage versus the larger, diversified can producers. This is because can manufacturers such as Silgan have a greater ability to run their plants at a higher utilization and to leverage their buying power over their suppliers, thereby lowering the average cost per can.
click to enlarge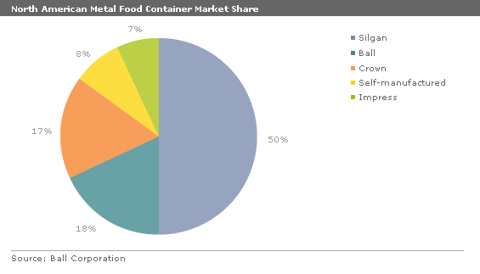 Food can operating margins are typically quite steady, thanks to multiyear contracts with most customers that allow for price changes resulting from input cost changes. From 1999 to 2010, Silgan's metal food containers segment grew operating margins from around 8% to 12.5%. Much of Silgan's improvement can be attributed to running more efficient manufacturing operations over the years, as well as robust fruit and vegetable harvests in 2009 and 2010. The spike in Crown's North American food segment during 2009 primarily was driven by inventory holding gains, and consequently was slightly higher than normal.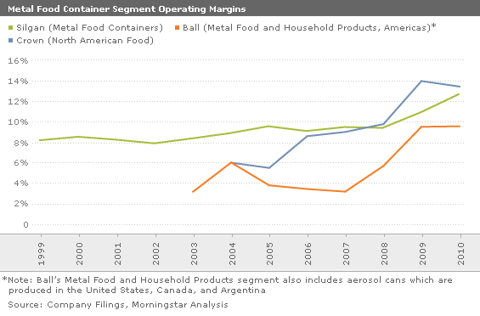 Silgan's long-term contracts with Nestle and Campbell expire at the end of 2013, and we suspect that Silgan may have to share some of its cost-savings with its largest customers and that these re-signings may deliver 9% to 11% operating margins, slightly less than the recent record margins experienced during 2009 and 2010. While the 2013 contract negotiations are a discreet event, a larger concern for investors should be: What is the long-term demand trend for metal food containers?
Is Substitution a Big Threat?
Silgan admits that it faces competition from other packaging materials, but touts the benefits of the metal can. The can is durable, provides a long shelf-life and is capable of processing the contents at high temperatures. However, we believe that consumers will continue to seek out convenient food packaging--regardless of material--and this will consequently continue to pressure metal can volumes in North America.
According to data from the Can Manufacturers Institute, the volume of metal food cans for human consumption has fallen from 31.2 billion cans in 1970 to just 21.7 billion in 2010--a compounded annual decline of about 0.9%.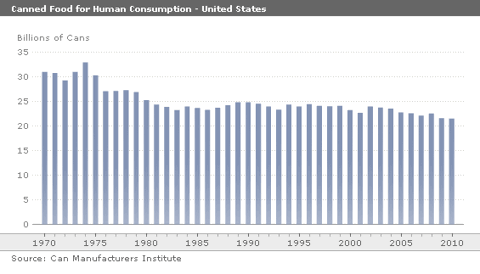 However, during the last 40 years the population of the United States has grown from about 203 million in 1970 to almost 310 million in 2010. Consequently, the per-capita consumption of food cans has fallen from 154 cans per person per year to just 70 cans per person per year--a compounded annual decline of 1.9%. It's not that Americans are eating less, but the food that is being purchased is coming in different packages. Vegetables now come in the freezer aisle in microwavable bags, soup likewise can be packaged in microwavable cups, coffee is frequently in composite canisters, and you can even buy tuna in plastic pouch.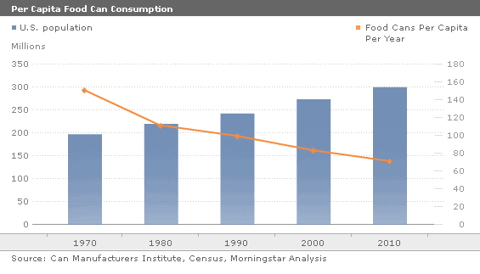 Looking at USDA data for per-capita vegetable consumption in the U.S., we see that the prevalence of food cans has been declining for 40 years, as customers increasingly opt for either frozen or fresh vegetables. The biggest shift in packaging demand has been in sweet corn, of which Americans consume about 26 pounds per person per year. In 1971, 53% of sweet corn consumed was packaged in cans, by 2010 just 28% was packaged in cans as frozen corn and fresh corn grew in popularity. Likewise, snap beans and green peas saw a significant reduction of cans in their overall packaging mix. Canning fell from 61% of snap bean and 61% of green pea consumption in 1971 to 52% and 42%, respectively, by 2010.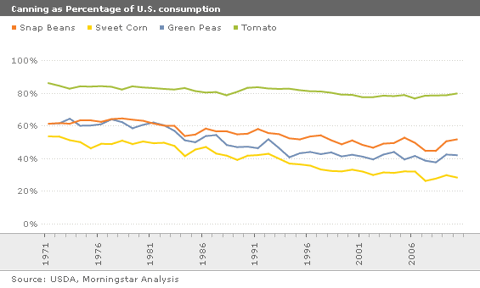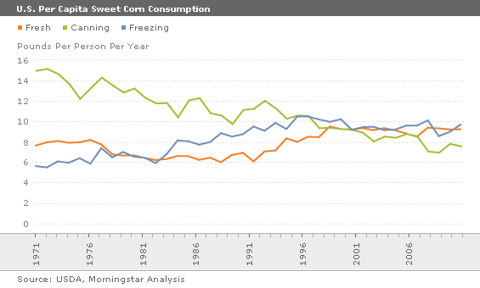 Fortunately for can manufacturers, tomatoes (of which the average American consumes 91 pounds per year) are still predominantly canned--with only a slight uptick in the mix of fresh tomatoes consumed. If you walk down the canned vegetable aisle in your local grocery store, you'll see that tomato-related packaging is still dominated by the metal food can. This is largely because the metal allows for food processing at high temperatures and high speeds; additionally, the food processing equipment is likely already fully paid for and depreciated. Converting to alternative packaging likely would be costly from a capital expenditure standpoint and we don't foresee any near-term shift away from metal can packaging for tomato processers.
We believe that Silgan has recognized that its metal food container growth prospects in North America are challenging; consequently, its recent European acquisition of Vogel & Noot may provide the company with years of opportunity to grow, expand, and consolidate in a different region. We expect that much of Western Europe will benefit from a consolidating metal food container supply base, and that there may be opportunities for continued growth in parts of Eastern and Central Europe where the per-capita consumption of packaged foods still lags North America and Western Europe.
Silgan Shares Appear Overvalued, but Bemis Looks Attractive
Given the secular challenges and 2013 contract renegotiations, we believe that Silgan shares are currently overvalued ($36.18 on 3/1/2011). The shares are currently trading at 129% of our fair value estimate, or about 6.8 times enterprise value to our estimate for 2011 EBITDA; much higher than the historic average 5.7 times EV to EBITDA--which is approximately to what our $28 fair value estimate for Silgan equates.
On the other hand, shares of Bemis currently trade at 89% of our fair value estimate. We believe Bemis shares provide investors with a larger margin of safety than Silgan. Approximately 70% of Bemis' revenues are related to food packaging, 20% to other packaging, and about 10% to pressure sensitive materials. While the largest part of Bemis' food packaging business is related to meats and cheeses, the company also provides an array of highly convenient retort pouches, CPET trays (for the microwave and oven), and self-venting microwavable bags for frozen vegetables. Bemis is also well-positioned to further expand in Brazil, Mexico, and Argentina, where it has significant operations and where the populations have significant capacity to increase their per-capita incomes and per-capita packaged food consumption.
Disclosure: Morningstar licenses its indexes to certain ETF and ETN providers, including Barclays Global Investors (BGI), First Trust, and ELEMENTS, for use in exchange-traded funds and notes. These ETFs and ETNs are not sponsored, issued, or sold by Morningstar. Morningstar does not make any representation regarding the advisability of investing in ETFs or ETNs that are based on Morningstar indexes.