Summary and Recommendation
Buy recommendations Gazprom (OTCPK:OGZPY) and Statoil (NYSE:STO) may be among the most important beneficiaries of a marked upturn in natural gas price outside North America as traced in 2010 fourth quarter results from buy recommendations ExxonMobil (NYSE:XOM), Royal Dutch Shell (NYSE:RDS.A) and ConocoPhillips (NYSE:COP). Gazprom is concentrated 84% by value on Rest of World (ROW) natural gas, while Statoil is concentrated 34% by our estimates.
Oil price, after a time lag of six months or more, has traditionally been the main determinant of natural gas price in European and North East Asian markets. While buyers like lower price, results from XOM, RDS and COP suggest any reductions have not been noticeable. Meanwhile the high cost of new projects and the recent interruption of Egyptian production reinforces the contract price structure. New supplies offshore Israel may not be competitive as the government attempts to change taxes to as high as an 80% rate after the fact of discovery.
Natural gas helps propel Net Present Value (NPV) for Gazprom to $56 a share and for Statoil to $44 leading to McDep Ratios of 0.57 and 0.65 respectively. Enterprise values are among the lowest at 4.4 and 4.3 times unlevered cash flow. Gazprom stock is performing at the top of the range in Enterprise Value to 200 Day average. The Russian producer will likely report 2010 third quarter results according to international accounting on or before its investor presentations in Moscow, London and New York on February 15-17. Norwegian producer Statoil expects to report fourth quarter results on February 9.
Common Geopolitical Interests of Germany and Russia in Natural Gas
Strategic forecaster George Friedman, in his latest book The Next Decade, identifies natural gas as the most important future energy source. The choice fuel may form the basis for a strengthening relationship between two historic global powers. Russia has the natural gas Germany needs and Germany has the technology Russia needs. At the same time, Germany may meet its need for labor by building factories in Russia that employ underemployed Russians and help diversify Russia's economy. On the downside, the author cautions against the combined countries becoming strong enough to impose their will on others. On the upside, we see global economic growth as a force for peace and investment opportunity.

U.S. Natural Gas Price Stable
While ROW natural gas price is moving up, the U.S. futures price for the next six years trades flat. Bored commodity traders are shifting their interests away from natural gas to more volatile metals markets according to Natural Gas Week.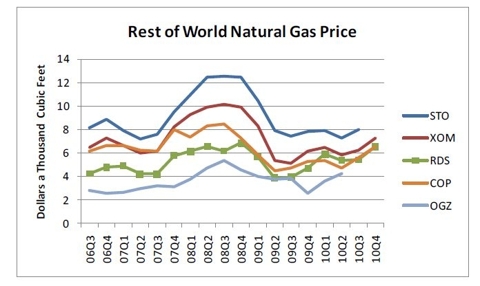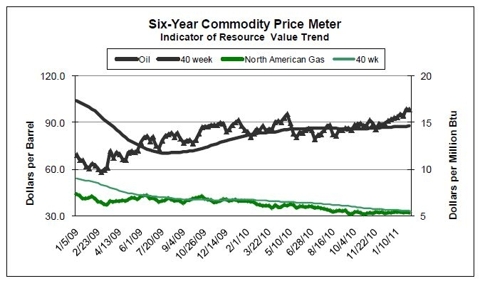 Originally published on February 8, 2011.