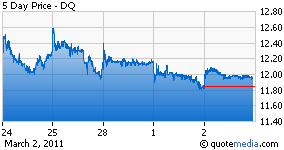 Daqo New Energy (NYSE:DQ) became the newest member of Chinese solar companies to list on U.S. exchanges when it made its IPO debut late last year. Unlike most of its U.S. listed peers, Daqo is currently concentrated on upstream polysilicon production, rather than downstream module production. As a result, its earnings may not directly correlate with other solar peers.
Polysilicon is the key component in making silicon based solar panels, and its cost have often determined the profitability levels for solar module manufacturers. When polysilicon prices are high, it benefits polysilicon producers such as DQ while puts pressure on the cost of downstream producers who consume it. Historically polysilicon prices averaged 40-50/kg but have fallen as low as 30/kg during periods of low demand to as high as 400/kg during periods of tight supplies. Currently polysilicon prices range between 50-55/kg on a contracted basis, while 70-90/kg on the spot market.
Although Daqo's current polysilicon capacity of 4,300 metric tons is small relative to incumbent producers who have over five times as much capacity, DQ has been able to produce at a very competitive cost of 32/kg reported for the second quarter of 2010. Production costs continued to decline slightly below 30/kg the following quarter, and in its Q3 2010 conference call targeted a 20/kg cost level in the near future. With current selling prices anywhere from 50/kg to 90/kg, polysilicon production can generate lucrative average gross margins of 50% or higher.
High profitability levels for polysilicon production was evident when Daqo reported Q3 2010 earnings last November. Revenues grew 20.5% sequentially to 63.2m in the third quarter as the company expanded gross margins to a blended 42.5% level. Lower margin module sales diluted overall gross margins slightly since average polysilicon selling prices of 56.7/kg should have generated gross margins close to 50%. On a net income basis, Daqo earned 16.6m in the third quarter of 2010, up from 10.6m recorded in the prior quarter. Due to a lower diluted share count which did not factor in additional shares issued from its NYSE IPO, DQ posted .64 in EPS in Q3 2010.
Looking forward into Q4 2010, the company further updated guidance last Janurary. For the fourth quarter, Daqo expects to ship 930-950 metric tons of polysilicon, and 3-4mw of modules. Revenues are expected to fall in the range of 75-76m. Slightly lower sequential shipments are due to the company taking its polysilicon plant offline for a couple weeks for retrofitting and upgrades. Based on the wider upside estimate revision compared to DQ's guidance issued during the Q3 2010 conference call, Daqo may be following peers of underestimating actual results. As a result, the high end of its estimate range may be closer to actual figures. As usual with all my estimates, I use metrics either stated by the company or can be derived from reported numbers without speculating beyond the company's own range of estimates. Below are estimates for Daqo's Q4 2010 earnings:
Revenues: 76m
Shipments: 950mt polysilicon, 4mw module
Asps: 72/kg polysilicon, 1.80/watt module
Unit Cost: 30/kg polysilicon, 1.75/watt module
Gross Profit: 39.9m polysilicon + .2m module = 40.1m
Gross Margin: 40.1m / 76m = 52.8%
Operating Expenses: 4m
Net Interest Expenses: 2.5m
Forex Loss: .7m
Tax: 4.9m
Net Income: 28m
Diluted Share Count: 35.1m
EPS: .80
Looking forward to the first quarter of 2011, polysilicon prices have stayed stable if not slightly higher than the average levels seen in the prior quarter. In fact, recent average quotes provided by PVinsights, a historically accurate source for spot market pricing, indicate that pricing at the polysilicon level have actually risen slightly while downstream verticals all saw their average selling prices decline sequentially. Although Daqo will not enjoy full spot pricing due to roughly 50% of its shipment volumes pegged at contracted rates, recent trends should keep the company's average selling prices stable. With higher shipment volumes, the company could guide first quarter 2010 revenues up sequentially by as much as 10%.
Other factors that play a role in Daqo's 2011 earnings are their integration efforts. Starting this year, DQ will be ramping its wafer and module capacity with year-end targets of 200mw and 250mw respectively. The company also hopes to ship 100mw to 150mw for those verticals this year. Although margins are much lower for these downstream verticals, they can still contribute with incremental gross profits. At least for its wafer capacity, some synergies would be created along side with the company's polysilicon production since the two verticals neighbor each other in the value chain.
As a new module supplier with only distribution sales channels, DQ's module shipments this year would be extremely questionable if the market became over supplied by similar new module entrants. However, the module vertical historically generated the lowest per watt gross margins along the value chain. Combined with the fact Daqo has no cell capacity, and thus would need to toll cell production or buy cells at market prices, DQ would likely see very little earnings contribution for its module vertical even if it meets shipment goals.
Daqo's new wafer capacity in contrary can be quite accretive to the company's earnings. Per watt gross margins for this vertical have averaged .20-.30/watt during normal market cycles. With capacity already coming online and a shipment goal of 100mw (half of its 200mw year end capacity target), DQ's wafer vertical could potentially generate 20-30m in incremental gross profits. Since wafers are more an OEM product, it would be much easier for the company to sell production separately if it couldn't consume it internally with its module capacity. While the prospects of DQ shipping 100mw of modules this year would be extremely questionable, it's extremely likely it could find buyers for all of its wafer production.
With these factors in consideration, Daqo would likely sell out all polysilicon and wafer production this year given the market demand environment many industry players and observers have stated. Any additional module sales would thus be a bonus although its contribution would likely be extremely limited on either the positive or negative side. Assuming an annual average polysilicon selling price in the high 50s/kg, or the lower median range between contract pricing and spot market pricing, Daqo would likely see around 30/kg in polysilicon gross margin. Assuming the lower end of .20/watt wafer gross margin, DQ would see an incremental 20m in gross profits from its wafer vertical. Combined, the company could see total annual gross profits around the 150m range.
One of the benefits of operating in the polysilicon vertical (as well as OEM wafer production) is extremely low operating expenses. Very little would be required on sales and marketing, so the bulk of operating expenses would be general and administrative as well as research and development. These expenses can stay relatively stable and not rise with revenues in contrast with branded module manufacturing peers. With operating expenses stable on an annualized basis, Daqo should expand operating margin as revenues rise. If other metrics stay stable from current levels, DQ should be able to post a net income around 100m for 2011. On an earnings per share basis based on 35.1m shares without further dilution, Daqo's 2011 EPS might fall in the range of 2.75-3.00. The longer polysilicon prices stay strong and stable around current levels, the more upside there would be to earnings.
Disclosure: I am long DQ.