By John Lounsbury and Steven Hansen
Is this month's employment situation a lagging indicator of the underlying economic dynamics? Econintersect has long argued that employment is a leading dynamic of the current economy.
Both of these views are true – depending on your perspective.
Poor employment rates (employment to population ratios) do not allow the economy to reach its potential – for this reason, employment trends become a leading indicator of the economy.
But there is a troubling undercurrent in otherwise improving employment data - oil prices are rising and energy prices can be economy killers, as shown by James Hamilton. The insidious impact of oil price increases likely are beginning to be felt in the core of the economy – but not yet working its way into the employment data.
But there are possible indications of employment problems in the Challenger data reviewed in this post. However, the ADP data was very positive economically.
The February 2011 ADP employment report showed private-sector employment increased by 217,000 from January to February on a seasonally adjusted basis.
Click to enlarge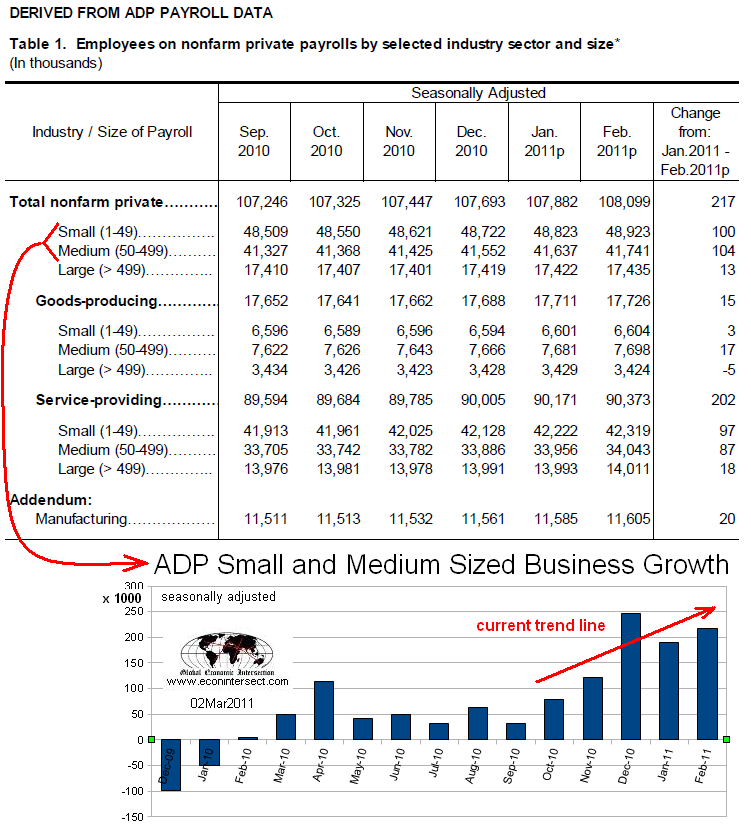 Comparing ADP and BLS Data
This is the big week for employment data. Pundits tend to discount the ADP data – relying on the BLS data which will be released on Friday. Econintersect has serious methodology issues with the over manipulated BLS data – and believes you cannot rely on either for total accuracy.
Click to enlarge

Recently, there has been little correlation between the ADP and BLS data. John Lounsbury has shown (unpublished work) that this lack of correlation is typical of the three turning points in employment since the ADP data has been published. The ADP and NFP (non-farm payrolls) since 2000 is shown in the following graph from the ADP Employment Report.
Click to enlarge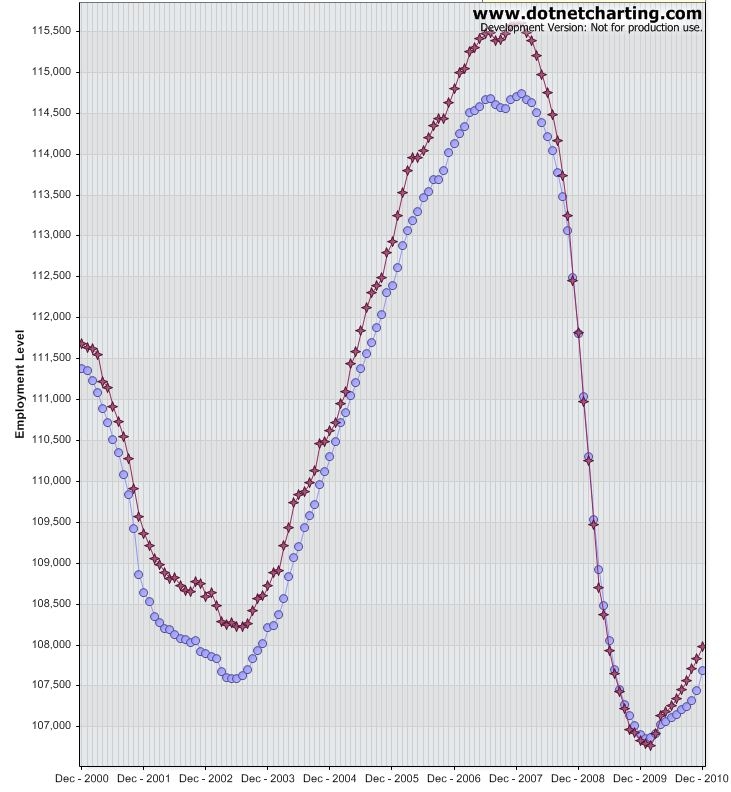 The correlation scatter plot for the two data sets is shown in the following graph. The correlation is nearly perfect with exceptions outlined with red borders.
Click to enlarge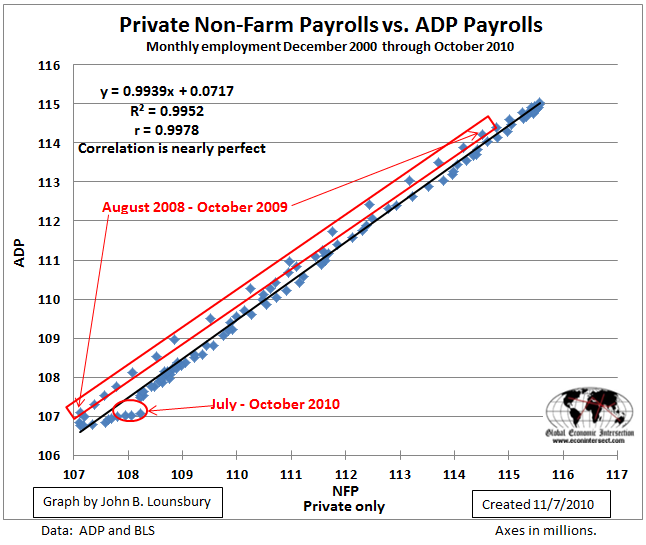 The characteristics of the linear correlation equation parameters are shown in the following graph. The deviation from nearly perfect correlation has occurred for all three turning points in employment for the brief history of the ADP data.
Click to enlarge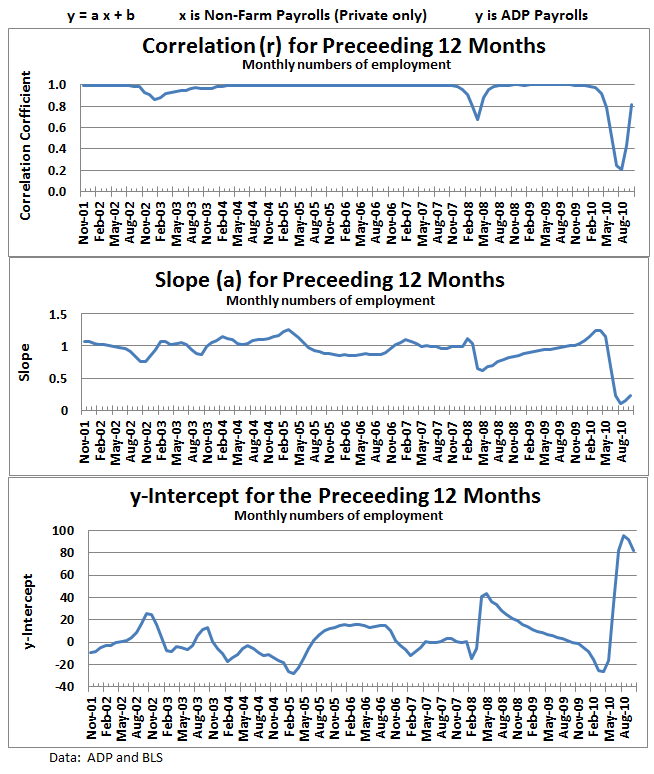 If these three occurrences are in fact fundamental to differences in the two measurement methodologies, careful analysis has the potential of defining ways in which data collection and treatment might be improved. However, with only three employment turning points it is quite possible that a fourth turning in employment might not see the correlation deviation. This possiblility is made more credible by the very small correlation dip in 2003.
We pointed out a month ago that the two payroll measurements had early signs of moving toward each other after a period of poor correlation. However, even if the BLS and ADP data align this month, how will the oil prices impact the following months? Will employment degrade if higher oil prices stick?
Are Layoffs Still a Problem?
ADP's release is issued coincident with the February 2011 layoff press release from global outplacement firm Challenger, Gray & Christmas, Inc. The importance of the Challenger release is that it offers a picture into the corporate world showing whether layoffs are ongoing. The release in part:
The number of planned job cuts announced by U.S.-based companies increased for the second consecutive month in February, rising to 50,702, the highest total since March 2010, according to the latest report on monthly job cuts released Wednesday by global outplacement consultancy Challenger, Gray & Christmas, Inc.

The 50,702 job cuts announced last month were up 32% from January's 38,519. It was 20% higher than the 42,090 planned layoffs announced in February 2010. This marks the first year-over-year increase in monthly job cuts since May 2009 when job cuts totaling 111,182 surpassed the 103,522 layoffs announced the same month a year earlier by 7%.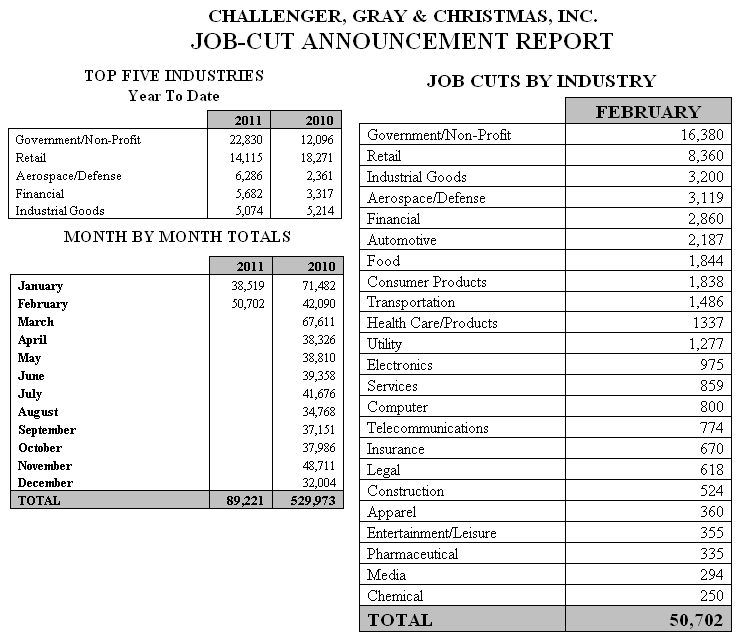 Despite the February surge, the pace of job cutting remains relatively subdued. The two-month job-cut total of 89,211 is 21% lower than the 113,572 job cuts announced in January and February 2010.

"It is too soon to say whether the increases in January and now February represent a trend. Certainly the specter of rising gas prices could impact employers' staffing decisions over the next six months. At the very least, rising energy costs could force employers to postpone hiring plans. At worse, increased costs could kill the fragile recovery and spur another round of layoffs," said John A. Challenger, chief executive officer of Challenger, Gray & Christmas.

The largest portion of layoffs last month came from government and non-profit employers, which announced 16,380 job cuts, up 154% from 6,450 in January and 196% higher than a year ago when 5,528 job cuts were announced in February. While most of the cuts occurred at the state and local level, the United States Postal Service announced that it reduced its headcount by 5,600 in recent months.

"More job cuts at the federal level are expected in the months ahead as pressure mounts to cut costs and rein in the soaring national deficit. Of course, while most would argue that the deficit must be addressed, it must be acknowledged that sending tens of thousands of government workers to the unemployment line and possibly furloughing thousands more will have negative consequences for the economy in the form of reduced consumer spending and increased outlays for jobless benefits," said Challenger.

Retail may already be anticipating a slowdown in consumer spending. Planned job cuts in the sector increased 44% in February to 8,360. That follows a 17% increase in January to 5,755.

"Of course, if gasoline tops $4.00 per gallon in the coming weeks, consumers may be forced to make significant changes to their spending habits. At this stage of the recovery, that could be an extremely damaging setback," said Challenger.
Hiring Plans Are Improving
On the other hand, the amount of planned hiring also jumped this month – 75% due to the planned seasonal hiring of 60,000 employees by Home Depot (NYSE:HD). According to Bloomberg:
"It is about driving traffic," Menear, 53, said from Home Depot's headquarters in Atlanta. "Spring is our Christmas."

Menear declined to say how many full-timers and part-timers will be hired permanently.

The retailer had 317,000 employees, including 298,000 hourly or temporary workers, as of Jan. 31, 2010, according to an annual securities filing. About 61% worked full-time.

Starting next month, Home Depot will roll out discounts on cooking grills, garden tools and other outdoor supplies. Marketed as "Spring Black Friday," the promotions will run over four weekends across the U.S. Where and when will depend on the climate and temperatures of each region, Menear said.
A lot of issues weigh on employment trends. Econintersect sees the current energy price trends as one potential employment killer.
Related Articles
Oil Shocks and Economic Recessions by James D. Hamilton
Is It Possible the Jobs Cavalry will Ride to the Rescue? by Steven Hansen
Officially Out of Recovery and into Expansion – NOT by John Lounsbury
ADP and Challenger: Strong Employment Gains by Steven Hansen
Disclosure: I have no positions in any stocks mentioned, and no plans to initiate any positions within the next 72 hours.