Petrobras (NYSE:PBR) closed the day at $40.88 +1.68 (4.29%) on volume of 25.35 million shares (34% higher than its 18.86 million shares/day average).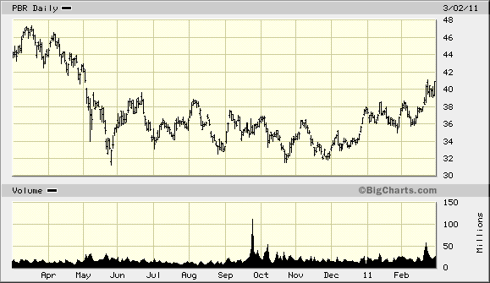 Click to enlarge
Looking at PBR's chart (courtesy of BigCharts.com), we can see the classic cup-and-handle pattern made famous by Investor's Business Daily (IBD). The stock has been forming the cup since May of 2010. The handle has been forming in the last 8-10 trading days. The beginning of the handle was on February 23rd on volume of over 50 million shares. The stock retreated slightly on a decrease in volume while the bottom of the handle formed. If the stock breaks $40.90 (the Feb. 23rd high), the handle may indeed be completed. Handles usually take longer to form, but I believe the higher oil prices brought on by events in the Middle East and North Africa have accelerated the process. Breakouts from cup and handle formations are often followed by very quick run-ups. I believe PBR could easily jump up to the $46 range.
On the fundamental side, Petrobras' 2010 full year net income was up 17%. Proven reserve replacement was a whopping 240% of production - the 18
th
consecutive year PBR has replaced more than 100% of Brazilian production. Total proven reserves now sit at 16 billion barrels (compared to Exxon Mobil's (NYSE:
XOM
) 24.8 billion barrels). However, Petrobras' CFO Guillerme Barbassa recently told Forbes magazine that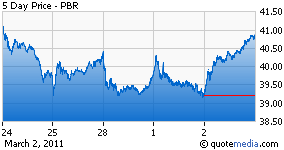 Petrobras "has much more [than the 16 billion in reserves], there's plenty of opportunities and resources here in Brazil." And who could argue with that? No other country in the world has made more big discoveries of conventional oil in the last few years as has Brazil. CFO Barbassa says Petrobras is "in a process to increase production to 4, 5, maybe 6 million barrels a day in the next 5 to 6 years." 2010 was also a great year for natural gas, with demand up 38%. No wonder Barbassa thinks Petrobras will be bigger than Exxon by 2020. I'd hate to bet against him.
Now, I must admit to have recommended Petrobras frequently in the past. I was warned by commenters that Petrobras would be diluted by the Brazilian government. It was seen as a huge political risk. Unfortunately for me, those warnings were spot on. I have paid the price by holding a stock that has gone nowhere for the better part of two years while other oil producers have been making nice runs higher. However, the dilutive $67 billion share offering done last September is complete. Further, Barbassa denies that Petrobras will raise capital through additional debt or equity.
Petrobras currently sports a PE around 10. Considering the production growth it has shown in the past, its future prospects, and the prospects for continued high oil prices, PBR is cheap.
In summary, Petrobras has underperformed its peer group over the past 2 years. This underperformance was mostly due to political and dilutive concerns. I believe those hurdles have now been cleared. Petrobras has the oil reserves and the company is now well capitalized to exploit its huge oil discoveries. It is now Petrobras' turn to outperform. The stock was a buy even before the civil unrest in the Middle East and North Africa. Now the stock is a strong buy.
Disclosure: I am long PBR.