As anticipated, equity-oriented CEFs advanced strongly in February '11 along with the equity markets. The average of the 13 CEF fund type averages was up 1.5%. GenEqFnds jumped 4.0% with SpecEqFnds up 3.8%. The S&P 500 advanced 3.2% for the month. (Click on chart to enlarge)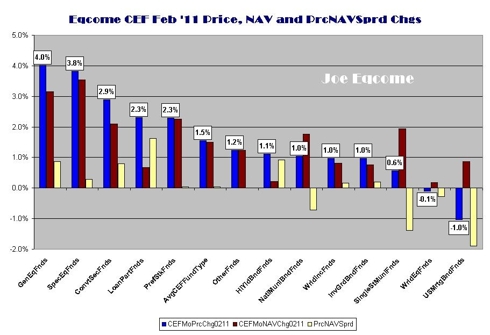 Small-Cap Special Situations: Some of the GenEqFnds' advance was driven by a few small CEFs that included two of the small, thinly-traded Cornerstone advised funds (CLM and CRF). Both stocks have rebounded on average 14.6% after having been depressed by recent rights offerings where the offering price per share was well below that anticipated by the funds' advisor.
A third Cornerstone fund (NYSEMKT:CFP) is also entertaining a future rights offering.
SpecEqFnds as a group was driven by energy and natural resources as a likely result of the turmoil experienced in the Middle East.
Munis gave up their bottom slots to WrldEqFnds and USMrtgBndFnds which were down 0.1% and 1.0%, respectively. Of note was the significant negative monthly PrcNAVSprd for the USMrtgBndFnds indicating the percentage change in price lagged that of its respective NAV per share.
This could be a function of some negative news coming out of the residential housing market with regards to a stalled housing recovery; or, it could just be the natural results of the lag in updating NAV's of more difficult to value mortgage investments. A negative PrcNAVSprd was also recorded for each national and state muni funds as well as WrldEqFnds.
Eqcome Fear Index Rises: A divergence continues to evolve between the Eqcome CEF Fear Index and the VIX which have historically moved in a similar direction. This could indicate investors' sentiment on muni bonds as it represents a large component of the CEF market segment.
Disclosure: I have no positions in any stocks mentioned, and no plans to initiate any positions within the next 72 hours.