On March 1, Shanda Games (NASDAQ:GAME), a subsidiary of Shanda Interactive Entertainment (NASDAQ:SNDA), reported strong 4Q10 results and 1Q11 guidance: Total revenue of $174 million beat Wall Street consensus of $168.8 by 3.1%. GAAP EPS of $0.20 was 17.6% above consensus of $0.17. While investors were pleasantly surprised at the Q4 results, the brightest spot in Shanda's Q4 earnings call was the better-than-expected Q1 guidance: Shanda guided 5%-7% sequential revenue growth in 1Q11, which translated into $182.7-$186.2 million, whose midpoint was 6.1% above consensus of $173.9 million.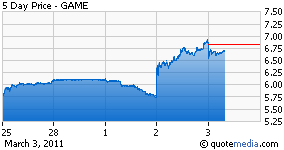 Shanda shares surged 18.8% on the first trading day after Q4 earnings release. I believe the major driver of such enthusiasm is Shanda's strong product pipeline for 2011: For 1Q11, Dragon Nest, Maplestory 2.0, and Hades Realm II will be major growth drivers. From 2Q11 to 4Q11, quality games Legend of Immortals, Bubble Fighter, Sudden Attack, Point Blank will help sustain the growth. Towards the end of 2011, potential blockbuster games Final Fantasy XIV and Dragon Ball Online will likely be launched to carry the momentum into 2012.
Some investors may ask: "Shanda has always had many games in its pipeline. What's the difference this time that warrants such a big jump in its stock price?" The answer is Dragon Nest, the biggest surprise in Shanda's Q4 results. Although the game's successful Q3 launch was well-known, many investors expect it to fail shortly after the initial success, repeating the story of Aion (a 3D game launched by Shanda in 2009), whose popularity dropped sharply after its initial success. Moreover, most investors did not expect Dragon Nest to reach $31.3 million revenue and account for 18% of total game revenues in Q4, which was only its first full quarter of operation (I have explained in a previous article why Dragon Nest will not become the next Aion).
By comparison, Shanda's Legend game series accounted for 57% of all revenues in Q4, down from over 70% a year ago. The emergence of Dragon Nest means Shanda has finally found a single game outside the Legend series that can contribute more than 15% of total revenues. Furthermore, Shanda's CEO Alan Tan believed Dragon Nest is still at the early stage of its life cycle, implying Dragon Nest's significant contribution will continue for at least several years. Such a surprising development has fundamentally changed investors' perception of Shanda and removed a major overhang on the stock, in my opinion.
Disclosure: I have no positions in any stocks mentioned, and no plans to initiate any positions within the next 72 hours.