As I've written before, Overseas Shipholding Group (NYSE:OSG) is one of my favorite stocks to own. It has a lot of cash and a low price-to-book ratio, it pays a high dividend, and I think the company is managed with the interest of long-term shareholders in mind. (For more on what makes the company a good stock to own, see the work of Seeking Alpha author "SL Advisors"). Moreover, I think the reality of strong headwinds and oversupply in the shipping industry have given rise to an overly negative perception of the industry prospects.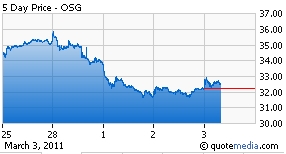 This combination of a good business and a bad reputation in the market at large makes OSG a good opportunity for contrarian value investors. The stock has fallen over the last three days from approximately $35 dollars per share to $32.00.
Now, according to a recent SEC filing, OSG Director Charles Fribourg has purchased over 20,000 shares at prices between $31.93 and $31.99 per share. To me, insider buying of shares (not merely the exercise of options granted as compensation) is one of the best indicators that now is a good time to buy. Fribourg has a number of other business ventures, and this purchase of 20,000 shares added about 8% to the over 240,000 shares he already owned.
OSG is heavily involved in the spot market for shipping crude oil and petroleum products, both in the United States and around the world. OSG's CEO explained that disruptions in the supply chain related to Libya mean that tankers currently used for storing oil at sea are being released. This means more supply in the near term, which is bad for ship owners, but the market seems to have reacted to this news by saying that the whole company is worth 10% less than it was a month ago. To me, that's the kind of overreaction in the market that creates buying opportunities.
I'm also interested in other firms in the same business such as Tsakos Energy Navigation (NYSE:TNP) (less cash than OSG and Greek, rather than American management), but I haven't spent as much time looking into TNP's business yet. Any suggestions would be appreciated.
I bought yesterday at $32.48 and $31.75 per share, and a few days ago, I sold a put for July expiration at a strike price of $30.00 per share for a premium of about $2.00 (that is to say, took two dollars today in exchange for agreeing to buy the stock at a price of $30.00 per share any time between now and July). Those puts are probably available closer to $2.25 today. I looked at October and January options, but I don't think you get paid enough of a premium for the additional risk.
Happy hunting.
Disclosure: I am long OSG.