Integrated International Oil Companies, IOCs, have over the last decade grappled with increased difficulty adding to reserves and profitability. In comparison, the non-Integrated or Independent Oil Companies have delivered much higher capital growth from a smaller base. According to the energy consulting firm PFC Energy, the Independents showed an average value growth of 18% (Year-on-Year) in 2010 compared with just 4% for Big Oil. NOVATEK, the Russian Independent for example had a 94% share price increase in 2010.
While the Independents may be asking questions about Big Oil's business model, the greater threat has come from their state-controlled counterparts, Integrated National Oil Companies, or NOCs. According to PFC Energy rankings, of the ten largest Integrated Oil and Gas Companies by market capitalization at the end of 2010, five were NOCs and two of them among the top three. At the end of 2004, only two NOCs were ranked among the top ten. At Petrobras, Brazil's NOC, for example, market capitalization grew by a 27% compound annual rate to raise the company from 27th position in 1999 to its current 3rd position in PFC's rankings. In terms of share price gains, figures for the six largest NOCs outstripped those of the six super majors in each of the last five years, except 2008 (Figure 1 below); in 2006 it was by a multiple of about two and half, in 2007 about five, in 2009 about ten and in 2010 that multiple was about two.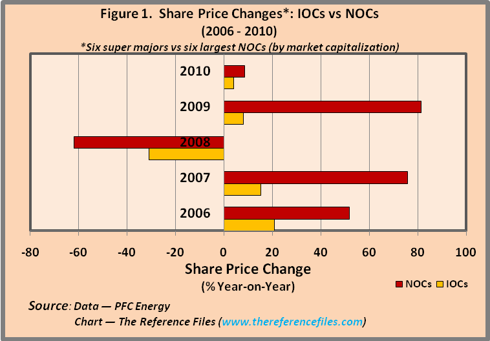 (Click to enlarge)
In terms of structure, size and scope, NOCs are steadily transforming into super IOCs of sorts, threatening the positions of major IOCs as we know them today. This rising dominance rests in the main, on three planks:
1. Reserves
Petroleum reserves are fundamental to any oil and gas company's operations and such company's ability to grow reserves often defines its viability. Among petroleum-rich countries, these reserves have seen increasing domiciliation and quite often through their respective NOCs. At the end of the year 2009 for example, the proved reserves (in terms of barrels of oil equivalent) held by just two NOCs, were more than six times the combined value for the six super majors; in addition, the Saudi Arabian NOC, Saudi Aramco, alone in 2009, produced more oil than ExxonMobil (XOM), Royal Dutch Shell (RDS.A) and BP combined.
For IOCs, access to these reserves has largely been through Production Sharing Contracts (PSCs) and Service Contracts (SCs). Many PSCs on one hand, require the IOCs to bear exploration and production costs (including those for dry wells); when discoveries are made however, proceeds come under very steep, local royalty and tax regimes. In petroleum-rich Nigeria for example, provisions of the Petroleum Industry Bill currently pending in the country's legislature, left some IOCs threatening to exit the country's oil and gas sector, if their demands were not met — that may just be good news to the Chinese NOCs which have been angling to get in. SCs on the other hand, provide for a fixed amount payable to the IOCs for a unit of production; in some Middle East countries that value is a little more than US$1 per barrel of oil while in others oil and gas activity is restricted to petrochemicals.
2. Capital
Capital expenditure (capex) is fundamental to the growth of any company in the oil and gas industry. From their onset, most NOCs had easy access to large national treasuries and for many, expenditure was not subject to any legislative oversight nor was any external accounting scrutiny permitted. In addition, such funds were obtained under much more liberal terms than markets could offer; while this bred a lot of corruption, the comparative advantage over IOCs was enormous.
This comparative advantage persists and constitutes a solid plank on which their rising dominance over IOCs rests. While for some NOCs it is still business as usual, a few have undergone remarkable transformation (as discussed below). The latter have been able to attract more public capital investment to fund their massive expansion projects. According to a study by Evaluate Energy, capital expenditure by NOCs increased by a massive 131% between the years 2005 and 2009, compared to just 59% for the seven largest IOCs. Capex by NOCs was more than twice that of Big oil in 2009 and the study expects this trend to continue. In addition, NOCs raised US$108 billion for capex just between June and November of 2010. In Mergers and Acquisitions (M&A), NOCs have also been dominant; according to Platts, NOCs outspent the majors by US$16 billion in 2010 gaining significant entry into the U.S. and Canada. Such capital outlays have enabled them to make quite extensive inroads to projects that were hitherto dominated by IOCs. For example, during many of the oil-block licensing rounds held around the world (particularly Iraq's second bid round), NOCs and even Independents have come out winners.
The challenge for Big oil is that even with their capex, return on investment has in the main, been much lower than for example that for the Independents as well as many NOCs.
3. Management and Technology
On the upside, the increasingly tight fiscal regimes in which IOCs have been forced to operate, has led to the development of advanced management and technological systems to optimize and drive their industry-wide processes. But some NOCs are either in step or arguably one step ahead. Petrobras, for example is in the vanguard of cutting edge ultra deep-water production technologies. The company operates some of the world's largest oil platforms and has successfully drilled wells much deeper than the ill-fated Macondo well. Statoil, Norway's state-controlled NOC also holds widely acknowledged deep-water technological expertise.
A few years ago, reference to NOCs often conjured images of oil-drenched institutions presided over by rash, despotic kleptomaniacs. Well, yes there are a few left (and no prizes for correct answers), but while many have realized the need for — and are in the process of — restructuring, some have completely restructured. They have undergone significant reorganizations employing total quality management principles among others. Transparency and accountability have been introduced and political environments tweaked to allow for investor friendliness; and these have made for favorable stock listings. Asian NOCs have held significant share offerings, cashing in on the appeal of Asian stocks. KNOC, South Korea's NOC, for example has planned significant upgrade and expansion. Ecopetrol, Columbia's state-controlled NOC, has since undergone reorganization and just announced a 4Q10 net profit increase of 47%, Financial Times has reported; its share price gain (Y-o-Y) for 2010 was 77%, the second-highest among the top 50 energy companies, according to PFC Energy rankings. Petrobras also announced a 38% net profit increase to US$6.4bn for 4Q10. Petrobras' share offering of about US$70bn in September of 2010 was a record.
Much of the technological advancement by NOCs has been by joint ventures, acquisitions and adaptation. Targets have included companies with unconventional and deep-water production expertise among others. The Chinese NOCs armed with a large financial war chest have been at the fore, and often at a premium. Recently in unconventionals for example, Reuters reports that the almost US$11,000 per acre paid by CNOOC for the Chesapeake's Eagle Ford acreage was higher than Wall Street's expectation of US$10,000 per acre. Chinese NOCs have also targeted oil sands players such as Suncor Energy and Cenovus as well as Seadrill, the Norway-listed deep-water operator. The fact that production from some of the Chinese acquisitions is sold and not repatriated, strengthens the argument that technology acquisition, increased global profile and economic returns are the main drivers for their positions.
The potential tie-up between Independents and NOCs portends a lethal body blow for Big Oil. Independents have shown much greater efficiency than Big Oil in both the upstream Exploration and Production (E&P) and downstream Refining and Marketing (R&M) subsectors. In addition, the planned acquisition by some NOCs, of deep-water operating companies will hasten their complete transformation into super IOCs.
Finally, one of the more powerful operational tools employed by some NOCs, has been the leverage of state, which has enabled them to operate in high-risk areas such as Sudan among others.
For Big Oil then, while these challenges are certainly "life-threatening", there may be some lifelines available and these shall be discussed in a subsequent post.