By Sumit Roy
Crude oil has surged in recent sessions, boosted by the crisis in Libya and unrest throughout the broader North Africa/Middle East region. Although these are unique developments to 2011, in many ways, the major themes bolstering the rally in crude oil are quite similar to those we saw a few years back, when the commodity first surpassed $100/barrel. Emerging markets like China and India are fueling demand growth, and supply concerns are stemming from volatile regions of the globe such as the Middle East, Africa, and the Gulf of Mexico. Replace Libya with Nigeria and the recent BP-Gulf of Mexico disaster with Hurricane Katrina or Ike, and you get the same story, just with different characters.
But while the situations stay the same, one thing that has changed over these past few years is the role of West Texas Intermediate (WTI) as the preeminent global crude oil benchmark — a role slowly undermined by increasingly wide spreads between WTI and other markers.
That's not to say WTI has moved in the opposite direction as other crudes; It is at 29-month-plus highs, as are other crude oils. Rather, WTI has meaningfully underperformed, causing the spread between it and something like Brent (the second most liquid crude oil benchmark) to widen to record levels.
Last month the WTI-Brent spread reached as high as $15.94:
[Click to enlarge]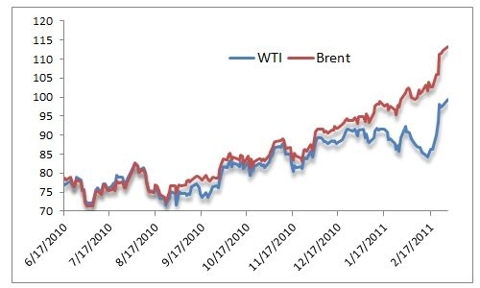 Source: Bloomberg
This is significant because, all else held equal, one would expect WTI and Brent to trade at similar levels. In fact, historically the higher-quality WTI has traded at a slight premium to Brent crude. But in recent years, this relationship has broken down intermittently, with these hitches increasing in frequency and duration: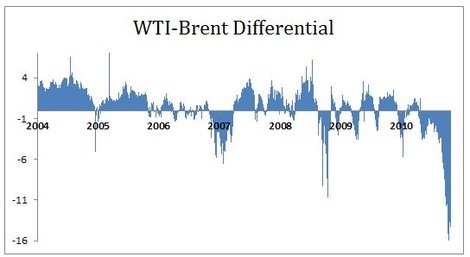 Source: Bloomberg
WTI has now traded at a discount to Brent for six months and counting, the longest such stretch in history. More importantly, we also see a significant discount through the entire forward curve up to 2020. This was not the case in past instances when WTI traded under Brent, and it indicates that the market now sees a more permanent structural shift in crude pricing:
[Click to enlarge]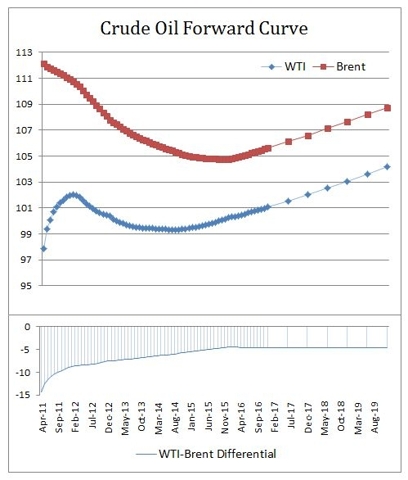 Source: Bloomberg
The culprit is a growing glut of oil at Cushing, Oklahoma — the delivery point for Nymex light, sweet crude oil contracts. In years past, pipelines across the Midwest and Gulf Coast would carry the oil to Midwest refineries, but as U.S. oil production declined, so too did pipeline usage. Meanwhile, increasing crude production from Canada's oil sands came to market, thus spurring operators to reverse pipeline flows and send Canadian output down to Cushing and the Gulf Coast.
One notable instance was the 2006 reversal of the 193 Kbbl/d Spearhead pipeline that runs from Cushing to Chicago, but even as recently as last month, an extension of the 590 Kbbl/d Keystone Pipeline from Nebraska to Cushing began channeling more Canadian crude to the area.
Compounding the problem is a surge in crude oil output from North Dakota's Bakken Shale, further saturating the greater Midwest region. In fact, at 101 million barrels, crude oil inventories in the Midwest are at 87 percent of the net available shell storage capacity, according to Department of Energy data. Only 15 million barrels of capacity remains in the Midwest, virtually all of it in Cushing. Therefore, the extremely wide discounts we see on WTI trapped in the Midwestern system is the market's way of allocating this increasingly scarce storage capacity.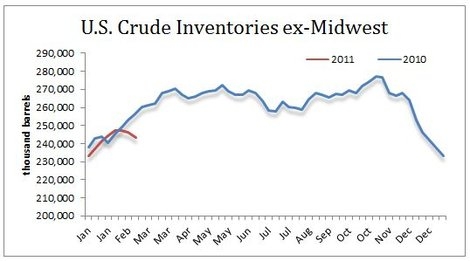 Source: Department of Energy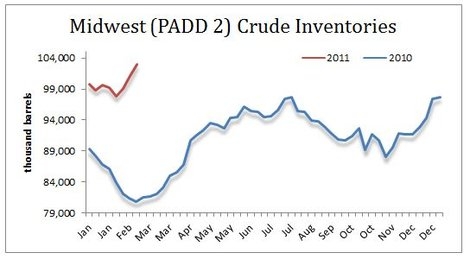 Source: Department of Energy
Because the Cushing region is landlocked, it's inaccessible to barges or tankers that might open up opportunities to arbitrage the wide differentials between WTI and other crudes. While the proposed 510 Kbbl/d Keystone Gulf Coast Expansion project (Keystone XL, for short) will give Canadian producers the ability to ship to the gulf, and thus alleviate the pressure on WTI, its launch is still at least two years away. If all else fails, there is the possibility that existing pipelines running from Cushing to the Gulf Coast could be reversed to send crude south, as has been discussed by some firms.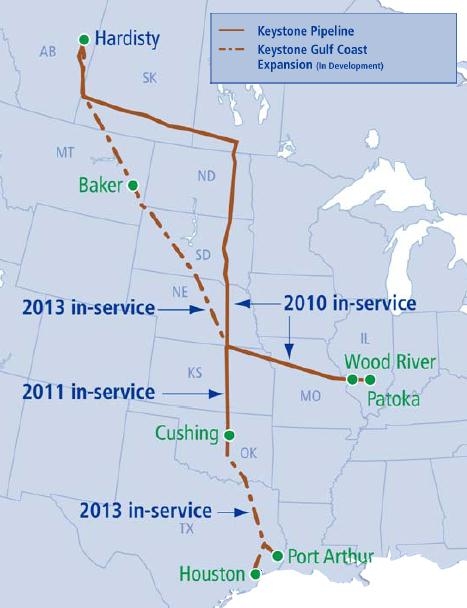 Source: TransCanada
Still, until this situation is resolved, West Texas Intermediate should be viewed as a poor indicator of global supply and demand dynamics. Already, trading volume has shifted toward Brent, a trend that may continue should these circumstances remain in place.
Investors seeking straightforward oil exposure should avoid WTI-linked products, such as the United States Oil Fund (NYSEARCA:USO). Returns on something like USO will be influenced by both supply and demand factors, as well as fluctuations in the extremely volatile spread between WTI and other crudes. The same would obviously hold true for the underlying WTI futures themselves.
Instead, investors can take a look at Brent crude oil futures and related products, such as the United States Brent Oil Fund (NYSEARCA:BNO). Unrest in the Middle East will benefit both WTI and Brent, but the latter is more of a pure play on global supply and demand fundamentals.
A more sophisticated (which is not to say better) strategy involves betting on the spread between WTI and Brent itself. The only practical way to initiate such exposure would be through futures, whereby a trader would simultaneously go long one contract, while shorting the other. So, if one believes that the Keystone XL pipeline would alleviate the Cushing glut, then going long December 2013 WTI futures while simultaneously shorting December 2013 Brent futures would reflect that view.