As enthusiasm continues over Apple's Ipad, many investors are looking for ways to capitalize on Apple's success by investing in companies that stand to benefit from Apple's growth.

Investors are looking for companies that make chips, screens, software and parts for Apple's products. Strategic partnerships or deals like these could greatly help much smaller companies that supply Apple with crucial components for its products. And it seems as if almost every company has been somehow linked to Apple over the past few years, in an attempt to catch investor attention or plug its own products and services. Over the past year alone, I've seen companies like Akamai (NASDAQ:AKAM), Cirrus (NASDAQ:CRUS), Micron (NASDAQ:MU), AMD, Verizon (NYSE:VZ), and AT&T (NYSE:T) benefit from their component or service connection with Apple - and that's just a few companies that have seen positive stock price movement with ties to Apple.

It therefore seems - and probably rightly so - that a great way to profit from Apple's success is to somehow ride Apple's momentum. For companies, the best way to do so is to either enter into some kind of partnership, or even just to be linked to Apple. For investors, though Apple has provided some great profits, the biggest gains may actually be through derivative and downstream plays - those smaller companies that stand to gain tremendously from links to the hottest and perhaps most powerful company in the world.

On March 1st, we wrote an article discussing our current favorite stocks near support zones - a list of six stocks we thought provided great entry points with very low risk (if watched carefully). Lucky for us, one of those stocks was Silicon Image (NASDAQ:SIMG) - which jumped over 20 percent yesterday as news came out that its products will be used in the new Ipad. I'm not saying that I knew SIMG parts would be used in the Ipad, but I definitely knew someone was going to start noticing the company, especially since I've been following it for so long.

Silicon Image has been my favorite technology play for years now, and I have waited very patiently for it to start gathering momentum. At the height of the tech bubble in 2000, the stock hit as high as $66 - only to fall to as low as $2 in early 2010.

I knew that Silicon Images still provided some great value, and I didn't mind the stock staying at a low price for a little while; it gave me a good chance to buy some more. So after establishing very strong base support near $2, SIMG finally started moving up - breaking through $3 and $4, and gapping above $5 in October 2010. Since then, the stock has soared, hitting $10 yesterday.

Compare SIMG and AAPL performance over the past year: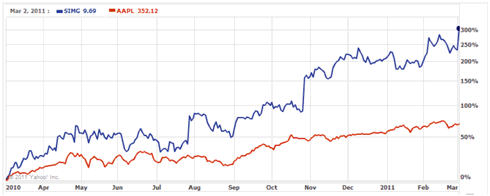 (Click to enlarge)
As you can see, SIMG has more than quadrupled AAPL's performance over the past year - and that may only be the beginning. True, Apple is the top company; but it's the smaller companies that stand to gain the most in stock price. And now that Silicon Image is linked to Apple, momentum may quickly build.

Not only is SIMG gathering momentum and looking pretty attractive technically, but its fundamentals are also promising:

1) Small capitalization offers greater growth opportunities. With a market cap of less than $700 million, growth and stock price appreciation is much easier for a company like SIMG than for a huge company like AAPL.

2) Reasonable P/E. With a forward price-to-earnings (P/E) ratio of 15.84, SIMG's growth may still not be recognized by many investors. If the Ipad's success really does help SIMG, a P/E of less than 16 is extremely low for such a promising stock.

3) Lots of Cash and Zero Debt. With over $190 million in cash (nearly one-third of its market cap), SIMG is in a very favorable spot financially. That $190 million in cash is equal to $2.44 per share! That means that while the stock is near $9, you're getting nearly one third of it in cash. Add to that the fact that SIMG has no debt on its balance sheet, and this is a very healthy company right now.

With all that said, we think SIMG offers a great investment opportunity for those looking to capitalize on Apple's continued success. With the Ipad showing promising numbers and projections, a component maker like Silicon Image stands to benefit tremendously if it is able to provide Apple with the required parts. And with SIMG stock gathering momentum over the past year, this may be just the beginning of its comeback. It's small capitalization and room for growth, reasonable P/E, and lots of cash with zero debt are some great reasons to at least look into this stock.

Support levels to watch are $6, $6.58, $7.50, and $8. As with any stock investment - manage your risk and don't get greedy, but take advantage of the opportunities presented to you.

Disclosure: I am long SIMG.