Enterprise Products Partners (NYSE:EPD) and Constellation Energy Partners (CEP) are master limited partnerships (MLPs) with very different stories.

EPD, the largest MLP, reported record aggregate natural gas liquid (NGL), crude oil, refined products and petrochemical pipeline volumes along with record natural gas pipeline volume for 2010. Net income was $1.4 billion, operating margin of $3.3 billion and distributable cash flow (usued to pay distributions) of $2.3 billion were also records.

EPD invested $3.1 billion to develop midstream energy infrastructure to serve customers in areas such as the Haynesville/Bossier Shale and the Eagle Ford Shale and increasing demand for NGLs. Three major projects began operations during 2010: a 5.3 million barrel refined products storage facility serving a large refining customer in Port Arthur, Texas; the Trinity River Basin natural gas pipeline serving producers in the Barnett Shale area of North Texas; and a 4th NGL fractionator at the complex in Mont Belvieu, Texas. Distributable cash flow was increased 5.4% for distributions while EPD retained a record $480 million of distributable cash flow for reinvestment in capital projects.

EPD was been able to raise money to finance expansion. In Q4, $594 million was received from selling almost 15 million units through a public offering and the distribution reinvestment plan. Consolidated liquidity at year end was about $2.9 billion. Last month EPD raised $1.5 billion after selling 5-year and 30-year notes.

Results presented for 2010 reflect the recent merger with Enterprise GP Holdings (the general partner) with EPD. Last week, EPD offered to purchase Duncan Energy Partners (NYSE:DEP) through a unit-for-unit exchange and the merger should go forward, both companies were founded by Dan Duncan.

In 2011, EPD expects to invest $3.4 billion in capital projects of which approximately 85% will be invested in the Eagle Ford and Haynesville/Bossier Shale regions. The Haynesville Extension expansion is expected to begin operations in September and come in under budget. EPD just increased the quarterly distribution to 59¢ per unit ($2.36 annualized), a 5.4% increase over the prior distribution, the 35th distribution increase since its IPO in 1998 and the 26th consecutive quarterly increase.

Enterprise Products Partners -- 4 years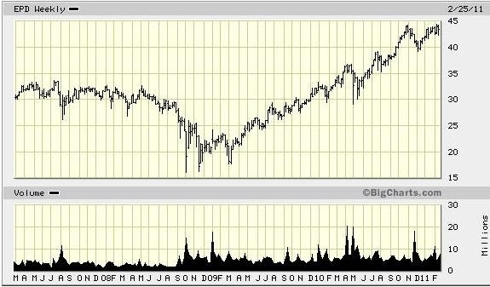 Click to enlarge
(Click to enlarge)

Constellation Energy Partners (CEP) business is the production of oil and natural gas properties and related midstream assets. Revenue rose $8 million to $150 million helped by gains from mark-to-market activities. CEP had a loss of $4.4 million, which excludes non-cash asset impairment charges of $272.5 million. Adjusted EBITDA resulted in Adjusted EBITDA of $54.1 million for 2010. Capital spending of $8.5 million in 2010 resulted in 31 net wells and recompletions in the Cherokee Basin, and 5 wells and recompletions in progress at year end. In addition in December 2010 it acquired interests in 36 wells (eight net wells) in the Central Kansas Uplift for $5.9 million. Debt was reduced $30 million to $165 million. Its cash balance was $7.9 million leaving the company with $30 million in borrowing capacity at year end.

For 2011, CEP has a limited capital program of $10-$12 million to complete 30-35 net wells. CEP said the distribution will remain suspended through Q4 2011.

Constellation Energy Partners -- 4 years

Click to enlarge
(Click to enlarge)

EPD and CEP represent extremes in the industry. Since its IPO, EPD has an excellent record of growth. It has become the largest MLP and will be substantially larger after the DEP merger. However, the rising unit price has reduced its yield to a modest 5.4% making it less appealing for investors seeking high yields. Growth for EPD should be enhanced by investments in Haynesville projects, new and untapped sources of energy in the US. Meanwhile CEP, with limited prospects of resuming distributions for some time, only has appeal for those interested in recovery candidates and their potential for large capital appreciation. While the Alerian MLP Index has been soaring, CEP has been struggling with units sloshing around $3 after its fall from grace.

The MLP index just reached a new record high that reduced the yield to 5.9%, near its record low of 5.4% in 2007 (suggesting its securities are overbought). Further price growth could be limited at best and its extraordinary run for more than 2 years must end at some point. EPD is a major component in the index and will reflect price swings of the index. The low, speculative price for CEP suggests it can appreciate by continuing to pay down borrowings with a limited capital investment program. Those embracing risk will be attracted to CEP.

Disclosure: I have no positions in any stocks mentioned, and no plans to initiate any positions within the next 72 hours.