I recently ran a stock screen with just three criteria: 1) Utility sector, 2) Non-USA , 3) Strong Buy from Wall Street. Only two stocks made this list – Korean Electric Power (NYSE:
KEP
) and Veolia Environment (VE). These two are interesting choices.
Korean Power (
KEP
) is the sole monopoly for electric generation and distribution in Korea, and the company is 60% owned by the government. The government sets rates, and over the past few years, has been keeping them artificially low, hurting KEP's profitability. There is ongoing discussions that may lead to changes to both current electric rates and future rate calculations and should benefit KEP. Beyond a general rate increase, the hope is that KEP will be able to develop a pass-through rate policy whereby fuel surcharges are added based on market commodity costs.
In addition, KEP is in the business of building and operating foreign power plants. For example, KEP recently announced a $1.4 billion contract with partner Sumitomo of Japan to build a thermal power plant in UAE and to provide electricity for 25 years.
Korean Power pays no dividend and should be viewed as a turnaround situation, based on July negotiations and an improving construction market for power plants. There are 2 ADRs for 1 ordinary share traded on the Korean Exchange. ADR share prices have fallen to $12, from a 52 week high of $17. KEP is sensitive to both oil and LNG pricing as these are major fuel sources and, with the current inability to pass through higher costs, KEP's profitability suffers in elevated commodity markets.
Veolia Environment (VE) is a French-based international water and waste water company. As one of the major water resource companies, VE's future looks bright from a demand side. There has been much written about the tenuous future for potable water across the globe. An industry-wide problem however, is the low prices most consumers pay for water, and in many countries, it is regulated by the central government.
Over time, due to growing scarcity and increasing infrastructure costs, water and waste water pricing should increase in excess of today's current artificially low levels. As rates increase, water utilities, include VE, will benefit. In addition, the commercial and industrial waste water business has been hurt by the decline in overall industrial output. As the global economy continues to advance, VE's wastewater sector should also improve. Both trends are favorable to VE.
Veolia Environment pays a current yield of 3.8%, higher than the average water utility. However, dividend growth may be muted going forward in the short-term due to eps growth of 4% to 8%. Based on better water rate cases and faster improvement on the wastewater side, some are calling for eps growth to expand into the low double digits over the next few years. The ADR ratio is 1:1, and the home exchange is in Paris. Keep in mind there are foreign taxes due that are deducted from the dividend and may be claimed as an offset on personal income taxes.
Over the next 24 months, both KEP and VE are expected to reach new highs to match target prices. This would equate to 42% rise in KEP shares and a 19% rise for VE.
A 3-yr chart with 200 and 50 day ma for KEP is below: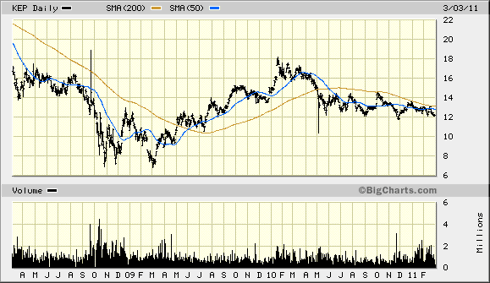 A 3-yr chart with 200 and 50 day ma for VE is below: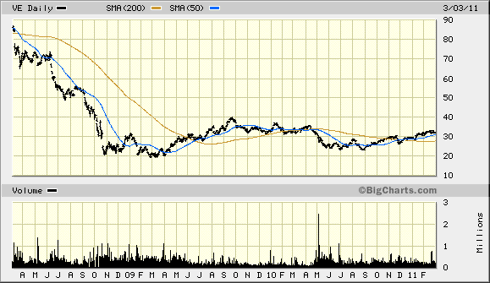 Investors looking for foreign utility investments may want to put KEP and VE on their research list.
As always, investors should conduct their own due diligence, should develop their own understanding of these potential opportunities, and should determine how it may fit their current financial situation.
Disclosure: I have no positions in any stocks mentioned, and no plans to initiate any positions within the next 72 hours.