Retailers started off the new fiscal year on a strong note, as February same-store sales came in better than expected and all indications point to a strong start to the spring selling season. A combination of pent-up demand after severe weather across much of the country limited shopping in January, and event-driven spending during the Super Bowl, Valentine's Day and President's Day occurences, helped chains continue the momentum from a robust holiday season.
Total sales for the 27 companies we track increased 6.6% to $30.3 billion, while same-store sales rose 4.4% following a 5.1% rise in January and on top of a 3.9% gain last February. This was the 18th straight gain after 12 consecutive months of declines, and better than the 3.6% comp rise analysts were expecting. Twenty-two out of 27 retailers reported comp increases for the month, compared to 21 last year and just eight in February 2009.
[Click all to enlarge]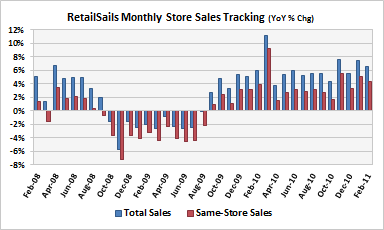 Gains were led by luxury chains, as the well-off are once again willing to pay near full-price and the trade-up consumer is being less cautious with his discretionary dollars. Same-store sales rose 15.3% at Saks (NYSE:SKS), 12.7% at Neiman Marcus (Pending:NMG) and 7.3% at Nordstrom (NYSE:JWN), all on top of tough comps from last February.
Limited Brands (LTD) posted a 12% comp gain after a 24% jump in January, and on top of a 10% gain last February. Victoria's Secret stores led the way with a 15% gain, as Valentine's Day promotions helped Limited to its 14th straight monthly same-store sales increase. Teen retailer Zumiez (NASDAQ:ZUMZ) had a solid month, as comparable store sales increased 12.8% on top of an 11.2% gain last year.
Business was also strong at warehouse clubs, as Costco (NASDAQ:COST) (+8%, +5% excl gas & f/x) and BJ's Wholesale (NYSE:BJ) (+5.5%, +2.4% excl gas) both beat consensus estimates, helped in part by rising gas and food prices. Retail prices at the pump hit $3.38 per gallon on February 28, according to the U.S. Energy Information Agency, up 25% from last year and the highest since October 2008. Economists estimate each 1 cent increase in gas prices takes $1 billion out of consumers' pockets.
Rising prices are not just a worry for consumers, though. Retailers are dealing with oil over $100 barrel again, cotton prices at 150-year highs and labor costs skyrocketing in traditionally cheap countries for manufacturing. Though this doesn't seem to have affected fourth quarter margins much, every company is starting to talk about the impact it will have in the year ahead.
Here is a rundown of results by company and brand/segment: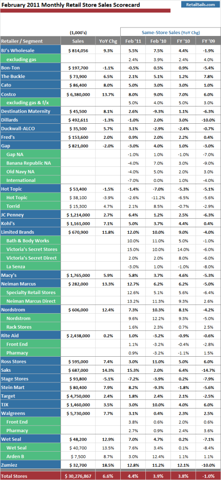 It's clear the consumer mood has substantially improved over the last 18 months or so, as all three measures of consumer confidence we track – The Reuters/University of Michigan Consumer Sentiment Index, Conference Board Consumer Confidence Index and Bloomberg Consumer Comfort Index – are at their highest levels since early 2008.
Lynn Franco, Director of The Conference Board Consumer Research Center, had this to say about the February results:
The Consumer Confidence Index is now at a three-year high (Feb. 2008, 76.4), due to growing optimism about the short-term future. Consumers' assessment of current business and labor market conditions has improved moderately, but still remains rather weak. Looking ahead, consumers are more positive about the economy and their income prospects, but feel somewhat mixed about employment conditions.
While February is typically the second-lightest month of the year behind January in terms of volume, it's an important month as it provides early indications of demand and price acceptance for spring merchandise. Most retailers spoke of positive early receptions and limited need for promotions. We will be watching closely for how retailers handle price increases and whether gas price inflation and limited income gains start to eat into consumer spending.
Disclosure: I have no positions in any stocks mentioned, and no plans to initiate any positions within the next 72 hours.