U.S. stock markets roared higher in Thursday trading as oil prices declined modestly and claims for unemployment surprisingly fell, putting Wall Street into an optimistic mood. The Dow gained 191 points on the session while the broader indexes posted more robust gains; the S&P 500 jumped by 1.7% and the Nasdaq rose by 1.8% thanks to strong performances in the tech and consumer sectors. Commodity markets on the other hand retreated, as oil fell back below the $102 mark and gold lost more than $20/oz. Meanwhile, U.S. Treasury bonds continued a sell-off as both the 2- and 10-year notes saw yields rise by more than eight basis points on the day, pushing these types of debt sharply lower as traders pounced on riskier assets.
One of the biggest winners in the ETFdb 60 was the iShares MSCI South Korea Index Fund (NYSEARCA:EWY), which rose by 2.7% in Thursday trading. These gains came as the traders once again flocked to risky assets in light of cooling tensions in Libya and promises of a peace plan between rebels and the country's current leader. Additionally, it was reported that South Korean factory output was at a 17 month high, rising by 4.6% month-over-month in January and 13.7% over the past year. The robust performance out of the country's important manufacturing sector could suggest that the nation is headed for a rate hike sooner than later but most took it as an indication that the Korean economy is firing on all cylinders.
Click to enlarge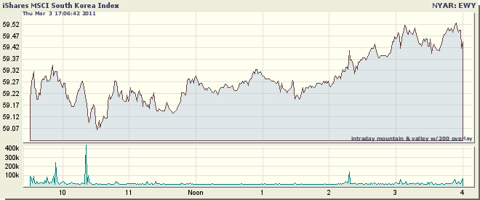 Click to enlarge
One of the biggest losers on the day was the SPDR Gold Shares Trust (NYSEARCA:GLD), which sank by 1.3% in the session. Today's losses were largely the result of two factors: Profit taking and desire for risky assets. Since gold was approaching all-time high levels, many felt that it was overdue for a selloff as traders locked in some of the recent gains as turmoil in the Middle East rocked the markets. However, over the past 24 hours tensions have subsided considerably, pushing investors into riskier assets such as emerging markets and limiting the demand for gold in the near term. Interestingly, despite gold's level above the $1,400 mark, GLD is still down for the year, having lost roughly 40 basis points since the start of January.
Click to enlarge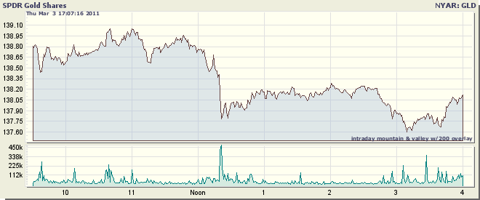 Click to enlarge
Disclosure: Eric is long gold bullion.
Disclaimer: ETF Database is not an investment advisor, and any content published by ETF Database does not constitute individual investment advice. The opinions offered herein are not personalized recommendations to buy, sell or hold securities. From time to time, issuers of exchange-traded products mentioned herein may place paid advertisements with ETF Database. All content on ETF Database is produced independently of any advertising relationships.