The world is starting to take notice of Denbury Resources (NYSE:DNR) a Canadian corp. organized under the Canada Business Corp Act engaged in the acquisition, development, operation and exploration of oil and gas properties primarily in the Gulf Coast region of the U.S. through its wholly-owned subsidiary, Denbury Management, Inc. Denbury's production is primarily from developed fields close to major pipelines or refineries and established infrastructure. As a result, Denbury has not experienced any difficulty in finding a market for all of its product as it becomes available or in transporting its product to these markets.
Beside its price momentum, the factor that sets this company apart from most of the other oil exploration and development companies is its use of enhanced oil recovery where carbon dioxide is pumped into the oil field in an attempt to get every last drop of oil without many of the environmental concerns of some other recovery systems.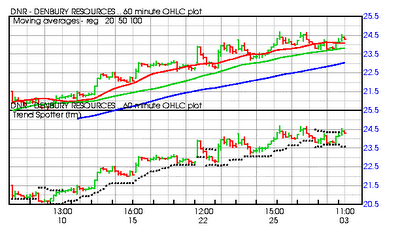 click to enlarge
Technical Factors:
96% Barchart technical buy signal
Trend Spotter (tm) buy signal
12 new highs and up 18.79% in the last month
Relative Strength Index is 72.36% and rising
Price around 24.34 with a 50 day moving average of 20.53
Fundamental Factors:
Wall Street brokerage analysts have issued 13 buy and 7 hold recommendations for this stock
Revenue is projected to increase by 2.40% this year and 12.50% next year
Earnings are estimated to increase by 56.50% this year, 14.40% next year and 14.33% annually for the next 5 years
Investor Sentiment:
CAPS members on Motley Fool vote 859 to 20 that the stock will beat the market
All Stars agree by a vote of 340 to 2
Fool notes that the last 9 articles about the stock have all been positive
And a big bonus - Value Line has began coverage of this stock which will expose it to additional investors
Disclosure: I have no positions in any stocks mentioned, and no plans to initiate any positions within the next 72 hours.