I am generally a strong advocate of dividend growth stocks with low P/Es that you wait for a dip in the price before buying and add more to the position given market fluctuations. But over time I've also come to appreciate speculative growth stocks that many would say are way overvalued. You'll often find that in waiting for an entry in these stocks, you'll regret having missed some substantial gains.
What's important when picking any stock though, be it dividend growth or speculative, is looking for strong companies with strong brands and room to expand - companies that are performing well and will continue to do so for years to come because their products have become near essentials. You shouldn't look at the charts on these stocks because there's a good chance that the techs will tell you don't do it even though the price never looks back. It takes some real mental fortitude to buy at a 52-week high so you have to be extremely confident in your analysis while not becoming emotionally connected.
With this in mind, I am going to present four stocks that you should not be afraid to purchase despite their massive runs. Yes, there are hundreds of other great picks that I've overlooked that you should feel free to discuss. The charts shown cover the last two years for each stock and the picks will start from the lowest P/E to the highest.
PPG Industries (NYSE:PPG) – PPG is one of the country's biggest manufacturers and suppliers of paints of all kinds. Their paint is used for planes, automobiles, boats, and buildings. They also work in glass, for buildings and for glasses; they own Transitions Optical. They earned $5.18 per share in 2010 and this is expected to continue at a significant rate for the next several years. Despite running from $30 to $90, their P/E is still a low 19.2. And to boot, they even pay a 2.5% dividend.
click to enlarge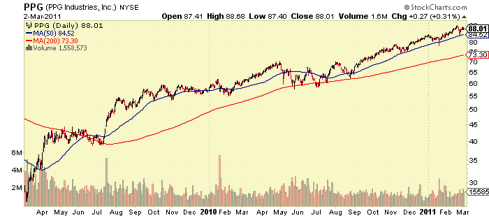 Click to enlarge
Apple Inc. – (NASDAQ:AAPL) – What is there to say about Apple that hasn't already been said? Steve Jobs' reemergence at the iPad2 unveiling was shocking considering the rumor mill surrounding him. Apple currently has a 90% market share on tablets and this dominance is going to remain strong even as competitors roll out their new products. This is going to be like the Zune's fight on the iPod.
Apple has even performed admirably despite the low Verizon (NYSE:VZ) numbers. My brother actually just bought a Verizon iPhone last week and loves it. (I will soon be picking either an iPhone or a Blackberry, some guidance on this would be appreciated.) Apple maintains a low P/E because their earnings are some of the highest around. Don't fret a $250 stock simply because of its price. 10 shares of Apple is the same thing as 100 shares of a $25 stock.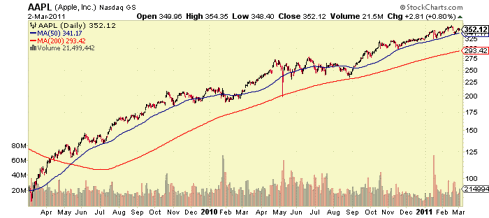 Click to enlarge
Chipotle Mexican Grill – (NYSE:CMG) – Chipotle has a much higher P/E than the two stocks mentioned above, around 44. This means that their earnings have not yet caught up to the expectations of the investors. This company is set on very sound business principles. They had 1,084 restaurants as of the end of December and they own all of them. They do not franchise and this means that each location is carefully researched for optimizing sales. Their prices are a little higher than others and that's why you see Chipotles in the places you see. However, there is clearly room for steady expansion and it will take time because of the process just explained.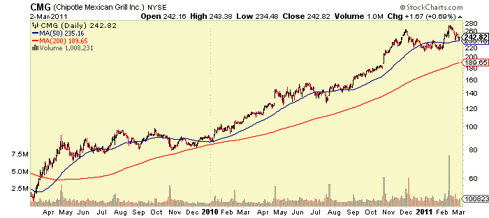 Click to enlarge
Salesforce.com – (NYSE:CRM) – Last but certainly not least is CRM, the stock that everyone would like to see fall but which refuses to do so time and time again. Yes, their P/E is insanely high at 275 and no, I'm not missing a decimal in there. They are one of the strongest names in the cloud race and businesses have come to rely on their platforms, like Chatter and Force. They've also made some strategic acquisitions like Jigsaw. Further outside evidence that cloud computing is not going to die – the battle between Amazon (NASDAQ:AMZN) and Netflix (NASDAQ:NFLX) while Netflix uses Amazon Web Service to run their programs.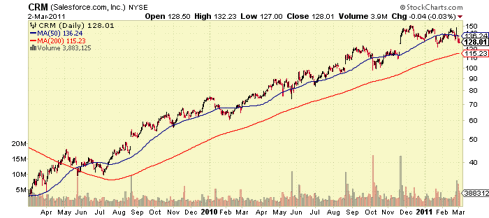 Click to enlarge
Through some recent market volatility these stocks have continued to perform, mostly because they are American companies that do not need to worry that much about Egypt or Libya. This is also because they are extremely strong companies with future growth prospects above the competition. Again, there may be some hesitation when buying a stock at such a high price, but this should not deter you from missing out on gains like these.