The Way means inducing the people to have the same aim as the leadership, so that they will share death and share life, without fear of danger.
-- Sun Tsu, The Art of War.
Vertex Pharmaceuticals Incorporated (NASDAQ:VRTX) of Cambridge, MA was up strongly today to close at $49.95 a share.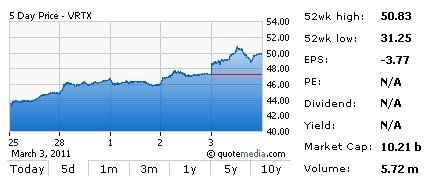 The stock jumped higher last week as a result of Phase 3 study results with VX-770, a genetic-based solution for those people suffering from cystic fibrosis. Vertex now boasts a $10 billion market cap, and last year the company enjoyed slightly over $130 million in sales. Cystic fibrosis impacts about 30,000 people in the U.S. and about 70,000 worldwide according to the Cystic Fibrosis Foundation. The CFF helped to develop VX-770 and is expected to receive a royalty for their involvement in what may be a very expensive treatment. If reports prove to be true about a yearly price tag approaching $100K per patient, I would not expect many sales worldwide relative to the population.
Vertex provided investors with more good news with the release of data from their Phase 2 study regarding Teleprevir, a Hepatitis C therapy drug. Teleprevir is designed to work with a combination of drugs. The data reviewed looks very good, with 70% of patients having undetectable Hepatitis C virus after four weeks of treatment compared with 5% in the control group. While side effects have been reported, it would be hard to argue with this impressive success rate relative to the control group. I would expect that the next step will be a Phase III study, which will need to be successful before FDA approval is sought. Of the $10 billion market cap, about $1 billion is in cash, which is good because they are burning through cash at a typical pharmaceutical hopeful rate. The operating cash flow rate for the trailing 12 months is a whopping negative $635 million. It would appear that VRTX has less than two years to turn a profit or be faced with borrowing more money, licensing potential future products, selling assets, or what would appear most likely — a secondary stock offering that will dilute current shareholders. With the price of the stock so high, it would seem to be the right move at the right time.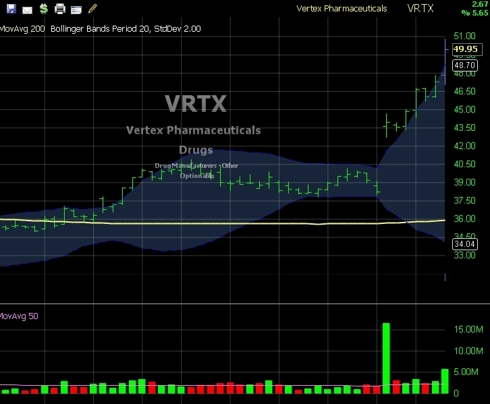 Click to enlarge
(Click to enlarge)
The current book value is less than $4 per share, and less than 1% of the float is held by insiders. By comparison we can look at another major pharmaceutical company. Using EDGAR Online I was able to retrieve information on VRTX and compare it to Bristol-Myers Squibb (NYSE:BMY). With a market cap of about four times that of VRTX and a $26 per share, BMY appears much more attractive to me. BMY is currently profitable with a PE under 15, a dividend yield of 5%, revenue of $11 per share, and a book value of $9.22 per share.

Click to enlarge
(Click to enlarge)
The quarterly growth rate is currently much higher for VRTX, but top line does not mean much when the bottom line is negative and expected to remain so for quite some time.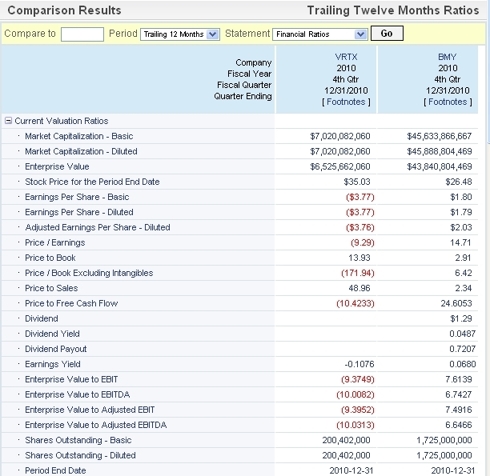 Click to enlarge
(Click to enlarge)
I believe that buyers of VRTX have pushed the stock up higher than the company is currently worth. It is easy to understand why buyers feel this way with all the good news of late, but once the PR machine slows down, I expect the value of the stock to take a step back. I have written about this same separation in the coloration of companies and their stock in my article on Molycorp (MCP) and my article on JDS Uniphase (JDSU).

Click to enlarge
(Click to enlarge)
I use a proprietary mix of technical analysis, financial crowd behavior, and fundamentals in my short-term trades. While not exactly the same in longer swing trades to investments, the concepts used are similar. I believe the company and the company stock correlation have separated, thus leaving the stock to be over-priced relative to the performance of the company. When VRTX stock entered what I believe is "over-bought" territory, I looked to see how the options were being traded. As this is a trade that I want to swing trade for maybe a month, I want to sell options so that I may be able to capture time decay that writing options provides. The implied volatility was high enough to justify the limited reward if correct and risk if wrong for me. I sold the April 50 calls, and while I offered the April 55 calls, I did not get my offer lifted today. I will look to short the April 55 calls.
Disclosure: I am short VRTX. I am currently short VRTX calls.