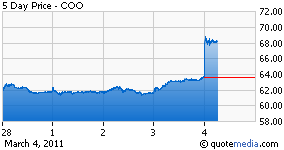 Cooper Cos. (NYSE:COO) makes contact lenses and sells them globally. A good business as most of us are going blind looking at computer screens and iPhones. And just consider our kids are squinting at ever-smaller screens - we're just oozing generations of future Cooper customers. Add a history of posting stronger next-day upside moves following evening earnings, and we're looking at a long play on the shares today.

COO has recorded an earnings-driven after-hours gain in nine of the last 12 quarters tracked in our MT Pro database. Also, 77.8% of the time (seven out of nine times) the stock followed-through in the same direction by the close of the next day's regular session compared to the Extended Hours "effective close." When it followed-through, the price closed further in the same direction on average by 5.3% (in seven events) from the "effective close."

The combination of a solid long-term widening trend in place on evening upside moves and consistent buy liquidity moving into the shares Thursday sets up a solid play on the long side of COO today. Buyers may want to linger in the 66 to 66.50 range, an area that could form as a base support through the early going tomorrow and perhaps see some upside turns into the higher 66s or attempt to break back toward 67.

Cooper was up 4.5% at 66.50 in Thursday's after-hours trade on the back of better-than-expected results and guidance.

COO jumped to an upside range of 66 to a high of 67.30 and stayed in this area through the bulk of its after-hours trade. A pre-bell open Friday looks to have potential near the 66.50 area.

Disclosure: I have no positions in any stocks mentioned, and no plans to initiate any positions within the next 72 hours.