Entropic Communications (NASDAQ:ENTR), a leading fabless semiconductor company that designs, develops and markets system solutions to enable connected home entertainment, showcases the effect of allowing an investment to come to your strong hands.
When I first mooted the shares several months ago (October 2010), they were in a short term base ($8-10) on their way to a new all-time high ($14) achieved just two months ago (January 2011). Subsequent to that new high, however, the shares plummeted in a beeline-like move back to $8.75 (so far), a 38% decline. This decline, perhaps surprisingly, kindles my investment interest. Well, the move to $14 kindled my interest, but this decline causes me to take action.

Why now? Because this decline:
Manifests as a low-risk entry point;
Should hold at the 200-day simple moving average (sma), now at ~$8.75;
Should represent the beginning of a new intermediate term base within a long term up trend (my favorite pattern).
A chart would help.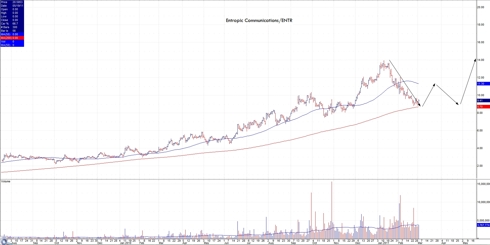 What I diagram (loosely) above is an area pattern; specifically, a double (or W) bottom. The typical duration for the intermediate term variant of this pattern is 3 or 6 months. I suspect ENTR's base will endure for 6 months, which means a possible breakout to new highs approximately mid-July.

But here's the thing: investors are different, with differing time frames, so each investor can purchase anywhere along the pattern; to wit (and chronologically):
The first decline to the 200 day sma (or now for ENTR)
The second decline to the double-bottom (typically weeks to months later, and which might not occur)
The breakout above the top of the pattern -- $14 in the case of ENTR;
Anywhere along the pattern, even the all time at $14 two months ago...if your time frame is sufficiently lengthy.
Each entry point presents its own risk:
The 200 day sma will fail to stop the decline, and the shares plunge lower;
The second low of the diagrammed double bottom could fail to stop that leg of the pattern;
A failed breakout.
Such is investing, however. I prefer less certainty; in fact I embrace uncertainty, because I believe that certainty serves only to limit reward. So I buy Entropic Communications here, now:
Buy: $9.05-8.80
Stop: $8.70 (closing basis)
First Objective: ~$11. (After the first leg down, or now)
Second Objective: $14 (After the second leg down)
Third Objective: ~$20. (During the resumption of its primary bull market)

Higher price objectives require more time, so align your investment time-frame with the appropriate leg of the pattern and tolerance for risk.

It is easier to buy those stocks that race higher today, but that seeming certainty comes with its own risk, less reward. My recommendation of Entropic is, in essence, based on timing: to invest in a leading company in a leading sector (semiconductors) that retreats ephemerally to an area of probable long term price support. All prefatory to new all time highs.

Disclosure: I am long ENTR.