Valero Energy Corporation (NYSE:VLO) expects a substantial sequential earnings drop for the first quarter of 2011. The company, in its recent first quarter 2011 interim update, stated that it expects earnings to fall to the range of 15–30 cents per share, compared with the adjusted fourth quarter 2010 profit of 40 cents. This decline primarily reflects an after-tax loss of $348 million, or 61 cents per share, related to hedging activities, to be included in the current quarter.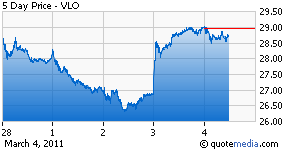 Valero's guidance assumes commodity prices till date and its projected level for futures markets.
Escalating crude oil prices have hit hard the company's hedges. Following the Middle East disturbance, crude oil prices are shooting up on an expected supply disruption. On Wednesday, the price of crude oil increased to $102.23 a barrel, the highest in more than two years.
The company said that its earnings guidance reflects refinery throughput volumes of about 1,310 thousand barrels of oil equivalent per day (MBoe/d) for the Gulf Coast region versus its previous expectation of 1,310–1,340 Mboe/d, as the region has experienced an unplanned downtime at the Aruba refinery. The Gulf Coast region's throughput volumes comprise major turnaround-maintenance activities at the St. Charles, Port Arthur, and Houston refineries.
Additionally, Valero expects Mid-Continent throughput volume of 405 MBoe/d, compared with its prior target of 380–390 MBoe/d, with 200 MBoe/d for the Northeast region (versus previous guidance of 190–200 Mboe/d) and 195 MBoe/d for the West Coast region (versus 210–220 Mboe/d).
The company's lower throughput volumes expectation in the Mid-Continent and West Coast regions have the impact of plant-wide turnarounds at the Ardmore and the Benicia refineries, respectively.
The guidance also comprises the company's refinery cash operating expenses assumption of about $3.92 a barrel, with ethanol throughput volumes estimated at 3.3 million gallons per day and ethanol volume expenses of 33 cents per gallon.
We believe that this recent announcement, will definitely have a negative impact on the company's shares in the near term. Also, we are apprehensive that the company will fail to meet investors' expectation in the current surging oil price scenario.
Being the largest independent refiner, Valero remains particularly exposed to the unfavorable macro backdrop, along with other refiners like Sunoco Inc. (NYSE:SUN) and Tesoro (NYSE:TSO).
However, the company remains enthusiastic for 2011 and expects for wider discounts in the medium term. We also appreciate Valero's endeavor of consistently reviewing its refining portfolio, and upgrading its asset base by selling refinery properties that do not fit the business mix.
The company holds a Zacks #3 Rank, which translates to a short-term Hold rating. We maintain our long-term Neutral recommendation for Valero.