Marathon Oil Co. (NYSE:MRO) has been making headlines. A couple weeks ago, Marathon announced it was evacuating its expatriate employees in Libya as a result of the civil unrest. Marathon owns a 16.33% stake in the Waha concessions in Libya; the concessions produce about 350,000 BOE/day.
Better news was announced back in January when the company said it would spin off its downstream business, creating two strong independent entities. The new company will be called Marathon Petroleum Corp. (MPC) and will be the fifth-largest U.S. refiner. That will make MRO a global upstream company focused on leveraging growth in oil production. Analysts have been recommending this move for years as a way to unlock value. This viewpoint seems to have been validated by the stock's performance since the announcement.
[Click all to enlarge]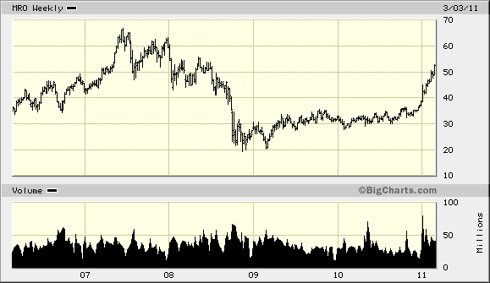 Despite these big headlines, my son recently made me aware of a reason to own Marathon stock for the long haul: Marathon is one of the biggest leaseholders in western North Dakota's Bakken Shale.
The state of North Dakota recently took over the #4 spot in crude oil production, surpassing Louisiana and trailing only Texas, Alaska, and California.
Specific geological details on the Bakken formation can be found here. A USGS assessment of Bakken oil and gas reserves in Montana and North Dakota estimates "a total mean resource of 3.65 billion barrels of oil."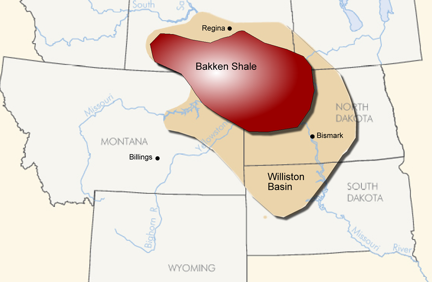 According to Marathon's Q4 2010 earnings report, the company is ramping up production in the Bakken and is currently producing 15,000 BOE/day with six rigs. While Bakken production is currently only a fraction of the company's Q4 average of 417,000 BOE/day, the company's report announced Bakken holdings of 391,000 acres: "This reflects not only an increase in net acreage but also a high-grading of the Company's portfolio as lower-value acreage was sold, farmed out, or relinquished." Clearly the company has a huge position in a prolific geological formation.
In addition, Marathon has extensive acreage in the Eagle Ford (Texas), Niobrara (Wyoming and Colorado), and Anadarko Woodford (Oklahoma) areas. For the three-year period ending Dec. 31, 2010, Marathon added net reserves of 896 million BOE, resulting in an average reserve replacement ratio of 205%. Excellent.
In addition to these U.S. assets, Marathon has a well-diversified international exploration portfolio:
Four blocks in the Iraqi Kurdistan region
Eleven onshore licenses in Poland with shale gas potential
Oil sand mining with the Jackpine and Muskeg River Mine operations
The Alvheim, Vilje, and Volund North Sea assets
Assets in Libya and Equatorial Guinea
Significant working interests in Indonesia
While the events in Libya are not a welcome development, I believe they may be a short-lived threat. The people of Libya will need oil income now more than ever. It is in everyone's best interest for Libya to continue exporting its oil.
But the hidden gem in Marathon may well be its vast holdings in unconventional shale acreage here at home in the United States. Marathon will be rockin' the Bakken and production will continue to ramp up. Once the company splits in two, the upstream exploration arm (MRO) should be valued more in line with pure oil production companies. Judging from the stock's recent move, investors aren't going to wait for the June 30, 2001 tax-free spin-off before piling in.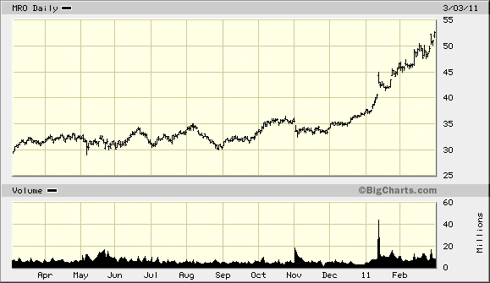 Disclosure: I am long MRO.