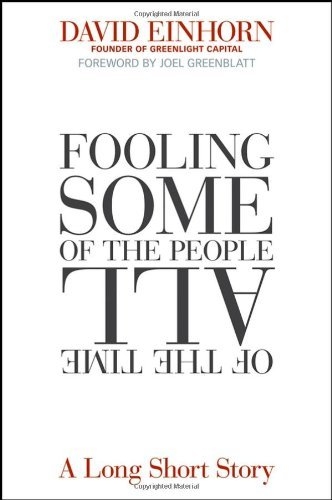 "Fooling Some of the People All of the Time: A Long Short Story" by David Einhorn, the president and founder of Greenlight Capital was published before credit crisis of 2008. The update to the book titled "Fooling Some of the People All of the Time: A Long Short (And Now Complete) Story" was recently published. The original book has been updated with new epilogue that concludes the story about Allied Capital (NYSE:AFC).
The name of the book describes the content very well. Apart from the first four chapters that introduce readers to Mr. Einhorn and to the history of Greenlight Capital the book is a long story about selling short Allied Capital and trying to get others to see the same problems that Einhorn and a few others saw in it.
As foreseen by the writer already in the introduction chapter, I did say to myself before even reaching the midpoint of the book: "Enough! I get it already! You have made your point!" Apparently regulators, media and government officials are much harder to convince. And that is why the book is so long and why the title also says "fooling some of the people all of the time."
Einhorn claimed already in 2002 in public that Allied Capital was using questionable accounting practices to prop itself up. In 2008, he made similar claims about Lehman Brothers and shorted it too. The main difference between the two was that the conflict with Lehman was significantly shorter and everybody knows what happened to Lehman. Not so with Allied.
The Lehman case is described in a single chapter in epilogue. The case against Allied Capital is laid out to the last detail. Because of the immense amount of data in the book, I would imagine that some readers may want to skip a page here and there. However, the book is by no means dull. This book proves that truthis really stranger than fiction. I had to read several paragraphs twice because I just could not believe I understood them right. But I did.
While reading the book it became apparent that that the systemic problems described by this book are the same that led eventually to the credit crisis of 2008. This book is not just about one company. It is also about the entire financial system. The book serves as an excellent introduction on why more regulation will not fix the problems in the financial system. The main problem seems to be poor enforcement of existing laws.
Disclosure: I have no positions in any stocks mentioned, and no plans to initiate any positions within the next 72 hours.