Exchange traded funds can be a good way of boosting a portfolio's yield. There are many funds that offer income opportunities, some of which I previously wrote about in an article entitled "Create an Income Portfolio With These 4 High-Yield ETFs". One of the funds I recommended in the article was the Guggenheim Multi Asset Income ETF (NYSEARCA:CVY).
The fund was established in 2006, and was called the Claymore/Zacks Multi-Asset Index ETF. The name was changed in 2010. The fund seeks to replicate the performance, before fees, of the Zacks Multi-Asset Income Index. In doing so, the fund invests at least 90% of its assets in securities that comprise the index. The fund invests in common stocks, American depository receipts (ADRs), real estate investment trusts (REITs), master limited partnerships (MLPs), closed-end funds (CEFs), Canadian royalty trusts, and traditional preferred stocks.

Top Ten Holdings
| | | | |
| --- | --- | --- | --- |
| Name | Ticker | Percent Weighting | Sector |
| LINN ENERGY LLC | LINE | 1.35% | Energy |
| CONOCOPHILLIPS | COP | 1.35% | Energy |
| CHEVRON CORP | CVX | 1.31% | Energy |
| PROVIDENT ENERGY LTD | PVX | 1.12% | Energy |
| MESABI TRUST | MSB | 1.12% | Basic Materials |
| HSBC HOLDINGS PLC | HSBC | 1.10% | Financials |
| WELLS FARGO & CO | WFC | 1.07% | Financials |
| EATON VANCE LTD DURATION FND | EVV | 1.07% | |
| WHITING USA TRUST I | WHX | 1.02% | |
| PFIZER INC | PFE | 1.02% | Healthcare |
Click here for fund information and prospectus

Top 5 Sectors
| | |
| --- | --- |
| Sector | Percent Weighting |
| Finance | 25.58% |
| Oils/Energy | 22.38% |
| Utilities | 19.55% |
| Consumer Staples | 6.99% |
| Computer and Technology | 6.23% |

The fund is heavily weighted toward finance, oil and energy, and utilities. The weighting toward oil and energy has helped the fund perform well over the last several weeks. Although financials have underperformed in recent weeks, CVY has still outperformed the SPDR S&P 500 ETF (NYSEARCA:SPY) over the last month.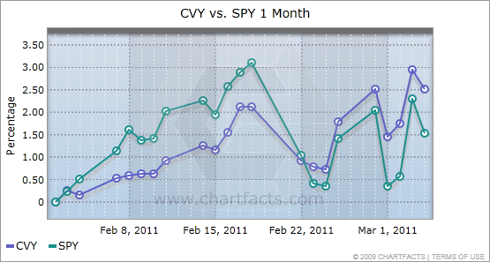 CVY has total assets of about $362 million and trades approximately 140,000 shares per day. The fund has 148 holdings. The net expense ratio is reasonable at 0.60%. CVY has an annual distribution yield of 4.65%. Over the last twelve months CVY is up more than 15%.

Although weighted heavily toward energy and financials, CVY provides broad diversification over a number of asset classes. Energy stocks have outperformed as of late, due to the rising cost of crude. I don't foresee a sharp drop in crude oil prices in the near future, adding to the attractiveness of this fund. Given the 4.65% yield, this fund is a good way to gain some broad market exposure. The yield of SPY is only 1.76%. With a little help from the financial sector, this fund could handily outperform in 2011.

Disclosure: I am long CVY.