As you probably know, Caterpillar (NYSE:CAT) manufactures and sells construction and mining equipment, diesel and natural gas engines, and turbines. This makes CAT a perfect example of a cyclical stock. It has high volatility and offers tremendous return possibilities to those who learn how to ride the business cycle.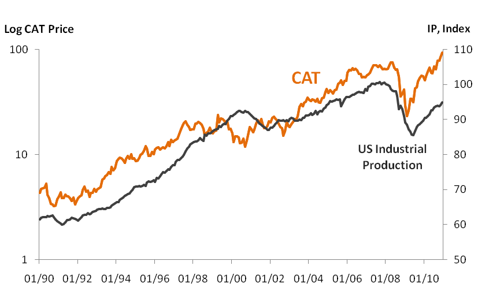 Looking at the chart above it becomes evident that CAT is highly sensitive to changes in industrial production growth. Please note that CAT price is log-adjusted for the sake of better visibility. A rising log curve implies that the actual price of CAT has been rising exponentially during a booming economy. Interestingly, CAT not only follows but usually leads turns in the business cycle. For those concerned, actual lead time is 6-7 months. Thus, to stay ahead of the curve a forecast even further ahead is needed. This is when our U.S. Industrial Production Model comes in handy.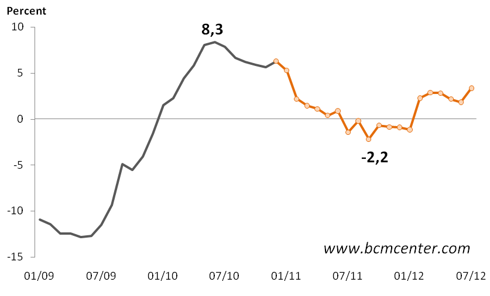 After reaching 8.3% y/y growth in June 2010, U.S. Industrial Production growth has been slowing down. We expect industrial production growth to stabilize by the end of summer at quite low levels. However, it is not the level but timing which matters the most. And given CAT lead times over the business cycle it seems to us that the next upswing is just about to be priced in. We went even further and simulated impact of the next economic upswing on the CAT share price using 20 years of history. And here is what we've got.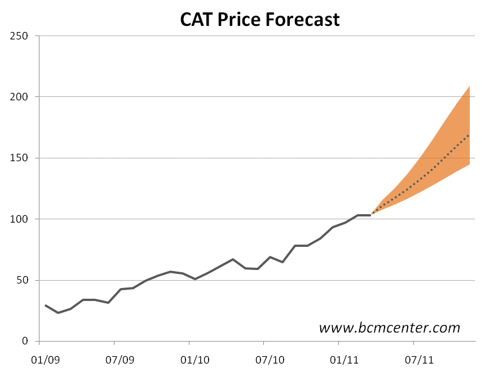 If our analysis and simulation are correct, there are very good odds in favor of making money verus losing money in CAT this year.


Disclosure: I have no positions in any stocks mentioned, and no plans to initiate any positions within the next 72 hours.