With the recent increase in market volatility and soaring oil prices, the whole macro scene has seen a big shift over the past month. Increasing commodity costs and potentially tighter margins will clearly have their effect on some companies. However, the increased volatility also means greater income for covered call writes. Below are five strategies that I'm researching or have entered into.

1. Apple (NASDAQ:AAPL) $300/350 January 2012 bull call spread

After seeing Steve Jobs prove that he's still very much involved in the long term decision making at Apple (AAPL), many of the fears have subsided over whether they can maintain their strong growth. The iPad 2 is a definite upgrade on a hugely successful product that should see very large sales for those consumers who were waiting for this newer version to purchase one. Consumers all over the world are on tighter budgets due to the higher energy prices, but people never seem to let this get in their way of buying the new hot Apple toy. While I have a $400+ price target for year end, I like to use a very conservative call spread to minimize the chance of losses. Friday it closed at an even $360.00, and using the approximate bid/ask spreads the $300/$350 spread is going for around $31.75. As long as the stock is above $350 at expiration, it should net just below $50.00 with commission costs. Using $49.50 as a sale price, this is a 56% return in just under 11 months for Apple to simply maintain its current position. Another option is to go long a 2013 call, and write a 2012. Prior to expiration the 2012 can be rolled forward to 2013 in order to potentially defer taxes until 2014.

2. General Moly (NYSEMKT:GMO) $6.00 June Covered Call

General Moly (GMO) is one of my core long-term holdings, which may not take off until 2013. However, the volatility is so great that I'm able to write calls on top of my shares and sit back and collect the premium. One potential catalyst is the ruling on their water rights for the Mt. Hope project which are expected in late March or early in the second quarter. Judging by the fact that this wasn't even mentioned in their last quarterly update they will likely be granted.
The stock has shown very strong support at $5.00 recently, as each time it has been close to breaking below it has rebounded sharply. GMO closed on Friday at $5.19, and the June $6.00 has a $.50/.70 spread. Assuming you could get $.60 for the calls, it has an implied volatility of 80.04. With just 105 days to expiration this gives downside protection of 11.6%, and a maximum return of 30.7% at $6.00 or above. As a long-term holder I'm okay with either situation. If it breaks down to around $4.50 the covered call has kept me away from a loss. Above $6.00 I've made 30% and may let it get called away if it becomes a bit overbought in the short-term, or simply roll the $6.00's forward 3 months. Below is the chart showing the support at $5.00 from TD Ameritrade.



Click to enlarge

3. Cisco (NASDAQ:CSCO) Buy 2013 $12.50 Calls

For the third consecutive quarter Cisco has tanked after their earnings call. The last two times the stock has taken a while to find a bottom, then consistently rallied until selling off into the next earnings call. On February 9th CSCO closed at $22.04 prior to earnings, and closed yesterday at $18.40 for a 16.5% haircut in just under a month. With a forward P/E of 10.45 taken from Yahoo Finance, it seems that it should again soon put a new bottom in place. The stock is pricing in the extremely low growth projections already, and any good news could be enough to get it back on an upswing.
I like the 2013 $12.50 calls for the simple reason that they are deep in the money, and have the most time to expiration. With a spread of $6.65/6.75 they are only pricing in $.80 of time value for almost 23 months. Also paying for that little bit of time premium is easier to do as part of a portfolio that is receiving income from covered calls elsewhere. So, if Cisco is able to pick up its old pattern, put in a bottom somewhere around $18 and rally back to $20, I'd feel very comfortable selling the option prior to earnings for around $1.50 profit, or 22% in around two months. Below is the 1 year chart from Yahoo Finance showing the clear pattern of earnings selloff followed by a rally.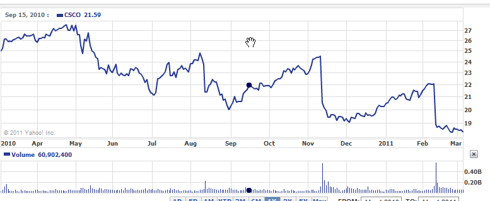 Click to enlarge

4. ATP Oil & Gas (ATPG) Bull Call Spread

While I have been long the Jan 2012 $12.50/17.50 spread for a few months now, I would suggest waiting on this play until after their earnings call on Friday. Investors hate uncertainty, and hopefully after Friday some of it can be removed. This company has been very well covered here and here among other places, and is hopefully close to finally getting their deepwater permits as Noble (NYSE:NBL) received the first on Monday, and the pressure has been turned up to pick up the pace with oil now over $100. Keep an eye on the news, because if ATP gets that permit there will likely be analyst upgrades, and a strong volume of short covering as the stock still has a short interest of over 35% as of 2/15.

As rocky as the road has felt since the Macondo spill last year, the recovery has been extremely consistent. The stock spikes above its top Bollinger band on the 6 month chart, back fills, gains support, and repeats the process. With an Enterprise Value of $3.2 Billion from their Most Recent Presentation and Proved and Probable Reserves of $6.8 Billion, there is still plenty of upside if they can execute their strategy. While this has been a great covered call play due to its high call premiums and consistent movement over the past 6 months, bullish call spreads have great opportunities. On Friday it closed at $19.90. The conservative $12.50/17.50 Jan 2012 spread has a maximum gain around 67% if it can hold $17.50. For the strong bulls that think the sky is the limit, the $17.50/$22.50 Jan 2012 spread has a maximum around 123% over $22.50. Again, I would rather wait until after earnings. The only risk here is the opportunity cost if they receive a permit prior to Friday and see a major spike. Below is the 1 year chart showing the recent consistency of the move taking from TD Ameritrade.



Click to enlarge

5.ProShares UltraShort S&P 500 ETF (NYSEARCA:SDS) June $22.00 Covered Call
SDS is the 2x short S&P 500 ETF. This is a small hedge play to protect against a short-term macro drop. The fund closed Friday at $21.25, and the June 22 sells for $1.50, bringing the net cost to $19.75. This has a maximum gain of 11.4% in 105 days, and offers a little protection if we see a 3-5% drop in the S&P. I like this hedge better than simply buying puts because it doesn't have to be looked at as a sunk cost, and has less downside risk due to the writing of the calls. The downside is if the market were to have a significant drop this hedge is capped off by the written call. I currently believe the risk to the downside is moderate, so this play seems appropriate for three months.

Disclosure: I am long ATPG, GMO, CSCO.