While there are many issues facing the $2.9 trillion municipal bond markets, it may be time to look at whether or not investors have over-reacted and created an attractive buying opportunity. In my article "Are Muni CEFs Rolling Over?" (10/28/10), I made the case that muni CEFs may be overvalued.
In revisiting this issue, I now believe that there is a case to be made for investors to reconsider acquiring some of the muni CEFs at current valuations on both a trading and investment basis.
The case is based on a simple proposition that investors have oversold the sector. The chart below (click to enlarge) compares the monthly net new cash flow into muni mutual funds versus the indexed adjusted stock prices for the muni ETF iShares S&P National Municipal ETF (NYSEARCA:MUB) and the leverage muni CEF Western Asset Managed Muni Fund (NYSE:MMU).
click to enlarge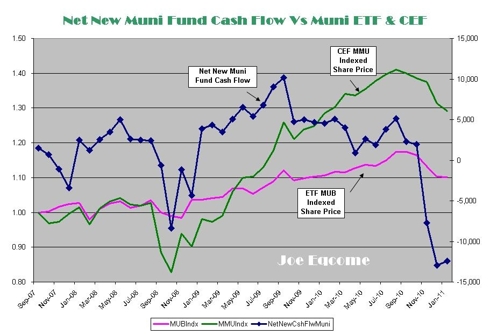 The chart above demonstrates a relationship between the net new cash flow into muni mutual funds and the indexed adjusted share prices of a muni related ETF and a CEF. The CEF price change is more volatile than the ETF due to its leverage.
MMU was chosen because it was one of the largest muni CEFs with a high Morningstar rating (5 out of 5), selling at par and trading at an annualized monthly yield of 6.7% and a taxable equivalent yield of 10.2%. (Investors could substitute another Muni CEF if they so desire.)
It may be time for investors to reconsider muni CEFs on a selected basis. While there are still serious issues facing municipalities that could make headline news, we may now be in an oversold position justifying consideration of this investment sector.
Disclosure: I am long MMU.