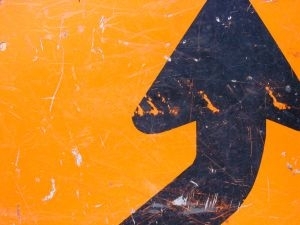 Libya? Oil prices? U.S Dollar? Employment? Inflation?
Forget about those risks.
There is a new U.S. stock market risk warning that has just been revealed on Wall Street.
What is this other risk?
This weekend
Barron's
announced that
upside risk
exists in the U.S. stock market and, more importantly, that Wall Street needs to "appreciate" its potential force.
After laying out the popular stock market view (market's up + investors buying + risks everywhere = sell U.S. stocks), Barron's continues...
Yet perhaps the most unexamined, or at least undiscussed, scenario for the corporate economy and for stocks is the unalloyed bullish thesis. Without fully endorsing it, here it is:

Job creation has begun to accelerate just as it did in the 2004-2005 period. Personal-consumption expenditures just reached an all-time, inflation-adjusted high. February's strong auto sales show a spring-loaded condition of pent-up demand in the economy. Corporate profits are swollen and continue to outpace forecasts. Buyout and other deal activity is only now starting to gather momentum. The Citigroup Economic Surprise Index, charting macro data releases versus consensus estimates, logged an all-time high last week...

The rationale for taking some profits off the table after the market has doubled and the world's gotten out of hand is pretty solid, yet the rest of the evidence suggest 'upside risk' might be underappreciated at the moment."

(Barron's, "The Underappreciated Upside Risk," by Michael Santoli, March 7, page 17)
The importance of this article is that virtually every Wall Streeter is reading it this weekend. Barron's articles periodically spur analysts' and portfolio managers' thinking, especially when they identify an issue not widely discussed. (A search for "upside risk" and "stock market" reveals few articles linking the two.)
How big is upside risk? Huge!
In "
4 Reasons Investors Are Buying Stocks Now
," I evaluated stock underweighting among mutual fund investors. The number looks to be about $800 billion. From the Barron's article: "...the equity allocation of the members of Tiger 21, a network of ultrawealthy investors, sits at 21%, against a historical average of 30% to 35%...."
Then there are the institutional (e.g., pension) funds which, as a whole, are significantly underweighted in U.S. stocks. Finally, there are all the individual investors who are not mutual fund investors (including those managed by financial advisers) - they share the feelings (and underweighted stock positions) with the other groups.

The sheer size means that even a small shift could cause the market to rise, perhaps dramatically (upside risk in action). Investors slow to act could then feel they are getting left behind and missing out on big gains. That feeling is the driver behind "buyers' panic" - just the thing to produce a positive reinforcement cycle.
Investment strategy for upside risk:
U.S. growth stocks
Even if an investor owns
U.S. stocks, it's time to evaluate the types owned. Have a portfolio of safe, low-priced stocks with big dividends? It's time to consider upgrading from that value/income approach to a growth strategy. A "real" bull market (where the debate is about how much growth there will be - not whether there will be any) puts the focus on growth companies.
Where do we stand now? Growth is beginning to catch the eye of investors in place of value. For example,
Despite oil's sudden rise, which has stoked fears of an end to stocks' bull run, growth investing mounted a comeback among managers of exchange-traded funds last month.

Large-cap U.S. growth-stock ETFs took in a net $829 million in February, reports Birinyi & Associates. In comparison, value-oriented blue-chip portfolios attracted less than half as much. Funds that blended both styles had outflows topping $654 million. It was the first time since October 2010–and only the second time in the past 15 months–that growth had led among the biggest stock ETFs." (Barron's, "Growth Leaps Back Into Favor," by Murray Coleman, March 7, page 34)

Fortunately, with the focus on cheap value and high yields, growth valuations are still attractive. For example, Apple (NASDAQ:
AAPL
), at $360 per share, is selling at 20.1 times trailing 12-month earnings, 15.7 times 2011 estimated earnings (fiscal year ended September 30) and 13.7 times 2012 estimated earnings. Such successful companies typically sell at much higher levels in "normal" markets.
Popular strategies now at risk
If the stock market does rise quickly, some current strategies likely will produce disappointing results:
Buy (a stock) and write (a call option) –

Is there anything worse than having to sell your winners at below-market prices?

Hedge and "absolute return" -

These sound great when risk drives the stock market, but their paltry returns in bull markets are upsetting

Gold and oil (as long-term investments)

– Lots of fanfare when they rise, but no real return, long-term. Both sit at peaks currently.
So… The word is now out: 'Upside risk' is in the
U.S. stock market, and it's a potentially major force that needs to be considered and prepared for. If it occurs, growth stocks could be the leaders.


Disclosure: I am long AAPL.

Additional disclosure: Client positions: Long U.S. stocks and U.S. stock funds