Like most articles, this was inspired by things going on in and around my hometown, where a giant lot of trees has recently been cut down so that a new membership-style discount variety retailer can be constructed. I am indeed for this if the store will create jobs, offer reduced prices, and mainly, give out food samples on the weekends. However, I am concerned with how this will affect the nearby Target (NYSE:TGT) and Wal-Mart (NYSE:WMT), which are less than a quarter-mile away. Before this, consumers could shop there or would have to drive for at least 20 minutes to nearby towns to go to either Costco (NASDAQ:COST) or Sam's Club (WMT). So in thinking about this we will first examine the companies involved and then their stocks.
There are three big names in the giant variety retailer industry: Wal-Mart, Costco and Target. Where I am from Wal-Mart and Costco (then Price-Club) were first to set up shop and were not really competitors because Wal-Mart had an emphasis on clothing and home goods while Costco, which charged a yearly membership fee, was mainly food in massive quantities. Sam's Club was Wal-Mart's answer in the membership fee area. (There have been many people who have attempted to conduct studies on price differences at Sam's and Costco, and Wal-Mart and Target, so I do not intent to touch on this aspect.) There's a good chance that you could not tell the difference between Costco and Sam's Club now excluding some of the company owned brands on the shelves. The layouts of the stores are eerily similar, from their warehouse appearance to the offering of pizza, hot dogs and smoothies near the registers. This game plan has worked well for both companies.
Over time the overall ambiance and general perception of Wal-Mart began to diminis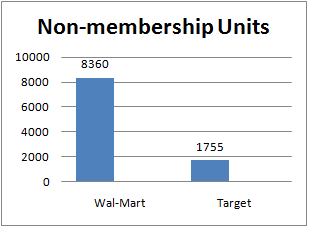 h and in came Target offering a fresher alternative. The stores were cleaner, with larger aisles, and for whatever reason the red shirts just seemed nicer than the blue vests. They both had pharmacies, ever expanding media/technology sections, and offered cheap clothing aimed at who knows. Target was taking market share from Wal-Mart and it was not long before Wal-Mart fought back, rebranding and redoing the company both inside the stores and from a marketing perspective. The Wal-Mart near my home closed large parts of the store at a time in order to redo everything, basically making it look like Target, but blue. After this transformation, I would say shopping in the two is almost identical, though I would say that the appearance of Target's food section is a little better, but I do my food shopping at Whole Foods (WFMI) anyway.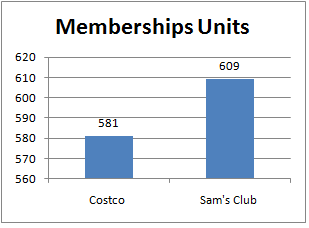 Below you will find charts showing just how much of a stranglehold on the industry Wal-Mart has. There are 4.75 Wal-Mart's in the world for every Target. One of the big reasons for this however is that Target has chosen to keep all of its units within the country, while Wal-Mart has a large global presence. Even accounting for this, Wal-Mart still has a much greater American presence, considering this includes Wal-Mart Discount Stores, Wal-Mart Supercenters and Wal-Mart Marketsides. Looking at the membership side of things, Wal-Mart's Sam's Club and Costco are pretty close in number of units. The point of this is to put into perspective just how much larger Wal-Mart is than Costco and Target, not to say that this is necessarily a good thing.

As far as stocks go, you can see here that the earnings per share for each company are not all that far off given how much larger Wal-Mart's market capitalization is. Below you will find individual graphs and some short analysis and perspectives.
(Click charts to expand)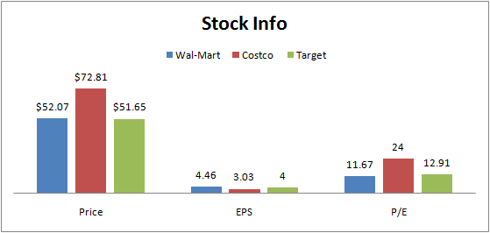 Click to enlarge

Wal-Mart – We've seen a big selloff here taking the stock from almost $58 down to $52. This was off an earnings report, a volatile couple of weeks given global chaos, and the rising price of food, gas, and commodities in America. Its market cap is at $184.8 billion, making it 5-6 times the size of Target or Costco in this regard, which is reflected in the number of units it has and its global presence. You have to like Wal-Mart here because there is a very good chance that this company is still around 20 years from now, and it offers the highest dividend of the group at 2.3%, which has been increasing for 35 years. This price makes the company appear cheap but I am a bit concerned that it flew through the 200-day moving average. With that being said there is still growth potential in Wal-Mart, both here (Manhattan) and abroad (India, China, anywhere not named Libya).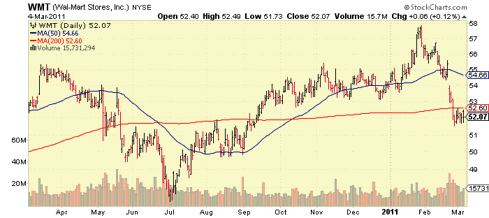 Click to enlarge

Target – This company has taken an even bigger hit than Wal-Mart and basically for all the same reasons. It's chopped off just about 15% and has equal respect for its 200-day. From a purely technical perspective, I would like to see if the price stays low long enough for the 50-day to hit or even cross the 200-day; that could be a big short term buy signal. It too offers a long standing dividend of 42 years that is currently at 1.9%. Buying Target as opposed to Wal-Mart would expose you to the American price increases and the cost of getting goods to the stores, but it would take away some of the current global fears that Wal-Mart has to deal with.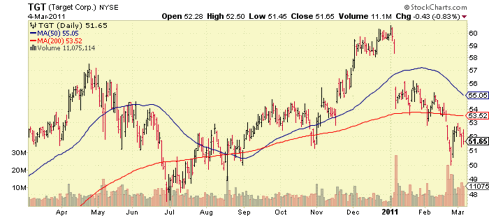 Click to enlarge

Costco – While the other two have been taking a hit, Costco has risen to heights previously unknown, like all-time highs. It has fully recovered to pre-recession prices and has been on an absolute tear since September, climbing from $55 to $75. There was a slight earnings dip on the first of the month, but it does not appear to have been too drastic. With fewer than 600 stores there is certainly plenty of room to grow, domestically and internationally. Costco does have stores outside the United States (Canada and Mexico account for most of them) and who knows if it wants to be borrowing to fund new stores right now, but the option is always there to increase its footing. This recent run has left the dividend yield at a measly 1.1% and it has only been around since 2004, but their payout rate is comparable to the other two so it should hang in there. I almost forgot to mention that Costco is building gas stations outside stores, for what it's worth.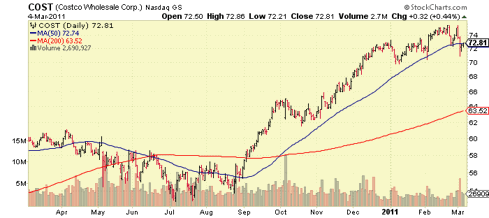 Click to enlarge
Personally, I would not take on the short term risk that Costco currently has. I would instead wait for a drop in price on this one, but if you see something different then by all means present your view. Additionally, I would wait to see how things play out overseas before going into Wal-Mart and buy on the dips; but if news ever breaks of a store opening in Times Square you will have missed your chance. These are three extremely strong companies with bright futures as America continues to shrink toward one-stop shops. With that in mind I would think that Target offers the greatest upside out of the three, because it is completely American based and selling at such a discount right now.
Disclosure: I have no positions in any stocks mentioned, and no plans to initiate any positions within the next 72 hours.