Happy Crashiversary!

Just two years ago this week, on March 6th, we spiked down to a low of 666.79 on the S&P 500. That move was capping off a relentless drop down from 950 as the year opened and was dashing most people's hopes of a recovery. I say most, because certainly not ours as out Members were BUY BUY BUYing that effing dip. I happened to be on TV the afternoon of the crash doing a 3-hour special on Tim Syke's LiveStock show where I not only made 13 REALLY good picks that made 469% over the next six months, but I also explained my logic for buying on that particular dip so it's worth watching if you have time to kill.
That same afternoon, my friendbuddypal Jim Cramer was on TV throwing 5,320 around as a target for the Dow (it was at 6,626 that day so another 20% down) although you wouldn't know it now because CNBC has redacted the video and changed the text on the link to his show that day. Fortunately, it's hard to get rid of video once it hits the web so now you can decide if the new CNBC summary matches the actual tone of segment they are hiding. MSNBC's summary of the segment remains: "Mad Money's Jim Cramer makes the call that the Dow will bottom at no less than 5,320. Listen to why Cramer says the key index could still drop another 1,300 with CNBC's Melissa Francis."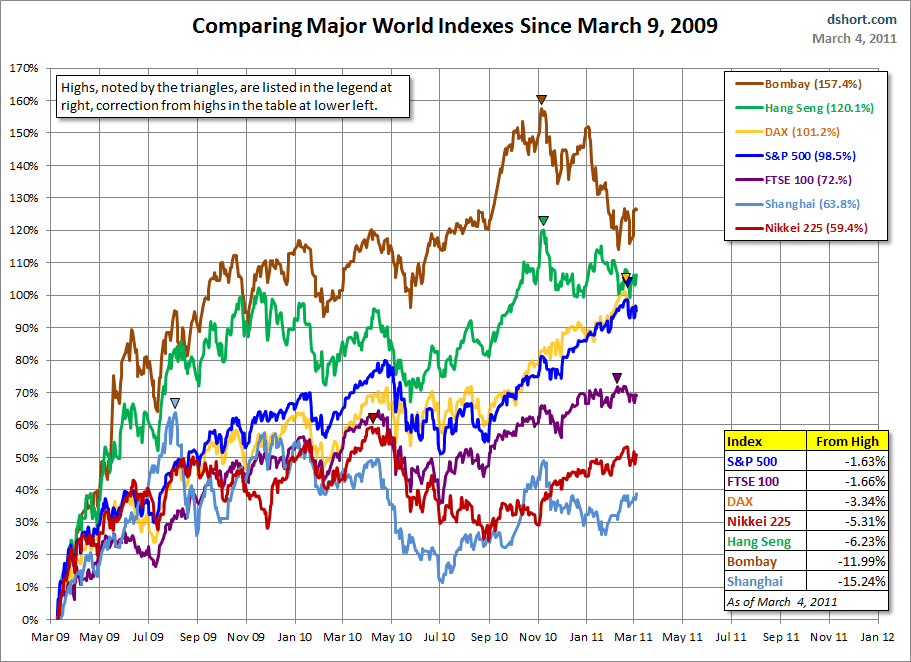 The Fast Money crew had a chance to watch my broadcast but still chose to go on with a unanimously bearish show that day and this one you still can catch part of on the official site. "A lot of people are calling bottoms," said Guy Adami. "But I still don't think we're there, yet. It has to feel like the end of the world before the market can bottom."
"The data that I'd watch to signal a bottom is the rate of decline slowing," adds Karen Finerman. "But I don't see that, yet." "We won't be at the bottom until the financials participate in the market's broader moves," adds Pete Najarian. "I don't think we'll get a bottom until we get policy going forward that doesn't seem like it's just attacking Wall Street," adds Jon Najarian.
Crashes tend to make investors fearful and Mr. Buffett says "Be greedy when others are fearful," which is why I like to do these reviews on occasion – to give our Members the perspective that is required to make better investing decisions in the future. I sent out an alert to Members already this morning, noting the pre-market pump and other global trends we're watching, but Doug Short's chart pretty much says it all, doesn't it – we're right back where we started from on the S&P and the FTSE and ready to Do It Again:
Of course as Phil Collins and I have been pointing out (and as Doug also nicely illustrates below): It's an illusion, it's a game and baby there's a hole in there somewhere and that hole is INFLATION! When we take a look at our inflation-adjusted gains the S&P is still down 33.1% from the Y2K high and the path we are taking doesn't make us look all that much better off than the crash of 1929 11 years later or the 11th year of the Nikkei's 1990 collapse, other than the trillions of dollars of stimulus that have been applied in the last 24 months:
Click to enlarge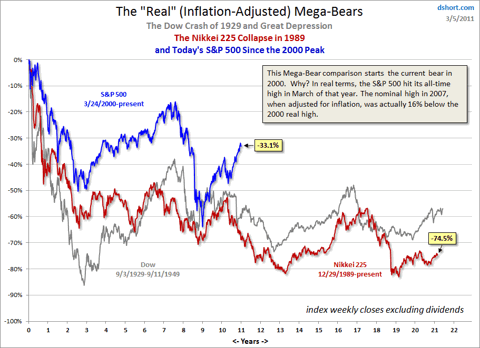 Click to enlarge
Also in PSW's Chart School this weekend Declan Fallon gives us the Fibonacci view of the S&P (and many other useful charts in his post), where we see how that critical 1,300 line comes into play but anyone who follows me knows that it's 1,333 OR BUST as we MUST make those 100% gains off the bottom, which are (as noted in Stock World Weekly along with our full level chart): Dow 12,938, S&P 1,333, Nasdaq 2,530, NYSE 8,362 and Russell 800 with the Russell's true 100% line long gone at 685 but we ignore the spike down that took the from 425 to 342.59 in that March Madness – just as the 5% Rule tosses out many of those low spikes in favor of more rational goals (see SWW chart).
Click to enlarge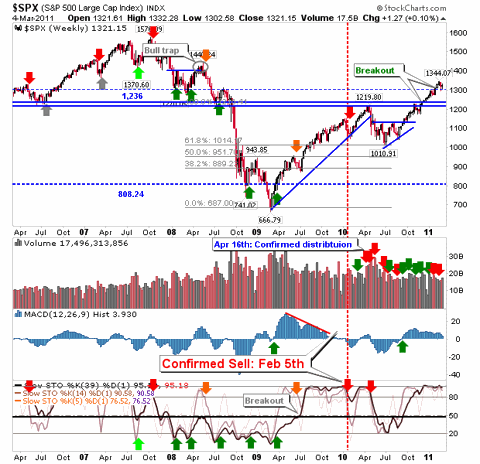 Click to enlarge
Notice on the above chart that we are approaching a very possible "confirmed sell" again, if the stochastics break down (and they are very over-heated) and you can see the MACD is also turning down after a prolonged run so 1,333 or bust indeed as it is no longer enough to simply flip-flop along the top – that tune is getting old already and the bears are getting bolder and let's not forget it was the emboldened bears who smelled blood that helped bring about the rapid downfall of our financial sector just a couple of years ago. Since then – every attempt at proper reform has been blocked in Congress, which means there is no reason it can't happen again.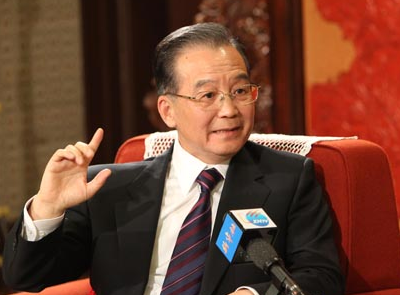 China is taking steps to make sure they don't repeat the mistakes of the past. Wen Jiabao gave his annual "work report" to the National People's Congress (NPC), China's equivalent of the State of the Union Address. In it, he stressed the government's commitment to be more open and responsive to the concerns and grievances of its citizens. China's new five-year plan pledges to boost incomes for its less wealthy citizens and to tame inflation, commits to raise income levels at the rate of economic growth, and calls on companies to boost worker wages so they match productivity gains.
"We need to reconfigure the line of thinking when it comes to growth," Zhang Ping, head of China's most powerful economic ministry, the National Development and Reform Commission, told a news conference Sunday. "In the past five-year plan, it was absolutely necessary to prioritize maintaining growth," Mr. Zhang said. "Now we want to put more emphasis on ensuring and improving people's livelihood."
While it is very encouraging to see China put the brakes on growth and aim for price stability – it's still China and Chairman Wen is not asking people, he's TELLING them this is how it's going to be as the next section of his speech takes a page right out of Bush's HomeSec playbook, saying:
We will strengthen and improve the system of public security. We will improve the contingency response system, and enhance society's capacity to manage crises and withstand risks. We will intensify our information security and secrecy, and improve management of information networks. We will improve all facets of public security, and be on high alert for and crack down on all kinds of crime in accordance with the law.
As noted by Business Insider: "The most important kinds of crime, of course, being those that threaten the State or the Party. So hearing complaints and unmasking corruption is to be welcomed, except when it threatens to embarrass members of the ruling Party - which is virtually always - in which case it must be ruthlessly punished." And China can be pretty tough on their Liberals too!
Speaking of boring, Liberal things to care about – it's also the anniversary of our crossing 39M people on food stamps last year and, as of December, we had added another 13% to that total, giving us 44,082,324 Americans in the Supplemental Nutrition Assistance Program. To put that into some perspective, that is seven times more people than live in Libya ... TOTAL. It is four times more people than live in Tunisia and about the same amount of people in all of Algeria but only half as many people who live in Egypt – so we have that going for us!
That Government we're trying to eliminate also wrote or guaranteed 90% of all mortgages written in the United States in 2010 so it will be fun to see what happens if Conservatives and the Tea Party crowd get their way and get the Government "off our backs" in 2011. Thanks to Government interference, "only" 1M families of the 10M that are in the foreclosure process lost their homes last year, which is why there are "only" 15,000 vacant buildings in the city of Chicago so far or "only" 60,000 vacant homes in Las Vegas.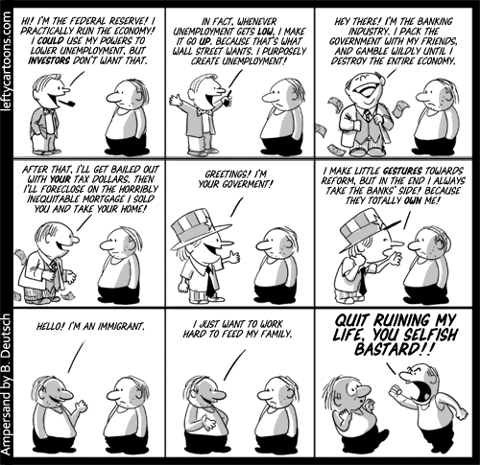 Click to enlargeSpeaking of 2-year anniversaries: CredAbility, one of the leading nonprofit credit counseling and education agencies in the United States, today released the CredAbility Consumer Distress Index results for the 2010 fourth quarter. The Index, a quarterly measure that tracks the financial condition of the average U.S. household, found that rising stock prices helped propel growth in consumers' net worth. But lower scores in three of the index's other four categories - employment, housing and household budget - drove down the overall index. The health of household budgets declined each quarter in 2010 and is at the lowest level since the first quarter of 2009.
For the quarter ended December 31, 2010, American households scored a 64.3 on the Index's 100-point scale, down slightly from 64.4 in the third quarter of 2010. For all of 2010, the index showed a small improvement, moving up from a score of 63.9 in 2009′s fourth quarter.
A score below 70 indicates a state of financial distress. The average U.S. consumer has been in financial distress for 10 consecutive quarters, according to the Index. The last time the index was above 70 was in the second quarter of 2008.
"The increase in the GDP in the fourth quarter and 2010 has not yet translated into improved financial health for many average American families," said Mark Cole, CredAbility's chief operating officer and the executive responsible for the CredAbility Consumer Distress Index. "Improved stock prices have increased the value of 401(k) and other investment accounts in the average U.S. household, but high unemployment continues to stifle income growth, causing many homeowners to miss mortgage payments," Cole said. "While an increase in consumer spending helped the economy in the fourth quarter, the index showed that an increasing number of people failed to prudently manage their household budgets. This lack of savings could cause financial problems if they need to rely on their savings in the future."
So, should we, as investors - care? Only if the S&P can't break our technicals – then everything may suddenly start to matter but, for now, it's business as usual with the Fed scheduled to push $22Bn into the markets in the first three days of this week but there may be a gap on Thursday as they move toward the next schedule at 2 p.m. so let's be wary on Wednesday afternoon but, for now – "Any way the wind blows, doesn't really matter – to us."