Thanks to some last-minute heroics on Friday, the market managed to make its way back into the black for the week ... barely. Despite the bounce, stocks were still beaten up pretty badly, and may still be positioned for trouble ahead.
We'll slice and dice the near-term direction in a moment. Let's first start with the bigger-picture look at the economic data from last week and the coming week. There was some hard-hitting stuff.
Economic Calendar
The big story from last week was jobs, or a diminishing lack of losses. The unemployment rate fell from 9.0% to 8.9% last month, and the ADP Employment Change number confirmed that trend by reporting a 217K increase in net payrolls created. The government said their figure was 192K new jobs. Continuing claims as well as new unemployment claims reached multi-year lows of 3.774 million and 368K, respectively.
The numbers remain tainted of course, as they don't include those who have simply seen their benefits expire (or those who have given up). Nevertheless, the loss-trend is slowing, which is ultimately a positive.
America's factories were busier too. Factory orders were up 3.1% in January, auto sales rose from 3.95 million in January to 4.61 million in February, and both ISM Indices were up for last month. The Chicago PMI jumped from 68.8 to 71.2 last month. You get the idea – more revenue-bearing activity, with the exception of real estate.
Here's the rest of the story.
Click to enlarge
The coming week should be noticeably less busy. The only items of real consequence early in the week will be consumer credit levels on Monday. Not only has it been on the rise of late, but has been swelling much more than most forecasts.
We'll hear the usual continuing and new unemployment claims news on Thursday.
Friday we'll get last month's retail sales; they should be up by 1.0%, or up 0.6% without counting cars. Both are better than the prior month's increases.
S&P 500 Index
All told, the S&P 500 (NYSEARCA:SPY) managed to close out last week higher by 1.27 points, or 0.09% ... not enough to call a real win. Even with the small win, though, don't overlook the fact that things are starting to look more than a little hairy for the bulls.
For starters, the SPX is still peeling back from its upper Bollinger band (red) after running into it mid-February. We saw a second week of lower highs last week, and came close to seeing lower lows. Moreover - and as you'll see better on the weekly chart - the S&P 500 is stretched pretty thin after the 11.1% gain over the last 14 weeks, and after the 24.1% gain over the last 27 weeks.
The other bearish reality we're facing now is strong volume on bearish days, and weak volume on bullish days. Translation: There are still more sellers than buyers. This has become quite clear over the last week and a half.
Finally, though only tepidly so far, the CBOE Volatility Index (NYSEARCA:VXX) (NYSEARCA:VXZ) finally seems to be trending upward.
We had seen flashes of an uptrend from the VIX over the last several weeks, but none of them had really followed through. As of two weeks ago, though, the 20-day average line of the VIX is now above the 50-day average line, for the first time since May of last year (the last time it really hit the fan). Though the VIX's trend reversal is a little bit shaky thus far, if we see it close back above its upper Bollinger band (green) at 20.7, that should pretty much confirm it's in an uptrend, which is bearish for stocks.
Click to enlarge
The weekly chart of the SPX wipes away some of the detail of the daily chart, but makes up for it by offering a lot of perspective.
As we've mentioned more than a few times of late, the rally since late August has reached ridiculous proportions. We've been running on borrowed time, and when you take just a quick look at the weekly chart, the magnitude of just how overbought we are is clear.
It's also clear on the weekly chart that the VIX is at least trying to change direction. That support line at 15.10 (dashed) finally pushed it upward, above a falling resistance line (green) as well as its 50-day moving average line (red). In fact, the VIX's 50-day line is now pointed upward again for the first time since last May. From here, we just need the VIX to make a higher weekly high (21.14) and a higher weekly close (19.06) to seal the deal.
Click to enlarge
Given the whole scenario here, while anything is possible, a correction still seems to be in the cards. It doesn't have to be a big one to burn off all the overbought pressure ... just a garden variety one of 10% to 15% should be sufficient. From the recent peak of 1,344, a 12% correction would pull the S&P 500 back to 1,182 or so. The 100-day moving average line and lower Bollinger band at 1,245 may also be good floors, and represent a mere 7.3% dip. Either way, that's the likely direction things are pointed in the foreseeable future.
Sector Performance
Though the broad market didn't really go anywhere last week, we did see some interesting – and trade-worthy – nuances materialize on the sector front.
Healthcare (NYSEARCA:XLV) was one of them. Not only was it the winner last week, but it has been quite firm for a few weeks ... making up for lost time. This may indicate defensive thinking as traders start to come to grips with the possibility of a bigger pullback. More likely though, is just ordinary strength/attraction to the sector. And just an FYI, there's not one clear leader in the group; all of the industries are doing very well after trailing for most of 2010.
On the flipside, consumer discretionary stocks are really beginning to pay the price for doing so well for so long.
Click to enlarge
And for the more visual folks reading this, here's the percentage change graph, with the clock starting at the end of November.
Click to enlarge
Sector Comparison Since November 30th, 2010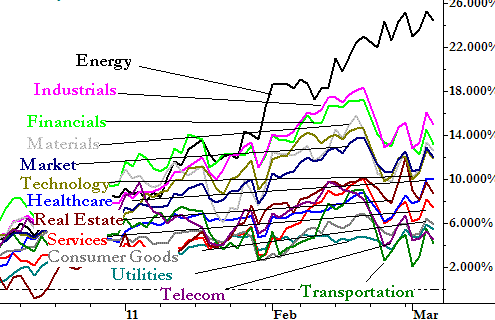 Disclosure: I have no positions in any stocks mentioned, and no plans to initiate any positions within the next 72 hours.