A quick look at year-to-date performance for data center related stocks highlights a few interesting things:
The REITs category is the sub-sector with the most defined performance. All stocks basically achieved a 14% increase since the beginning of the year. It is interesting to note that Digital Realty (NYSE:DLR) and Dupont Fabros (NYSE:DFT) already reported Q4 2010 results, while Coresite (NYSE:COR) will report quarterly results on Thursday, March 10.
The two network neutral players under our scrutiny, Equinix (NASDAQ:EQIX) and TeleCity (OTCPK:TLEIY), listed in London, are slightly positive, but their sub-sector is the worse performer so far, excluding the CDN category, which needs a specific analysis.
The best performances came from Savvis (NASDAQ:SVVS) and Rackspace (NYSE:RAX), both of which probably enjoyed the most from the cloud computing acquisition binge that positively impacted the stocks along with Internap (NASDAQ:INAP) at the end of January. As a reminder, we excluded from the list both Terremark (NASDAQ:TMRK) and Navisite (NASDAQ:NAVI), both of which were acquisition targets at the end of January/beginning of February, and whose performances were obviously positive, as they both enjoyed a premium in excess of 30% from their buyers.
The CDN category sees very opposite results, with Limelight (NASDAQ:LLNW) very positive (+20%) while Akamai (NASDAQ:AKAM) was the only loser among the companies under our radar screen (-20%). Most of this negative result (-15%) was achieved after releasing Q4 earnings, as 2011 guidance disappointed both investors and analysts' expectations.
Here is a quick look at the post-earnings performance for all stocks that recently reported quarterly numbers: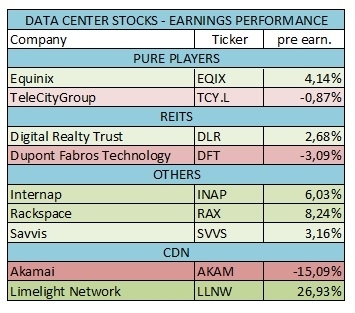 All stocks were coming from a very positive January for the sector, that saw all companies in the green: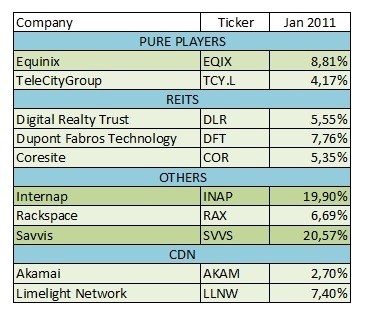 Disclosure: I am long EQIX.